There are certain items in a DIYers toolkit that seem to become staples over time. One of those items for me is dowel rods. I love the versatility of dowel rods, and how they can provide solutions to many of our household problems. So, I thought I would compile a selection of some of my favorite ways to use dowel rods. I hope that it inspires some great DIY projects for you!
Dowel Rod Projects for the Kitchen
As many of you are aware, I have done several projects over the years to customize my own kitchen cabinets. I am "a place for everything and everything in its place" sort of person. Thankfully, dowel rods have gone a long way helping me out with this.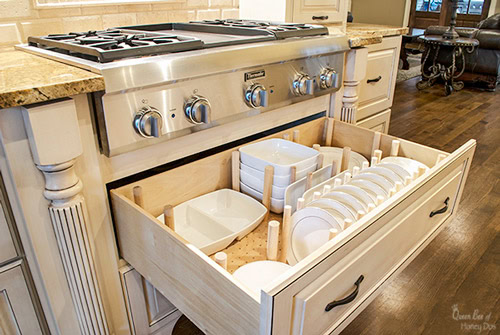 I am a big fan of getting drawers organized. Whether it is easily organizing a junk drawer or just rearranging my dresser drawers for more space, I just love a well-organized drawer.

I used dowel rods to create my dish drawer organizer for my own dishes. In fact, using dowel rods is the most common method for creating a dish drawer organizer. You can find a sturdy, professional, technique on my post link above.
This is one of my personal favorites. I love the way the dishes are so nicely displayed. It really makes opening the drawers very pleasant. You know what I mean if you have ever gone from a cluttered mess to a refined and organized space. ?
Dowels can also be used to create a nice sheet drawer. It's a fairly simple DIY. The key is to stagger the top and a lower dowel to allow the sheets to lean.

It does, however, require a deep drawer to work. Just to give you an idea, my drawers are 11″ deep and I can easily fit a 13×18 cookie sheet inside it.
Dowel rods also work great when building a dish display. If you want to see how to open up some space between your studs for this kind of project, be sure to check out my post on building and installing a medicine cabinet.

If you don't have space for an in-wall installation, you can always do a surface mounted rack. The good thing about these is that you can place them in pantries, on doors or anywhere that you can find a place. Christy over at 11 Magnolia Lane has a simple DIY for building one.
If you don't have the space for a large wall-mounted rack, you can always convert a cabinet. One of my favorite DIYs is to convert the bottom half of a cabinet into a display shelf and plate rack combo.

With a little bit of woodworking skill, the doors can be removed, and the interior finished to create a look such as this.
To duplicate this look, build a plate rack insert for the lower half of the cabinet. If the shelves are adjustable, you'll need to make it stationary.

I suggest removing the shelf from the cabinet and using a pocket hole jig on the bottom side. Re-insert the shelf and attach it with pocket hole screws.

Next, build your plate rack to the size of the opening. Add beadboard to the back of the cabinet (optional), then insert your rack. Paint and add trim as needed!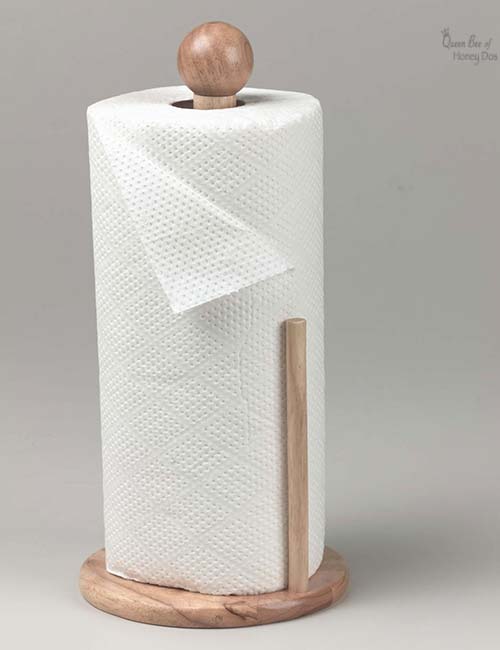 Dowel rods are also great for making paper towels holders. These are super easy and make wonderful gifts. They can also be used for ribbon spools!

To make these, you will need both 1″ – 1 1/4″ and 1/2″ dowel rods. About 11″ of length for the center and 6″ length for the outer support. You'll also need a 7″ round piece of wood for the base (larger if you use jumbo-sized rolls).

Making these is fairly simple. Drill a 1″ hole through the center and a 1/2″ hole next to the edge. Glue the dowels in place. Seal and you're good to go.

I like to add a finial for a finished look. Just make sure the finials have a smaller circumference than the interior of the paper towels – approximately 1 1/2″ max.

Want more ideas for paper towel storage? Check out the post!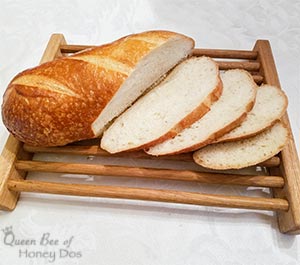 Dowel rods can also be used to make a wooden trivet. This is one contributed by my friend, Dale. I think it came out lovely! I understand that he went on to build several of these as Christmas presents. Consider putting this on your list for DIY for gifts.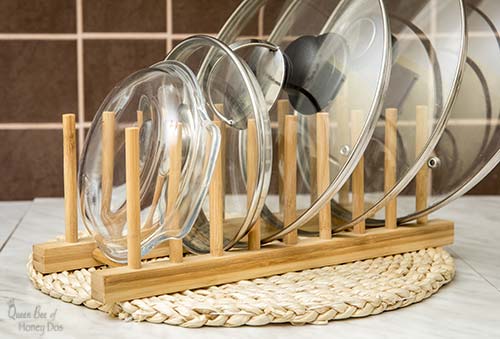 Dowel rods come in both square and round. That means you can do a lot more projects. This super simple rack is perfect for sorting lids, plates and a whole slew of other items.

It is made using 1″ square and 1/2″round dowel rods. Spacing is placed 1 1/2″ on center for the dividers and joined using two to three dowels placed at intervals between the two sections.

Use it a drying rack or place it in a drawer to use as an organizer. This also makes a good gift idea.
Ways to Use Dowel Rods in the Laundry Room
The most common use for a dowel is as a hanging rod. Because they are usually much cheaper than purchasing an actual rod, it is easy to throw one up between a couple of laundry cabinets for extra laundry space or to mount one to hold a curtain.
The trick to getting these mounted so that they will hold the weight is to first attach supports to either a stud or to the side of the cabinet box. You can use closet rod hardware for a hanging rod like this.
If you don't have a drying rack in your laundry room, dowel rods can be used to build a very nice one. This is the type of drying rack that I like to build for laundry rooms. It is another in-wall installation, but you can always build this as a surface mount.
Dowel Rods for Craft Room Storage
After completing the makeover in my craft room, I have to say that I can appreciate a well-designed space. I love being able to display all of the materials that I have. I also love having things well organized and stored in a functional way. That's why I built my slat wall system.

But, I found that I still needed a nice wrapping station. The one above is designed by a wonderful interior decorator. It serves as the inspiration for what I am doing in my laundry room.

I am in the process of converting one of my cabinets like this. I will be adding detailed instructions this DIY sometime in the near future. Stay tuned!
Dowel Rod Projects for the Closet
Closets are my obsession! When I look at a closet, any closet, I immediately start to rearrange things in my mind. I guess that is good since I do a lot of closet makeovers. Not so good, when I constantly nitpick over my own.
Throughout the years, I have written a TON of articles on closet storage and organization. By far, my most popular is tips and tricks for small closets, but you may have noticed a few other useful posts. From sloped closets to gorgeous drool-worthy closets, you can find it on this blog.
Now, I am taking it a step farther and showing some examples of how dowel rods can be used to create some functional spaces. I love finding ways to store clothes efficiently. And nothing pleases me more than offering some real closet storage solutions. These are just a few of my favorites.
Another great way to use square dowels is to build a basic shoe rack. You can't get much easier than this one. It is done using a combination of 1″ square and 1/2″dowels. Paint the center supports to look like metal if you prefer.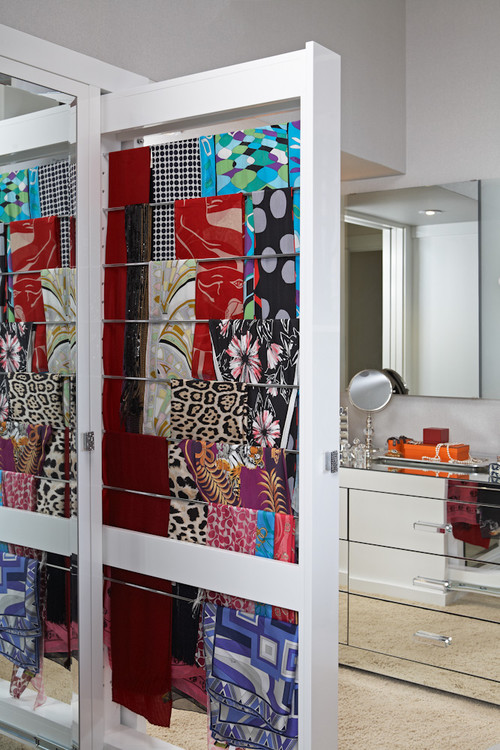 Although not much of a scarf wearer myself, I love the storage space created here for scarf storage. This pull out has the standard peg holes that we normally see when we make adjustable shelves. However, instead of shelves, you just insert dowels into the holes.

Metal rods are shown, but wooden dowels are more than strong enough to support the weight of scarves. You can even use this for storing ties and other lighter weight items.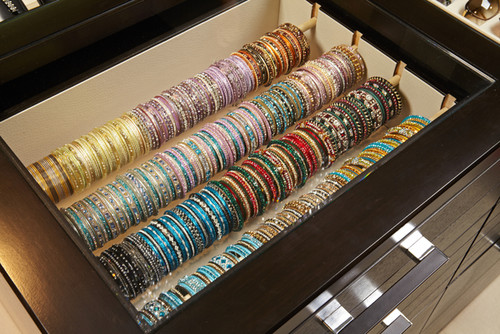 On this one, I'll admit that it looks like it would be a hassle to get the bracelets out of this drawer, but I guess if one has this many bracelets what else is one to do? I actually thought this was beaded ribbons at first.
I guess this would actually make a good storage solution for ribbons, but at any rate, they decided to use it for storing bracelets. I still think that it is a unique use for dowels. Perhaps one that may appeal to someone.
Decor Made From Dowel Rods
Blanket ladders are a popular decor item. They are also quite easy to build. This one can be built using square dowels. However, you can easily incorporate round dowels into this build.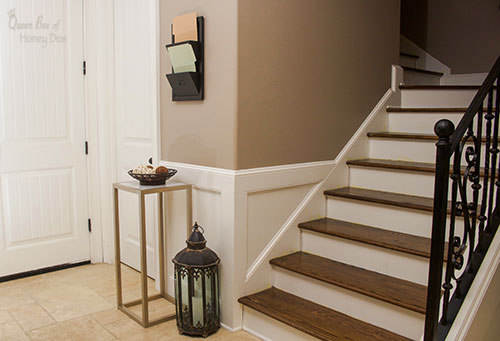 Above is my marble top accent table. I built this using nothing but square dowels. You can find the instructions to build this accent table, here. it requires a 12″ piece of tile in your choice of finish.
Dowel Rod Toys
I love making toys and games and dowels offer a great many options. One of the favorites of my kids is a ring toss. This one is done using 1/2″round dowels and a few scraps of lumber. Dowels should be spaced evenly apart at approximately 6″ apart.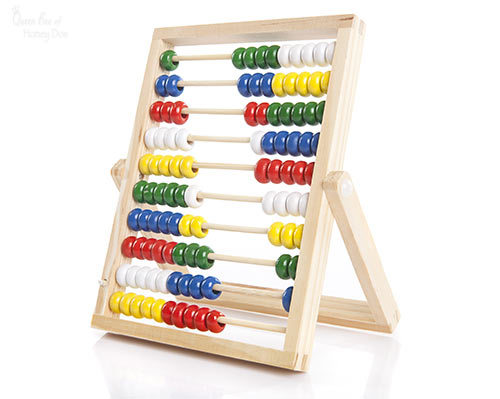 Why not make an abacus? These are relatively easy to make, and they make a nice gift. They are a bit more in-depth because of the swivel stand, but not too complicated.

You'll need 1″square dowels, 1/4″round dowels and a bad of wood beads. If you want a nostalgic child's gift but are looking for something a bit easier, check out my DIY toy boat. It doesn't use dowels but is an easy build.
Final Thoughts…
The things that you can do with dowel rods are so numerous that I could never include all of them in one post. But, I thought these were a good place to start. If you have made something not included above, feel free to share it with us!