Designing a closet along a slanted ceiling can present a challenge. This is especially true if the builder has thrown rods and shelving up in a less than optimized location. However, with a bit of reimagining, most sloped ceiling closets can be turned into an efficient storage space.
Re-imagining a Sloped Ceiling Closet
There are several techniques that I like to use to make sloped ceiling closets function for the user. Below, I am sharing my tips and tricks for the most common problems faced when working on an angle.
I am also sharing common mistakes and what you should avoid doing when you are installing a new closet on a sloped ceiling.
Create a Level Surface With Shelves
By far, the most common problem that most people struggle with is how to install that rod on an angled ceiling. How do you mount it, and how do you make it not look like an afterthought.
The simplest solution is to install shelving along the slope. This provides a nice level surface from which the rod can be installed. It also means the hanging height isn't dictated by wall height.

However, the space above the shelving is usually not deep enough to use for storing folded items, but it makes a nice little storage space for shoes.
To create the illusion of an intentionally built-in closet, add face-framing around the perimeter of the space. Yes, you can add face-framing even though there is no cabinet to attach it to.

Just build the face frame to size. Next, attach a support strip along the ceiling and walls. Then, attach the face frame to the support strips and the shelving.

Paint the framing and everything behind the framing with the same color and it will look like one built-in unit.
Step With The Slope
This technique works when you are installing a closet unit against the slope of the ceiling instead of installing along the slope.

By installing the vertical sections closer together and utilizing adjustable shelving, you can walk the closet sections down along the slope.
You can get more details on exactly how I DIY melamine closets on the cheap by reading the full post for the closet above. If you just want the instructions for adding adjustable shelf holes, you can see those, too.
Take Advantage of Floor Space
Don't ignore that space on the floor. It is prime real estate! I like to add drawers and/or shoe cubbies down below.

These work best when you have slightly more than 40" of hanger space (for most items) or right below the area where pants and slack hang.

Since pants require even less hanging space, I can usually squeeze in several drawers or shelves below them.
Utilize Space Between the Studs
Don't restrict yourself to the space that you see. Imagine what is behind the walls. Sometimes you only have those 3 1/2" between the studs. But it is amazing what you can do with just a few inches.

I like to shift shoes and handbags into these locations. Even if there isn't enough room for those items, I can almost always turn the space between studs into storage for belts, ties, scarves, etc.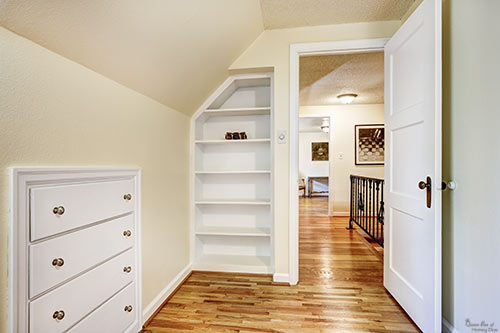 If there is attic space behind the wall, a full set of drawers can be installed. This will add an incredible amount of space for clothes.

Even with the smallest amount of recessed area, a great deal of closet space can be freed up for other use.
Posts Related to This Topic:
See how to install a recessed cabinet between the studs!
Turn It Sideways
I can't tell you the number of times I have organized someone's closet simply by turning things sideways. It is amazing how much better things can work if you ignore the traditional idea of a standard rod strung across the length.
This works best with reach-in closets where the ends are extra deep. It also can work with tricky angles where there isn't enough depth to comfortably place a rod.
How to Add Closets Despite Sloped Ceilings
Let's assume for the moment that you have a room that needs a closet. You would like to add one, but can't quite figure out where to place it because the room has slanted ceilings.
This type of situation is quite common with converted attic spaces, bonus rooms, and homes with architectural ceilings. But, the options below should give you some ideas on how you can go about solving this problem.
Quickly Convert Room into Closet
The easiest and fastest way to turn a room into a closet is to use a track system. These are great for the DIYer who doesn't have much skill in the carpentry or construction area.
The tracks are screwed into the wall at regular intervals, and hardware allows you to place rods, shelves, and even drawers anywhere you like.

The only downside to these is that you are restricted to the height of the wall. This leaves out a lot of useful space that you could get by installing higher up along the ceiling.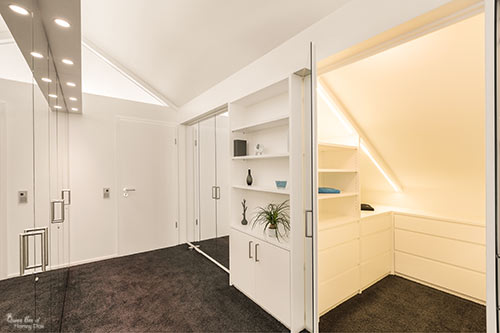 If the room is large enough, I think it is nice to separate the room into thirds. This allows for two separate closets with a nice dressing room section in the center.

The two rooms above are similar in size and shape, but notice how much nicer the above image is to its predecessor. It obviously costs more and is a more in-depth install than the room conversion using wall tracks, but the value is also quite higher.
Posts related to this topic:
Need to know how to frame a wall with a doorway? See this post!
Divide and Conquer
I like to partition off a portion of the room and use it as a closet. If the room is only sloped along one side, converting that side into a closet creates a balanced space for the room.

I like to use sliding track doors in this situation because the closet can (hypothetically) extend the entire length of the room without the worry of doors intruding into the living space.
When the ceiling slopes on both sides of the room, I typically like to create balance by installing dual units. Sometimes the rooms are large enough to handle this concept. Sometimes, I find it best to create a faux hallway (of sorts).
Do you have one of those rooms that feels like a bowling alley? If so, go for a full unit placed at the end of the room.

You can still have a very nice bedroom in the above space. Plus, you get the added benefit of reducing that bowling alley effect.
Mistakes to Avoid
When converting a closet or installing a new one, you want to avoid making these most frequently made mistakes.
Mind your hanger space. With sloped ceilings, it is very easy to place the rods too high. If you do this, the hangers will hit the wall and not hang straight. Make sure that you install the rod forward and down to correct the problem shown above.
Make sure you include the current lighting and venting locations in your plans. The image above is a perfect example of how someone installed a nice dividing concept but didn't set it back far enough. The lights are okay, but the vent will eventually cause issues.
Finally, make sure you understand the proper dimensions required for all elements within a closet. You can find those on my post on "correct closet measurements and dimensions." And remember, sloped ceilings mean more floor real estate is often required.