Just recently I received an email from someone asking for advise on how to create closet space when the ceiling is sloped or slanted. I understand this problem, and know that many of us have the same dilemma. So, I wanted to expand on my other articles of small closets and drool worthy closets by adding this article on sloped ceiling closets.
Sloped Ceiling Closets…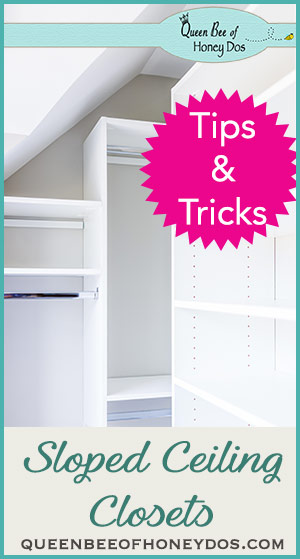 Sloped Ceiling Closets…
(Photo by Rich Fairfull Custom Closet & Storage Design)
To begin with, you should first know that any ceiling can work with a closet if the design is thought through thoroughly. But just as in this example above, you should keep in mind that a sloped ceiling closet will more than likely require more floor square footage than a traditional ceiling. The reason is because you have to expand out away from the wall in order to get the height.
But there are ways to put this to your benefit. For example, (above) instead of having a toe kick install a drawer below. You may as well. The depth will be quite good, and it would be wasted space otherwise.
(Photo by Rabaut Design Associates, Inc.)
On the other hand, you could do the reverse. If the knee wall offers enough height to hang close comfortably, just hang them within that space. Then, along the sloped ceiling you could add storage space for shoes or other small items.
(Photo by Andy Johnston Construction LLC)
You could also forego the shelving if you prefer to just install the rods. However, this would probably only work well if you have other means of storage for all of those items that require shelves or drawers. Above, they have placed shelving along one wall that offers ceiling height, and used the remaining space as hanging storage.
Sloped Ceiling Closets Created…
(Photo by Leveille Home Improvement Consultants, Inc.)
If you have one of those large rooms with that one sided sloped ceiling, consider turning that side of the room into a walk around closet. All you really have to do is put up a wall with openings at either end. Then add some closet shelving. This is a nice solution to those bonus rooms that come with no closets. (Just mind the placement of the lights and the AC vents)
(Photo by A Collaborative Design Group)
Likewise, you could add a header and some sliding doors along the sloped ceiling to create a closet space. Above, the header has been trimmed out and crown molding added to give it that final finishing touch.
(Photo by Ute Günther INNENARCHITEKTUR & DESIGN) 
This image above has got to be one of the smallest bedrooms that I have seen. It also has utilized every inch of available space quite efficiently. From this view, you are looking across the headboard towards the foot of the bed. ( Yes, they have placed the bed backwards) The room is actually open to the main living space. So, the headboard serves as a knee wall for this space, and provides privacy for the sleeper. The closet has been built sideways to block the view from the end as well. Not only is this a neat little closet, but it is also a great idea for creating a bedroom where once there was none.
Sloped Ceiling Closets – Turn it Sideways…
If you have a very small closet, it may work better to turn things sideways. When the ceiling slopes towards the back of the closet space, you can generally create more usable space by installing along the side walls.
If you are creating closet space for a small person, keep in mind that you really don't have to place the rod at the traditional height. You can always lower it to just fit the users needs. This will free up some space for other types of storage.
Also, when going sideways, consider recessing additional storage into the knee wall space. You should be able to just fit a nice shoe cubby into that area, or use this space to store books, purses, etc.
Sloped Ceiling Closets – Visible Closets…
(Photo by Landmark Services Inc)
As I mentioned before, sometimes you need to add closet space to a large room. In which case you can afford to sacrifice some space. In this bonus room, the ceiling sloped on both sides at the entranceway (just before the bump outs for the windows). So, this provided a nice place to create furniture like storage. Something like this could also be designed with doors to hide hanging rods, if needed.
Here is another example of utilizing large niches to create closet space. This once attic space makes a very nice bedroom. The big plus is that built ins always enhance the looks and the value of a home.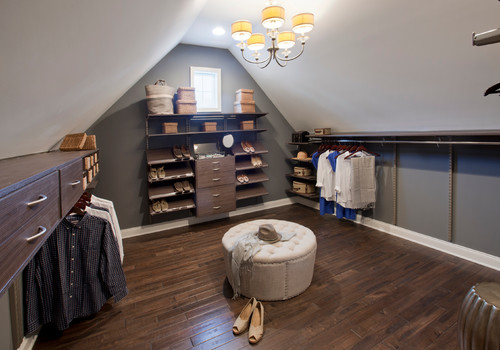 If you have an extra bedroom that you would like to use as a closet, consider whether you will want to be able to change it back in the event of a resale. For a quick room conversion (such as this previous bedroom turned closet), just add metal tracks along the knee walls. This allows for design changes without the extra expense. Plus, if you do decide to sale your home, these can be removed will very little damage, and you are back to a bedroom once again.
FYI: This also works well for young couples who plan to have future children, but want some extra storage space while they wait.
Final Thoughts…
I hope that you have enjoyed these sloped ceiling closets, and I hope that they have provided you with a solution to your storage problems. I would also like to thank the person who emailed me with their question about their own sloped ceiling, and for giving me this idea. 🙂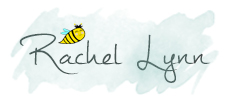 – PIN IT –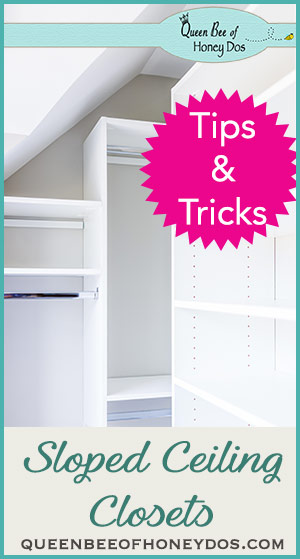 – PIN IT –
---