There are many variations of how exactly to make up a batch of powder laundry detergent. Most utilize the same basic ingredients, but with varying suggestions on the amount. These are my tried and true recipes which I find are far superior to store-bought in both the level of cleanliness and in helping to keep my machine free from build-up.
(This post may contain affiliate links (*). That means that I make a small commission from sales that result through these links, at no additional cost to you. You can read my full disclosure here.)
The Importance of Perfect Ratios
If you have shopped around the internet looking for a good formula to use to make your own laundry detergent, you will notice that I too use many of the same general ingredients. That is because these are the ingredients that actually work.

What you will also notice is that my ratios differ quite a bit from the standard. I have tweaked and modified the amounts to get the perfect ratios to best get rid of the body oils and odors that seem to be just covered up with most commercial detergents.
I also have made adjustments to my formulas over the years to get the perfect ratio to prevent excessive build-up within my machine. Many laundry detergents and fabric softeners leave behind residue that clings to the underside of the tubs and eventually cause a maintenance nightmare for owners. We want to avoid that.

In most homemade powder laundry detergents, one of the ingredients is a saponified soap. Overuse of soap can cause just as much build-up on your clothes and in your machine as overusing any commercial liquid detergent. I have found the following ratios to be the optimum amount for both clothes and machines.
Before You Wash Your Clothes
But before we get started, the first step to getting perfectly clean clothes is to start with a clean machine. If you notice that your machine has a moldy or mildew scent coming from it, that means you have some lingering mold hidden in there. I recommend deep cleaning your washing machine before moving forward.
If, on the other hand, your clothes are coming out of the wash smelling fresh but come out of the dryer with a chemical odor, you can troubleshoot those dryer odors here.

In addition, some of us have been using (and overusing) fabric softener for so long that we have an almost impenetrable amount of build up in our clothes and linens. Items with severe build-up may require a purge to reset things.
About Powder Laundry Detergent Ingredients
I am including five different formulas that I like and use. Each one is built on the basic base but has some slight differences to account for specific laundry issues – such as difficult odors, the need for a gentle formula, and the options to create preferred scents.

On that note, I wanted to discuss for just a moment a few of the prime ingredients that I use. These are common ingredients on most homemade laundry recipes and for good reason. But there are a few frequent issues that may arise from these. So. let's get that out of the way.
Fels Naptha
Some people do not like the scent of the Fels Naptha bar. Others really like the scent. Personally, I find it to be pleasant. However, scent is a very subjective thing. So, I want to prepare you.

If you have never used Fels Naptha before, you should know that the bar itself has quite a strong perfume smell. Some people find it off-putting especially when they first open the bar.

However, remember that this is a concentrated version of what you will end up with. The ratios that I have listed will result in only a tiny amount of the product in every load. By the time the cycle finishes, the scent is very light and similar to that of any detergent.
I do recommend using the Fels Naptha as apposed to other bars because it does such a good job of cleaning and it is easy on the machine. Plus, it is super cheap!

But, if you get the bar and decide that you do not like the scent, the last two recipes can be used. I have included those for anyone who wants a perfume-free formula or prefer to have a custom scent.
Washing Soda
Most people are familiar with washing soda, but if you are not, this is basically a laundry booster. It will get your clothes CRAZZZZY CLEAN.

Washing soda (or soda ash) is just another name for sodium carbonate which is a strong alkaline used for softening water and increasing the effectiveness of detergents. It helps by preventing deposits in hard water from forming a bond with the fabric and the detergent. (i.e stops build-up on clothes).
As popular as this product is, I have found that it can sometimes be difficult to find it at the local grocery store. I usually buy it online at Amazon or through Walmart. (more on that in a bit).

If you are unable to source it locally and you don't want to order it online, you can check with your local pool supply stores. Just make sure that you are buying 100% soda ash without any extra additives.
Borax
Borax is a laundry boosting additive. It is wonderful at removing odors and boosting the cleaning abilities of the detergent.

However, it has one negative. It doesn't dissolve so well in cold water. If you are a diehard cold water user, you will likely be happier using my DIY liquid detergent.
5 DIY Powder Laundry Detergents
I recommend making up no more than enough to last for 3 months at a time. The detergent itself will not expire or go bad. However, exposure to humidity can cause the detergent to eventually lose some of its free-flowing ability.

It takes a while for that to happen though, so you really don't have to worry about it. Using an airtight container will help keep it free-flowing for an even longer time. But, I prefer to stick with making fresh every 3 months or so.
Where to Buy the DIY Detergent Ingredients:
Right now, the prices on ingredients are WAY out of line with normal. You know how it is. Some people like to take advantage of bad situations and resort to price gouging.

I normally love shopping for all my products through Amazon. It's quick and convenient. But not so much when the prices are out of line. My backup online shop is Walmart. They don't offer prime shipping but if you reach their $35 threshold, they do ship for free.

I have searched for the best prices and will include individual links here and again further down this post.
Basic Laundry Detergent Formula:
1 Fels Naptha bar finely shredded
2 Cups Borax
2 Cups Washing Soda
1 Cup Oxiclean Original
Odor Removing Formula
1 Fels Naptha bar finely shredded
2 Cups Borax
2 Cups Washing Soda
1 Cup Oxiclean Odor Blasters
Dark Clothes Formula
1 Fels Naptha bar finely shredded
2 Cups Borax
2 Cups Washing Soda
1 Cup Oxiclean Dark Protect
Custom Scented Formulas
If you decide that you do not like the scent of Fels Naptha, you can use the below formulas instead. Please note that I am using the original Oxiclean in the remaining two formulas, but you can swap it out for the Oxiclean used in either the Odor Removing Formula or the Dark Clothes Formula to create those versions.
1 Pure Castile bar in choice of scent
2 Cups Borax
2 Cups Washing Soda
1 Cup Oxiclean Original
Gentle/Unscented Formula
1 Unscented Pure Castile bar or 1 cup of Pure Soap Flakes*
2 Cups Borax
2 Cups Washing Soda
1 Cup Oxiclean Baby
Instructions for Making Powder Laundry Detergent: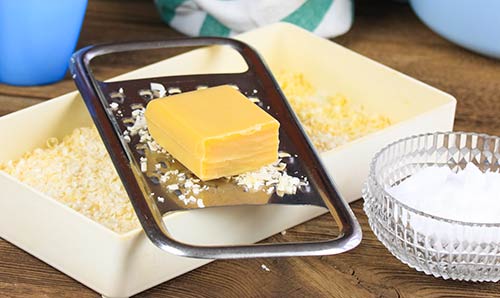 Step 1 – Grate one whole bar of either the Fels Naptha or the Pure Castile Soap. You should use the fine grater side of your grater. This will make for smaller particles which will resolve easily in the water.

Do not grate the bars into large shreds or chunks. These may not dissolve completely and could cause too much of the product to be included in a single wash. An alternative to grating your own bars is to use 1 cup of soap flakes.
Step 2 – Add the grated bar (or flakes if you prefer those) to the other dry ingredients. Mix well using a wooden spoon or plastic utensil.

Step 3 – Dispense mixed product into an airtight container and store away from children.
Amount of Detergent to Use
You will find that these formulas take a very small amount. If administered at the proper levels, your laundry will be so clean and fresh and your machine will not suffer from the build-up that occurs with some other detergents.

However, like anything you can overdo it if you are not careful. Too much of a good thing is never a good thing. This truly does not take much to get optimum results.
For my machine, I use 1/4 of a cup, or 4 TBSP for everyday laundry, However, I also have adjusted the water levels on my washing machine. So, I have more water than many other HE machines.

With that in mind, I recommend starting with 2 TBSP on your average load and see how that works. You can always bump up the amount until you find exactly what works best for your machine.
Laundry Settings To Use
Add the powder directly to the tub. Do not use the drawer dispenser. Optimum water temperature should be set to hot, however warm water will also work. For cold settings, use my liquid detergent recipe.
Just a Quick Quantity Guide:
55 oz washing soda = approximately 6 cups
65 oz borax = approximately 9 cups
3 lbs Oxiclean = approximately 4 1/2 cups
1 Bar Fels Naptha – approximately 2 cups shredded plus a small chip leftover to use as a stain stick
Each batch makes approximately 5 1/2 cups of powder detergent. This equates to 22 loads at 1/4 cup for each wash cycle. You can get more loads if you decide to use less powder.
Recommended canister size* = 2 quart. Doubled batches work best with 1 gallon canisters.* These sizes leave room for scooping.
Shop Detergent Ingredients from Walmart
Photo Credit: linksynergy.walmart.com
Photo Credit: linksynergy.walmart.com
Photo Credit: linksynergy.walmart.com
Photo Credit: linksynergy.walmart.com
Photo Credit: linksynergy.walmart.com
Photo Credit: linksynergy.walmart.com
Photo Credit: linksynergy.walmart.com
Shop Detergent Ingredients at Amazon
More For You In Laundry Tips
If you found this helpful, try checking out my posts on:
How to Extend the Life of Your Bedding
Make your own Scented Drawer Sachets
Make Your Own Custom Linen Spray
Frequently Asked Questions:
Is Washing Soda Safe to use in HE machines?
Yes, washing soda is a common ingredient in both powder and liquid detergents and is sold as a stand-alone laundry boosting additive.
I have heard that homemade laundry detergents will cause build-up in my machine. Is this true?
It certainly can if you use too much, but this is the case with any detergent – homemade or otherwise. From a personal perspective, I can tell you that I do my own appliance repairs and always have. This has shed quite a light on things.

Over the years, I have removed tubs from machines that have undergone long-term use from both homemade and store-bought laundry detergents. I don't notice much difference between the two unless too much is being used.

But, what I do see, is build-up as a direct result of using too much fabric softeners and/or waxy scented beads. I also notice that the waxy build-up on the filter is almost non-existant when using the homemade powder. But, it gets out of hand very quickly when using commercial brands.
To help eliminate fabric softener build-up, I make up my own quick mix that serves as a rinse aid and a softener. Straight vinegar works well, too. But, I rarely use those delicious smelling beads.

I still occasionally use commercial detergents when I run out of homemade powder detergent. So, I am not a fanatic about it. But I can go for 6 months without any trace of build-up forming with the homemade stuff. I could maybe go longer, but I won't.

In the end, any product can cause a problem if not used correctly. You should use the least amount needed to get your clothes clean. You should also do periodic tub cleaning cycles to maintain your machine. This applies regardless of detergents being used.
Why do some sites say that homemade detergent is the way to go, but other sites say to avoid it?
There are a lot of reasons. Some people may have had bad experiences because they maybe made formulas that were too rich in saponified soap. They used the wrong ingredients, or they didn't use the product correctly.

Othertimes, recommendations are made on behalf of parties that have an agenda. I.E a commercial detergent company will always push against you making your own product.

I find that the choice for DIY detergent vs commercial products is simply a preference. Both can have a downside and both have their good points. I use both but find that I get better results with homemade detergent.
Are These Formulas Safe for High-Efficiency Machines?
Yes. All of the ingredients (with the exception of the castile soap) are approved for use in he machines. The ratio used creates a low sudsing detergent on par with manufacturer recommendations. However, you can check with your manual for specifics on what is considered safe for use for your machine.