Paper towels are one of those things that just about everyone needs, but no one really knows where to place them. Most of us just go with the the old stand by – countertop holders. Obviously, those work just fine, but if you are looking for some more ingenious ways to hide away your paper towels, then you have got to check out these great ideas!
8 Great Ideas for Hanging Paper Towels…
If you are looking for a complete designer kitchen, then perhaps a paper towel drawer is right up your alley. You can have one of these drawers made by the cabinet maker for a premium price, or if you are a DIYer , you can convert a drawer yourself.
(Photo by Richard Landon Design)
This is more in line with what I prefer to do. I wish I had enough drawers to dedicate to paper towels, but my drawers are prime real estate space in my kitchen. However, I am willing to give up a small amount of space inside one of my cabinets. To create this look, you will need to cut an open space through the bottom of your cabinet.
Because you will be cutting in an awkward space, getting a perfectly straight slot may be a bit difficult. To make things have a more finished look, cut a slightly smaller opening in a second piece of wood (cut to fit the interior dimensions of you cabinet). Then, sand, seal, and insert into the bottom of the cabinet over the opening. (The same can be done on the bottom of the cabinet). Then, mount a paper towel holder and you're ready to go.
(Photo by Sandra Bird Designs)
If you have an island, you may prefer to place a hanging holder at one end for your paper towels. This keeps them off the counter, but still makes them convenient.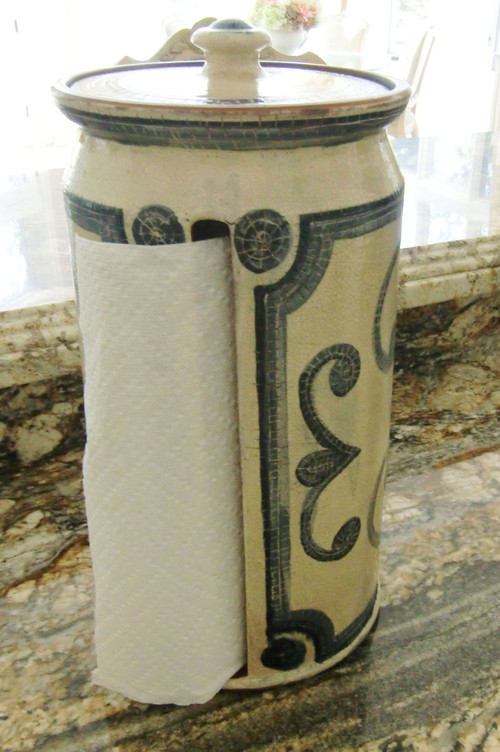 (Photo by The Workshops of David T. Smith)
I thought this was a super cute way to hide paper towels. Because it is made of pottery, it looks good setting on your countertop. I found one like this at Paxis Place Pottery for $125. Kind of expensive for hiding paper towels, but not as much as having a cabinet custom made. However, I am thinking that something like this could be made relatively easy.
(Photo by Lauren Rubin Architecture)
For just a bit of whimsy, I love the vertically mounted paper towel holders. To pull this off, buy a holder that makes some sort of a statement, such as one that matches your hardware.
(Photo by Huestis Tucker Architects, LLC)
Beneath a cabinet is probably one of the best locations for paper towels. It is convenient but also out of the way, and besides, what are you really doing with the space beneath your cabinets. To do this, you will need an under mount paper towel holder.
(Photo by Medallion Cabinetry)
To make those under mount holders look like a designer piece, box it out with corbels and trim. This way, your paper towels do not look like an after thought.
By the way, paper towels are also great in the bathroom. You can use traditional paper towels, or what I prefer, use C-fold paper towels placed on a tray. This is a very elegant addition to powder rooms. Your guest will really appreciate it, as no one wants to use a cloth towel that others have wiped their hands on. (For ideas on where to store that toilet paper, you have got to see this article)!
Final Thoughts…
So, which method do you prefer? If you have an even better idea than was mentioned here, please feel free to share it with us!