Hi, I'm Rachel Lynn (AKA – Queen Bee of Honey Dos). I enjoy turning average houses into dream homes. I have been renovating houses for more than 20 years.
Personal:
I was raised by my grandparents in a rural home with sawdust in my blood and a do-it-yourself attitude in my heart. I was taught to grow my own food, make my own clothes, and fix anything that needed to be fixed. As a result, I have rarely had the need for an outside repairperson.
Education:
I apprenticed in a furniture and cabinetry shop throughout my high school years where I learned to construct cabinetry and to design, build, and upholster furniture.

I graduated from the University of Memphis, where I receive my BBA with a concentration in business and information technology. While in college, I studied heavily in accounting, graphic design, and software design.
Work Experience:
I spent two years working as an accountant before leaving that position to open my first online store designing graphics and manufacturing custom products for both personal use and business branding.

Throughout, I continued to do home renovations on the side. In 2008, I designed my first home. In 2013, I designed and oversaw the complete build of my current home after which I went full time as a renovation expert.

Over the years, I have renovated dozens of houses. I've gutted and redesigned bathrooms, kitchens, living rooms, flooring, and unfinished attic spaces. I've built and installed numerous cabinet sets and restructured too many closets to count.

In 2015, I started sharing advice and tutorials on this blog and turned the combination of my experience and training into a career. This site now has two sister sites where I share more advice from my other skillsets.
Meet My Men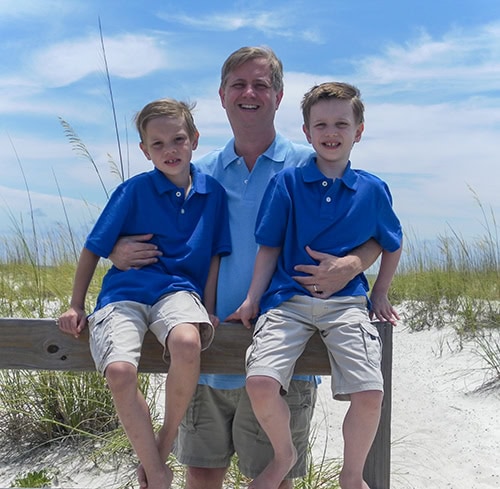 *

Notice – Images of my family are provided for information purposes only. Please do not attempt to pin them or disperse them in any fashion. Thank you for understanding.