After sharing my recipe for making powder detergent, I thought it might be a good idea to post how I wash cold water loads. For that, I prefer to use my homemade liquid detergent. It doesn't require grating (yay) and is so insanely easy to do. Once you learn the recipe, you will likely never go back to store-bought again.
(This post may contain affiliate links (*). That means that I make a small commission from sales that result through these links, at no additional cost to you. You can read my full disclosure here.)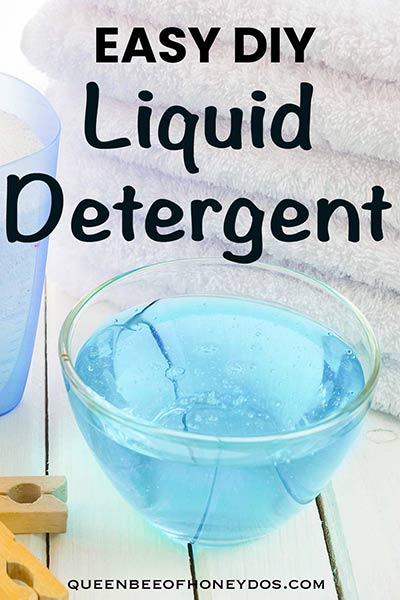 As I mentioned before in my post on powder detergent, I have been making and using my own for quite some time. You can also read about my comparisons of store-bought vs DIYed detergents with machine maintenance on that post.
I normally prefer to use the powder detergent but occasionally I need to wash something in cold water. Since powder detergent doesn't dissolve quite that well in cold water, I like to keep some of this DIYed liquid detergent on hand.
The ratios used are very low sudsing and work well in both top load and front load he machines.
A Note on Using Bleach
You should not use bleach when using this recipe. The original dawn formula states on the bottle that you can't mix it with bleach. I am using the 3x ultra version, and it doesn't say one way or the other.

However, many dish detergents contain ammonia. You should never mix the two ingredients together as it will create a toxic gas.
To compensate for this problem, I use liquid Oxiclean in my formula. This provides the whitening power that is needed for most laundry loads while still being safe for darks.
Ingredients:
Instructions
Bring 1 quart of water to a boil. Add in 1/2 cup of Borax. Mix until completely dissolved.
The Borax will dissolve much better with hot water. You may need to apply more heat to keep the water hot.
Once the Borax has dissolved completely, add in the washing soda and mix until dissolved.
Pour in the remaining quart of water. Then, add in the dawn and the Oxiclean. Gently mix.
Allow the detergent to cool. Then, dispense into a 64-ounce container.
Suggestions for Containers
I prefer to use an old fabric softener container because it already has a nice little measuring cup attached. But, if you do not have one of those or you just want something a bit fancier, you can find some nice containers on Amazon.*
If you clean with vinegar, you can also use one of those as a container. To remove the labels on old bottles, spritz with the liquid detergent and allow it to soak in for about 30 minutes. This will soften the label and allow you to peel it away.
For those pesky expiration dates that are stamped on the bottle, use a bit of nail polish remover. Once the containers are cleaned up, you can add your own pretty labels.
How To Use Homemade Liquid Detergent
The solution may separate a bit after resting overnight. Give the container a quick shake to redisburse.

Add a full capful (about 1/4 cup) to the liquid detergent dispenser. Use less for smaller loads and a bit more for extra dirty clothes.

Wash laundry as indicated on the laundry tags, but replace your fabric softener with vinegar. It will give you a better rinse and make your clothes just as soft.
Save those wax beads for making sachets for your linen drawers. They are the biggest cause of build-up on clothes and in machines – which kinda sucks because they really smell yummy.
More Cleaning Posts Related to Laundry
Because having a good clean machine is vital to getting good clean clothes, I recommend checking out how to clean and maintain your machine. This is especially important if you are detecting a moldy odor coming from your machine.
But if it's your dryer causing your clothes to have a chemical smell, check out my troubleshooter on that, here.
If you like homemade detergents, you might want to try your hand at making your own linen spray.