How often do you find yourself working in your dining room? It seems like my dining room has gradually become a catch-all for every paper and bill that makes its way to us, and I am constantly tidying up to keep it looking uncluttered. So, when the opportunity to join in with the One Room Challenge presented itself, I knew instantly that I was going to be converting this space into a dining office combo!
Dining Office Combo – One Room Challenge 2019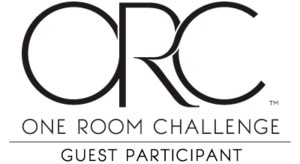 If you are not familiar with the One Room Challenge (ORC), it is a bi-annual event where a select number of designers/renovators get together to each showcase a single room makeover. It is sponsored by Better Homes and Gardens and lasts for six weeks.

Each week, a new phase of the room is completed and revealed to the public. Typically, the first week begins with the plan or general idea of what the designer or renovator wants to achieve. Each consecutive week provides you with a new project or step in the plan. The final week ends with a big reveal of how everything came together.
It is going to be a crazy stressful six weeks to try to finish each renovation phase and to photograph and record each step. Then, write, edit, and put it all together before the deadline. I will be showcasing each phase on Thursdays and you can see what other designers are doing through the ORC site.
Dining Office Combo -Before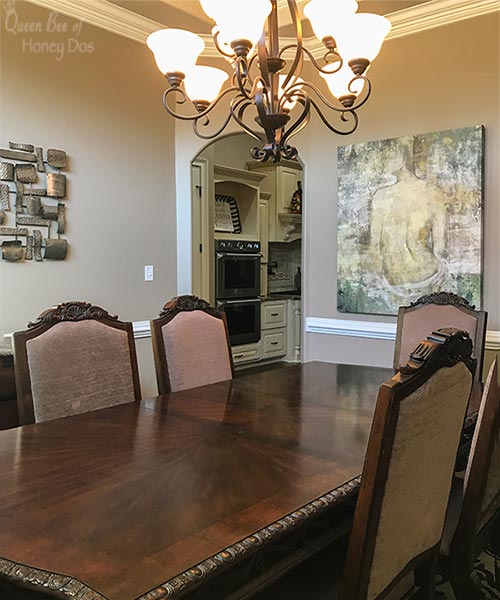 It's been a while since I have done a complete room remodel. I think the last major renovation that I did in my house was converting some attic space into a theater room. I am also in the midst of doing a complete overhaul on my garage, but I have had to put that on hold while I redirect my attention to this project.
The before of my dining room looks pretty bland. We rarely eat in our formal dining room, so the space has pretty much been neglected in the decor department. As I said, I mostly use this space as a catch-all.

The current color is Sherwin William's Tony Taupe. The last paint job was back when gray was just beginning to take hold as the new neutral and I was still leaning a little towards the warmer tones.

It is still a nice neutral, but I am finding it to be a bit darker than I want. I am thinking that I want something a bit cooler and lighter and brighter.
I will also be losing the large chandelier. Don't worry, I have plans for that in a different room. I'll be showing you how I update it into something super fabulous. But, that is another project for another day. Let's get into this room's plan.
Dining Office Combo – The Goal
I want to transform it into a home office that can still be used for dining if needed. That means that I need to create storage that can contain office supplies and printers, but still provide table space and ample seating for guests.

I also want to make this room look current and "done." Right now, it looks like just what it is, a room with a dining table placed in the center. Instead, I would like it to be inviting and have that "wow" factor. Let's hope I can achieve something before my time runs out.
Dining Office Combo – The Plan
Color Palette:
You can see from my mood board that I am mostly establishing a nice neutral palette. I love the way Sherwin William's Repose Gray works with all different accent colors. So, I am using that for the walls. The trim is going to be West Highland White and there will be a feature done in a darker shade.

For those of you who are more inclined towards colors outside of neutrals, don't worry. I will be adding color to the final reveal with accessories and decor. I just haven't decided what that color will be. I am open to suggestions. Feel free to chime in with suggestions in the comments.
Lighting Fixture:
I have a picture in my mind for this space. I plugged something very close to what I want into the mood board. When I looked into how much it would cost to buy a light fixture like this in the size needed for my space, it was going to be quite a big chunk of my budget.

But, because I am not likely to pay for something I can make myself, you won't see me spending a fortune on this focal point. I plan to recreate this piece from something much cheaper. So if you're looking for a way to upgrade a light fixture, you'll want to make sure to catch the week that this project is revealed.
Window Treatments:
The windows are another place where I will be looking to save a few bucks and to do a DIY. Because time is so restricted, I am planning a no-sew window treatment, and I will be showing you how to make plane-Jane curtains look like custom pieces.
Storage & Decor:
As you can see in the mood board, I am planning to add some sort of rustic/industrial shelving unit. I will also be adding some budget-friendly decor and other office storage accessories. I am already making runs to my favorite places to see what is available. But, since I don't yet know what all that will be, it will be a surprise for both of us.
Secret Feature:
There is no way that I can do a project without having at least one feature project. I am really excited about this one. I have been wanting to do it for some time, but I just haven't had the opportunity. But, this seems like the perfect time.

I am not revealing exactly what that feature project will be at this time. I want to keep a few cards close to the vest. The only thing I can disclose is that I am planning to use Gauntlet Gray in the project. I can't wait for you all to see it!
Dining Office Combo – Prepping the Space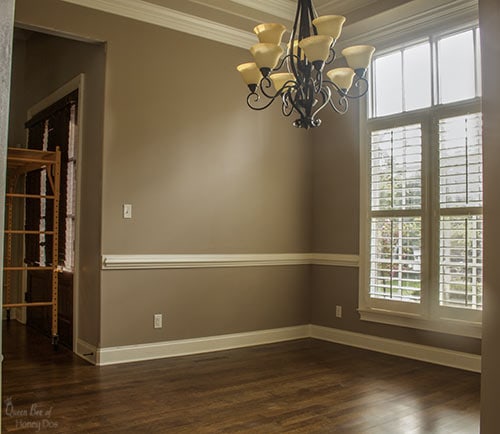 In addition to coming up with a plan for week one of the One Room Challenge, I am also prepping the space for next week. That's not too difficult. It mostly consists of clearing everything out and giving the room a thorough cleaning.
It sounds crazy to clean a room that will be undergoing a renovation, but paint requires clean walls. Plus, having everything out of the room reveals hidden dirt and cobwebs that you didn't even know were there.
I also took this opportunity to clean the window molding and trim. And you can see my scaffolding off to the left. It is just waiting for next week's paint job. Which, I will be starting just as soon as I finish writing this post.
Final Comments
That wraps up part one of my dining office combo and week one of the One Room Challenge makeover and renovation! Check back next week to see the brand new color and to get more insight into what I have planned. Each week will be revealed on Thursdays! So, check back!

Week 2 – Repose Gray Neutral Canvas!
Week 3 – Chevron Plank Ceiling!
Week 4 – Drop Cloth Drapes
Week 5 – Drum Chandelier Makeover
Week 6 –Reveal!