Lighting fixtures are like house jewelry. They add that finishing touch and if you change them to a different style, you can get a whole new look. This week, I want to show you how to quickly upgrade a drum chandelier by turning it into a crystal chandelier.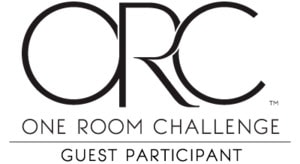 Yes, we are finally into the last few weeks of the One Room Challenge. So far, I have removed chair rail molding, painted, planked the ceiling, and made button-pleated drapes (links available at the end of this post).
I have also been doing a lot of shopping for those final touches that are to come. All as part of the biannual event and Better Homes and Garden media partnership brought to you by The One Room Challenge. I have really enjoyed participating in this year's event.

Now, let's jump right into the details to upgrade a drum chandelier into a new crystal chandelier.
(This post may contain affiliate links (*). That means that I make a small commission from sales that result through these links, at no additional cost to you. You can read my full disclosure here.)
About Lighting frames
In the past, I have upgraded lights by drilling very tiny holes through the frame at carefully chosen locations. Then, attaching the crystals with wire and/or nylon string. This is a good method that will save a little bit of cash, but it also has its downsides.

One, you have to be fully aware of how a light fixture is structured, where the wiring is located, and have an understanding of how drill bits work.

Two, once you drill those holes, there is no going back. You also will not be able to easily remove the crystals for cleaning – a plus for this easier method that I am about to explain.
Benefits of this method
As I just mentioned, this method makes it very easy to remove the crystals at a later date. I like this because I can take them down and hand clean them. That is much better than trying to balance on a ladder and clean them in place.

It also means that you can change up the design later on. So, if you get tired of how they look or trends change, you can always go back to your original style.
Materials Used for This Project
Teardrop crystals* (I used 18 or 1 pack)
these jewelry clasps (1 clasp half per strand, available in multiple metals)
1″ lamp nipple to attach finial button to bottom (optional, but gives a more finished look).
Instructions to Upgrade a Drum Chandelier
If you need to change the color of the magnets, you can do this easily with spray paint. Just match the paint to your fixture and you will be good to go.

The best way to go about attaching the crystals is to begin at the center of your fixture. That is typically the finial. Hang your first strand of crystals from the center and use this point to determine how long they will extend.

Remember that the crystals at the center point should be hanging down the farthest. Shorten the strand lengths as you work towards the outer edge. Make adjustments as needed.
To start hanging the crystal strands, attach the magnetic clasp at the end of the length. Add extra crystals to each strand as needed to extend the length, or remove some to shorten it.

Once the strand is at the correct length needed, attach it to any of the metal surfaces. These clasps are very strong and will hold in almost any direction.
Continue adding strand as you work your way toward the outer sides of the fixture. I like to work all the way around the inner perimeter of the fixture before starting another row further out.

Once you finish adding the last row at the outer edge of the fixture, you can go back and add a few crystals to any special features, tips, or finials to further enhance the effect.
Final Comments
And that's it! Simple, easy and budget-friendly. Who could ask for more?

If you missed any of the previous projects on this room makeover, head on over and check those out!

Week 1 – The Plan!
Week 2 – A Neutral Canvas with Repose Gray
Week 3 – Chevron Planked Ceiling
Week 4 – Pleated Drop Cloth Curtains
Week 5 – You Are Here!
Week 6 – The Big Reveal!