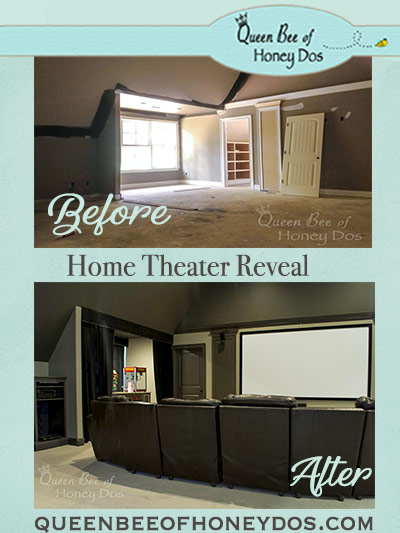 I am so excited to be able to finally bring you all my home theater reveal. I wasn't sure if I was ever going to be able to write an article on this project, because I had inadvertently deleted most of the photos documenting the process. However, I recently located an old iPhone that had been misplaced. Luckily, it had a few images that had been taken during the process. Not as many as I would have liked, and certainly not very good quality, but I am making do.

(This post may contain affiliate links (*). That means that I make a small commission from sales that result through these links, at no additional cost to you. You can read my full disclosure here.)
Home Theater Reveal…
When the construction of my house was going on, I knew that I wanted to reserve a space that could later be converted into a home theater room. So, I made sure that the space was prepped and ready to go. Well, sort of…..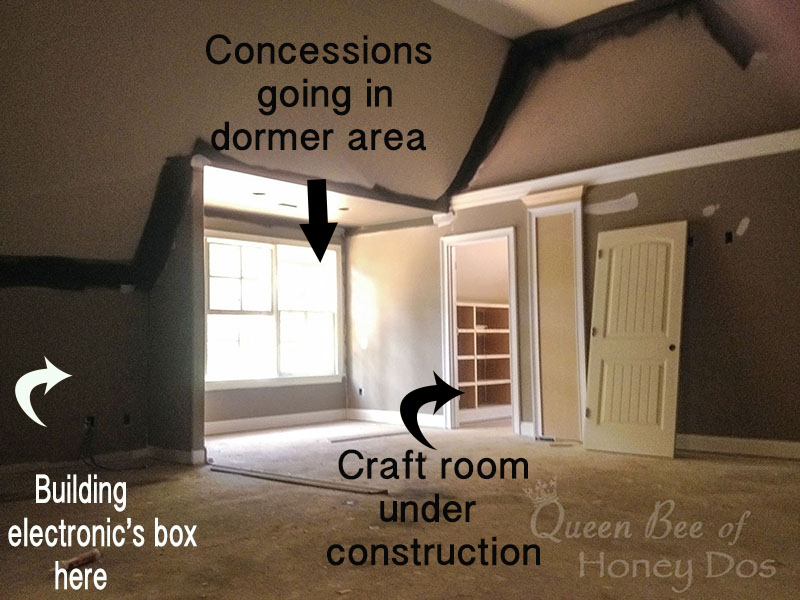 I had planned for a very large attic space to be converted. The room was initially built out with a smaller room behind where the screen would be located. This was suppose to be the equipment room. (media and security) The equipment room measured 15'x 18′. So as you can imagine, I just couldn't see devoting that much space to just equipment. (This became my craft room).;-) I moved the media equipment to a built in box, and the security I had relocated elsewhere.
As I began to plan, my son chimed in with many suggestions of what it would take to make "a really cool" theater room. A candy stand was requested, as were "real movie posters." (translation: lighted poster boxes).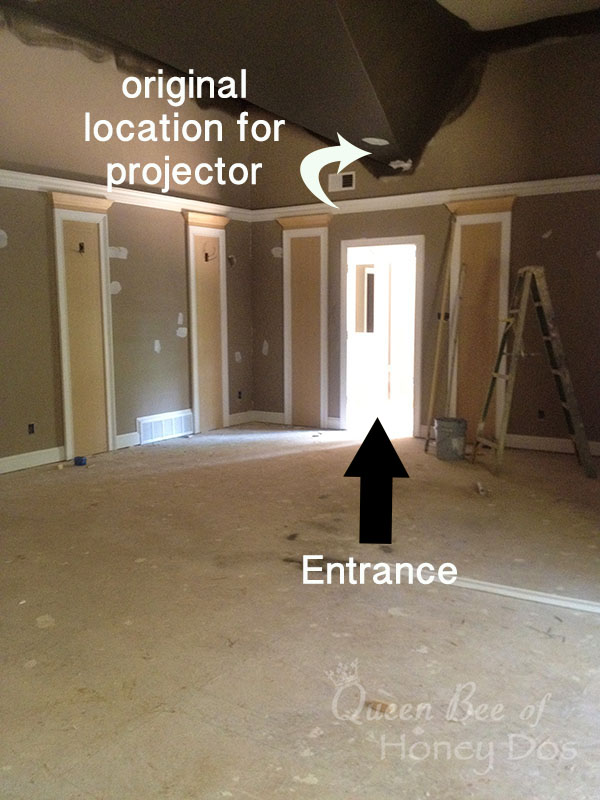 Anyway, the room had electrical and wiring for a theater system. The only problem was that the original location for the projector was 24′ from the screen location. After, I found out that a projector that would project from that far back would run around 10k, I decided that I would rewire myself and go with a more budget friendly projector. )
To see how these faux columns were made – click here.
Home Theater Room Equipment

I did a lot of research before making my decisions on which equipment to purchase. I wanted the absolute best, but also wanted to keep things within a certain budget. After much deliberation, I ended up going with a Ben Q W1070 projector*. It turned out to be a great decision. The picture is excellent and we have not had any problems with it so far.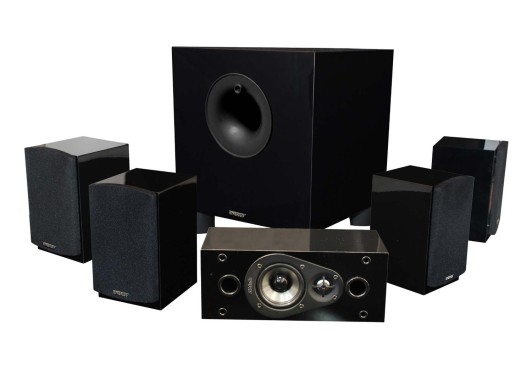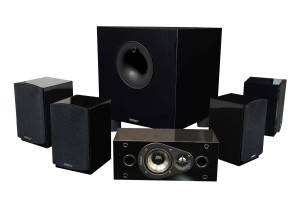 I also purchased this Energy's 5.1 Home Theater System* after reading the review on C-Net. I use a Sony receiver with this system, but the one that I have is no longer available at Amazon. So, I am not able to provide a convenient link. If you choose to purchase this home theater system, you will need to get a receiver, though.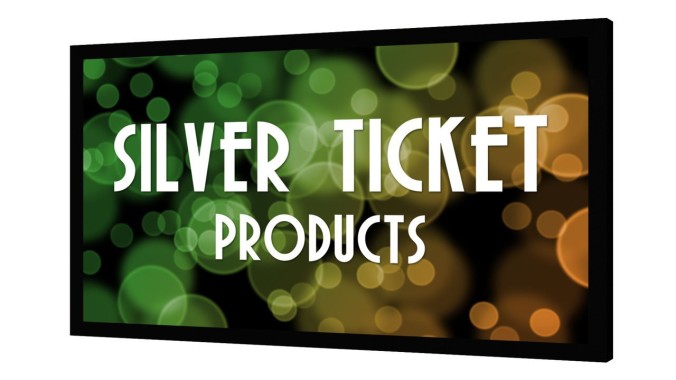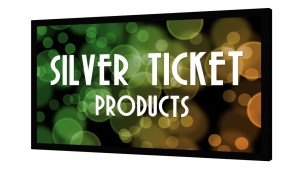 This is the screen* that I decided on. It is quite big and looks very nice. It has a velvet covered frame and was easy to assemble, as far as screens go. I am very happy with it.
Before and Afters…

This is a panoramic view of the before for the right side of the room. You can see some of the wiring hanging out of the wall, and all of the outlet boxes.

And an after shot.
Home Theater Reveal – Concession/Candy stand…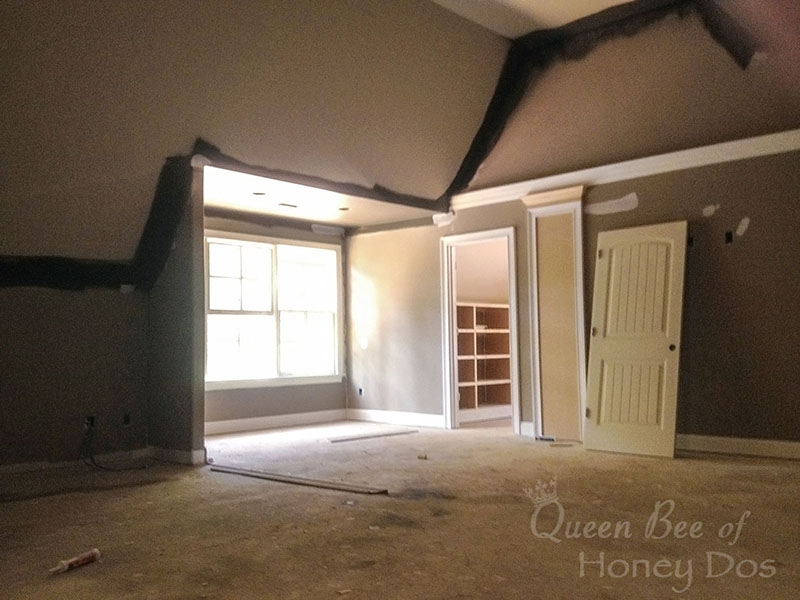 Before shot of the concession's area. The new wires are sticking out where the electronic built-in will go. Door to the craft room is about to be installed. (please excuse my mess) 🙂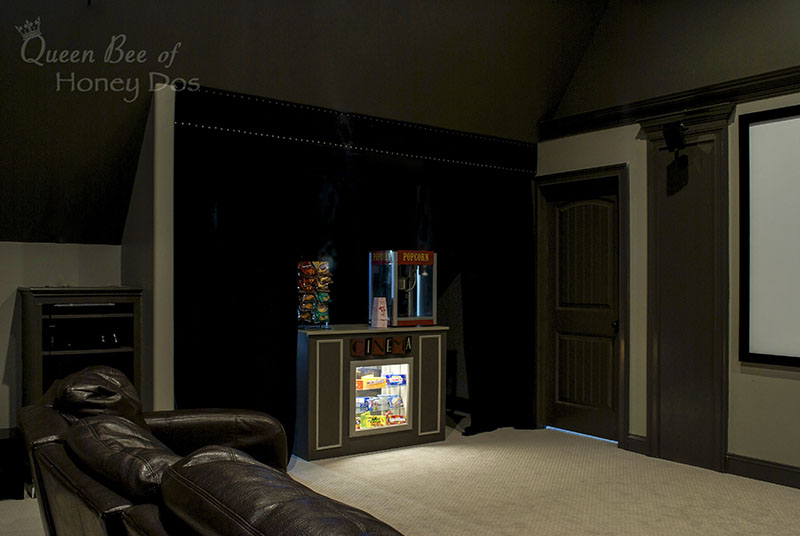 After shot of the concessions area. Per my son's request, we now have a candy/popcorn stand. I made this out of 3 small cabinet bases. The glass front is actually the door from the center cabinet. I removed the panel and added pexiglass. Then, relocated the door to the backside of the cabinet. The front side opening (which is not visible in this photo) holds the mini fridge.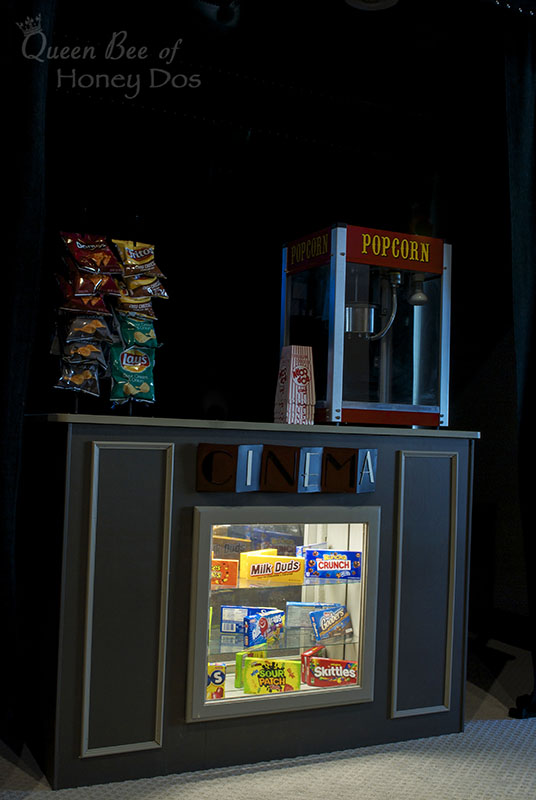 Another shot of the concessions/candy stand. I used black out curtains on the widows, and made the front drapes and the cornice.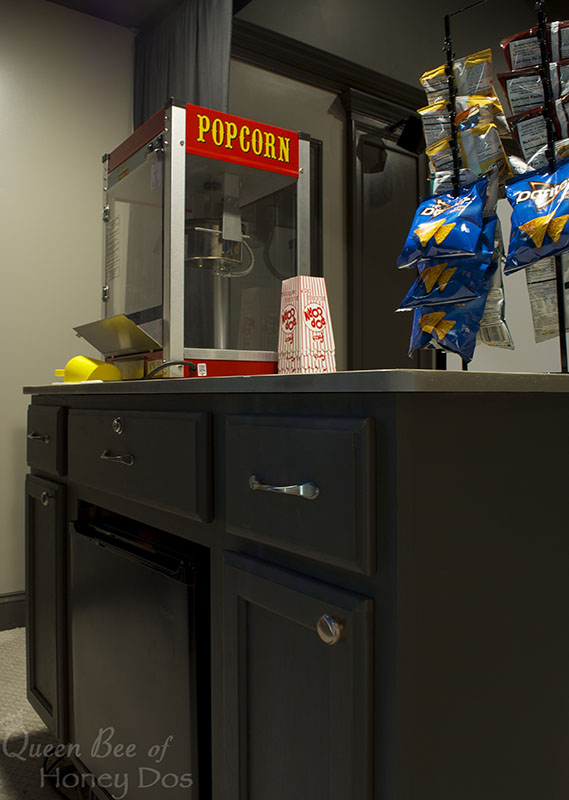 The front side of the concession/candy stand. Here you can see where the mini fridge is located (and where I took the door from to make the glass candy front).

The popcorn popper is Paragon's TP-4.* We love it, and so do all of the neighborhood kids. 😉 I contemplated buying the 6oz. or 8oz. version, but I am glad that I didn't spend the extra money. This one pops more than enough. Besides, it only takes a minute or two to make up a batch. So, on the rare occasions that I need more than the 4 oz. packet, I just make up two batches. The popper will hold several batches. It's just the amount that can be cooked at any given time that is limited.
Don't Forget Your Candy!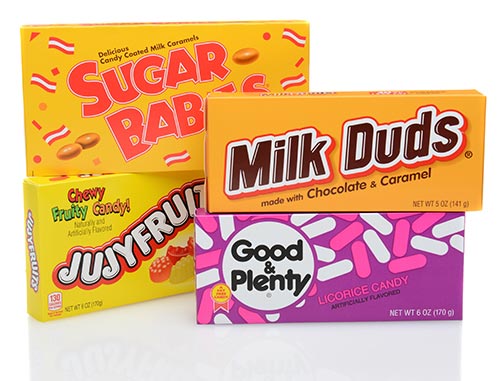 My go to place for stocking up on theater candy is DollarTree.* Yep, I said it. DollarTree! Why? Well, I can order the candy by the case and of course, everything is a dollar. I love just getting the big box of candy in the mail. At this point, I think the neighborhood kids are looking for my box to arrive, too. lol
The candy is always good quality and it is just so convenient to order everything at once and then have a ton on hand to restock my supply. I highly recommend that you give them a try* for this vital theater room supply.
Home Theater Boxes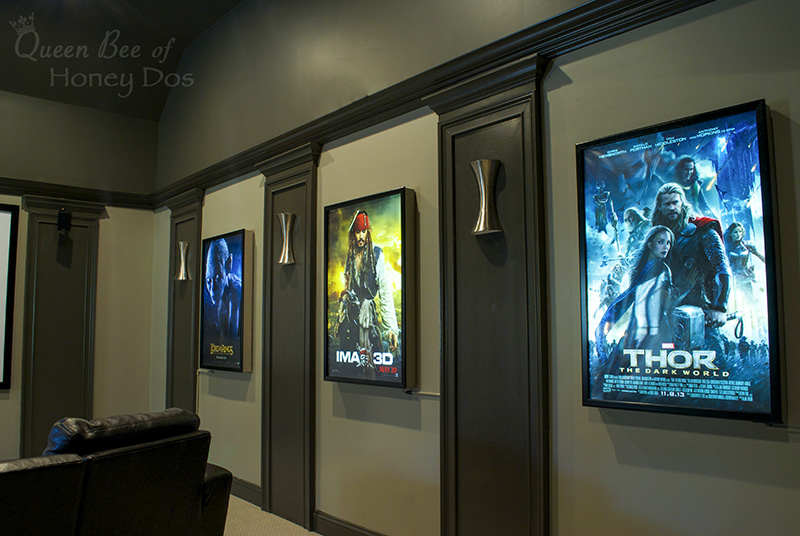 These are the lighted movie poster boxes that I made. I think that they came out pretty good.(even better than they appear in the photo). They are run by remote and can be dimmed or brightened to suit our needs. (I wish I had taken another shot with the sconces lit, but my camera wasn't happy with the conflicting light from the boxes).
Here is a close-up shot of one of the boxes. I am contemplating doing a tutorial on how I made these, but decided to wait and see if there is any interest in one before I go forward.
(So, if you all are interested in detailed instructions for anything that I did here, let me know).
Future plans for my home theater room

This is the back-left view of the room. Since this has become a popular hang-out for my son and his friends, I need more seating. So, I plan to add a riser in this corner. I think a sectional would work nice back there.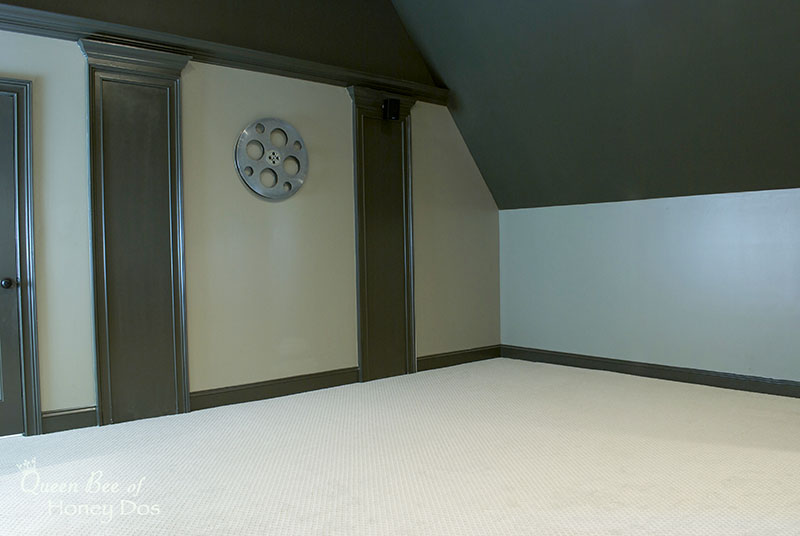 There is quite a bit of space available back there. This shows the corner better.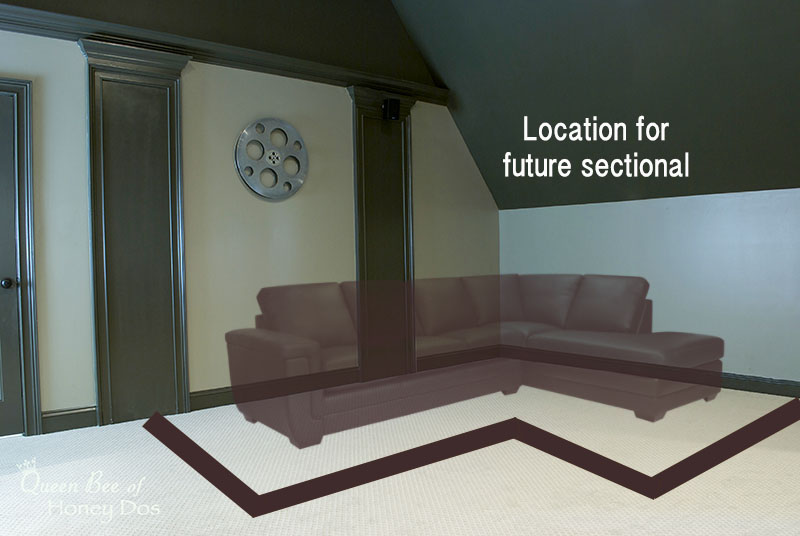 And a mock-up of how I want the layout to look. I'll update the details on this after it is finished.
Final Thoughts…
So, what do you all think? Drop a line and let me know. And as always, if you like it, share, tweet or pin it!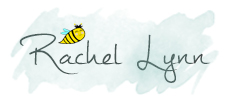 – PIN IT –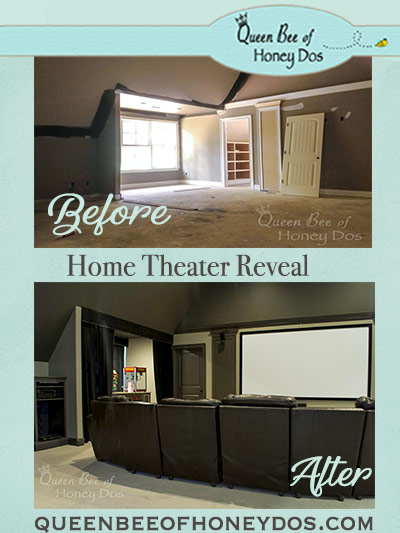 – PIN IT –
---
Linked to Remodelaholic