Welcome to the final reveal for my home office makeover! I am so thrilled to finally be finished and able to use this room. It has been so nice to sit in front of those windows while I work. So, let's dig right into all the things that I did to get it in this shape.
(This post may contain affiliate links (*). That means that I make a small commission from sales that result through these links, at no additional cost to you. You can read my full disclosure here.)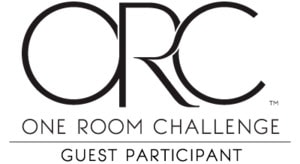 Just to recap about what has been going on the past few weeks – I am a participant in this round of The One Room Challenge a media partner of Better Homes and Gardens. Each year, a group of designers and renovators present a room makeover spread out over a six-week span.

I was thrilled and honored to be part of this hoopla! But, I wanted to make this space something that any average DIYer could duplicate. I gave myself a budget of $700 and as always, did everything myself. Now, let's see what a small budget and a little sweat can do!
Decor Purchased for this Home Office Makeover
Home Office Makeover – Before
Just to refresh your memory, this is what my room looked like when it was a dining room. It was a sad and lonely place that had never been used because we always dine in the eating area off of the hearth room.

Before, the room felt dated and dreary. I never got around to adding any love or attention to this room. The only thing I did was plop this french styled table in here. But that was about to change!
Home Office Makeover – After
Now, it feels light and airy. The paint color went a long way to brighten things ups and to bring this room into the present.

As you can see the table is really nice once you can actually appreciate the details. All of which were hidden in the darker room.
I also replaced that massive chandelier with a newer drum fixture. The previous light looked way to heavy for the modern fresh look that I wanted to achieve in this home office makeover.

I purchased this drum chandelier from Amazon a while back and had been saving it for something that I had not yet decided upon. This was the perfect opportunity to put it to use.

However, I wanted to add a little bling to the piece which it was lacking before. It wasn't bad looking to start with and came at a very reasonable price. So, adding the crystals to the chandelier (week 5) was a no brainer.
The big project for this room came in the form of that ceiling. I wanted to draw the eye towards the gorgeous tray ceiling that I designed for this room.

I also wanted to make the super high ceilings feel a bit cozier and intimate. My solution for doing both was to install this chevron planked ceiling and finish it out with a dark paint color. FYI – that is Gauntlet Gray.
Another project that I did for this room were the drapes. I decided to go with making drop cloth curtains for this room. That seems to be the trend right now, and I wanted to try my hand at it.

You can see that I added button pleats and if you look closely, you will notice that I also added a black panel along the bottom. Both were very straightforward processes.

I detailed the drop cloth instructions during week 4 of this home office makeover. Jump over to that week to see all the details.
Finally, I made it to this week! All I needed to do were to add my decorations. I spent the entire previous 5 weeks hunting for the exact pieces that I wanted and needed to finish this room.

The rug is a nice neutral in ivory and gray. I think this softer color contrasts nicely with the dark, rich, tones in the wood flooring and the table/desk. Although I still love that black and beige rug from before, it was just too drastic for the feel of this space.
I had originally planned to build my own shelves for this challenge, but time got away with me and I ended up adding it to the decor purchase list. This one looks exactly like the piece from the plan that I presented in week one, so I ordered it and hoped for the best.

Well, I couldn't be more pleased. It was a breeze to assemble and I can honestly say that this is the first packaged piece of furniture that I have ever purchased that came with real wood. Yes! Those shelves are actual wood planks.
For storage, I picked up a variety of storage boxes and a set of magazine holders. I would have loved to have built my own sets, like I did for my studio makeover, but again… time.

These boxes turned out to be quite sturdy and the racks will do quite well for the time being. I also added a metal-rimmed tobacco basket* to serve as a mail catch-all. It is the perfect place to toss things until I can sort them and file them accordingly.
Final Comments
So, what happened to all of those dining chairs and the center leaf? Well, I moved them to storage. I almost decided to get rid of them, but eventually, I decided to hold onto them. That way I can always turn this table back into a dining space.

I hope this gave you a few ideas for your own home office makeover. Be sure to check out all the other great makeovers available at One Room Challenge!

See my home office makeover from the beginning.