It doesn't take a lot of effort or even skill to make something amazing for Mother's Day. Sometimes the simplest things are the most cherished. I've compiled a collection of some of my favorite woodworking projects for Mother's Day that can be built in just 1-2 days.
(This post may contain affiliate links (*). That means that I make a small commission from sales that result through these links, at no additional cost to you. You can read my full disclosure here.)
Honeycomb Shelves
These are so incredibly popular. It seems like everybody wants a hexagon display shelf. I built my entire display plus a few extra sections in just one day.
Maybe you will need to give yourself an extra day or two to allow the finish to dry completely, but my honeycomb shelf tutorial will show you how to assemble these things in no time.
Cutting Board
Everyone loves a good cutting board. They are one of the first woodworking projects that many beginners tackle, and with good reason. They are incredibly impressive, easy to build and you can do about any type of customizing that you can think up.
Chalkboard Easel
Easels are amazing ways to create displays for special events and holidays. This easel plan is reversible and interchangeable. You can use a double-sided chalkboard and dry erase board, or you can create your very own inserts.

The great thing about my easel plans (besides the ability to swap out inserts) is that it was built without any power tools. I wanted everyone to be able to build one of these, and I know everyone doesn't have access to expensive tools.

You can still use your table saw, miter saw, and what have if you want. But, it completely up to you. Use your creativity to make as many display boards as you can think up.
Trivet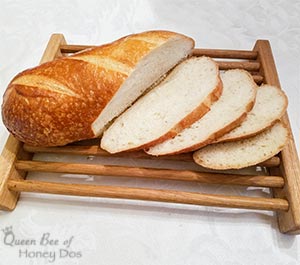 Trivets are great little accessories to have around the kitchen. You can build them in so many different ways. This plan was made using leftover dowel rods. 
Wooden Stars
Stars are good for more than Christmas time. They make great decor for anyone who loves the farmhouse style. You can make them look rustic or sleek and refined. It's all up to the finish. See my instructions for building wooden stars to get all the details.
Ladder Blanket
Another must-have for any home is the blanket ladder. It provides a neat space to store throws and to display cherished quilts.
Marble Accent Table
I made this marble top accent table using square dowel rods. The top can be interchanged with any 12" tile, which makes it really nice for the holidays.
Use any finish to change the style. I used brass paint because that is what is trending right now. But, matte black paint will give it a faux metal finish.
Nested Tray Boxes
Tray boxes are amazing little organizers that can be used for sorting/storing crafting supplies or for displays on a bookshelf. You can never have too many of these. Get the instruction for these box sets, here.
Suggestion – Build three to make a complete set. Either build each one slightly smaller than the previous or build one large with two at half the size to fit inside the first.
Storage Crates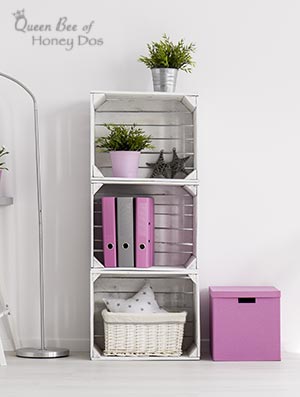 Crates are better for storing larger items. They look great on shelves or beneath a console table. You can build them as light-weight crates by using 1/2" thick lumber or go for a heavier-weight crate by using 2×4. (Hint- add wheels to anything heavy or large). See how to build crates, here.
Antique Mirrors
My antique mirrors are one of my favorite pieces of decor. You can see these are quite substantial mirrors. The size may be intimidating to some, but don't let it fool you. 

The process for building these antique mirrors was easy and took just two days – one day for the mirrors and another day for the frames and finish. 

And I kept the beginner in mind when building these. Everything is done is a way that is simple for anyone of any skill level. 
Tealight Candle Holders
How simple is this! This is a great way to use up those scrap pieces of wood. You'll need the surface area to be at least 3" x 3". Scrap 4x4s are great to cut down into tea light candle holders.

You'll also need either a Forstner bit* or a paddle bit to drill the holes. Forstners make cleaner cuts but a paddle bit can work just as well with a bit of care.
Accessories for Mom:
Now that you have plenty of ideas for woodworking projects for Mother's Day, you may want to think about accessorizing. After all, it's all in the presentation.

Fill those trays and crates with a few inexpensive luxury items. It demonstrates how wonderfully your project can be used and adds a little pizazz.
Some suggestions on what you can add to top off your gift:
wine
sachets (see my DIY sachets for an easy and longer-lasting scent)
linen spray (also another one of my DIYs. I use it to keep my bedding smelling fresh)
Tealight candles* (must-haves for those tealight holders)