Crates are a lot like wicker baskets. You can never have too many, and they are perfect for providing quick and easy storage. They also can serve as an addition to your home decor. You can find them in just about any home goods store. But, if you choose to make your own, you can dictate the strength and the design of the crate. And as luck would have it, crates are quite easy to make. To demonstrate how to build simple crates, I will use a few of my images to break the process down for you.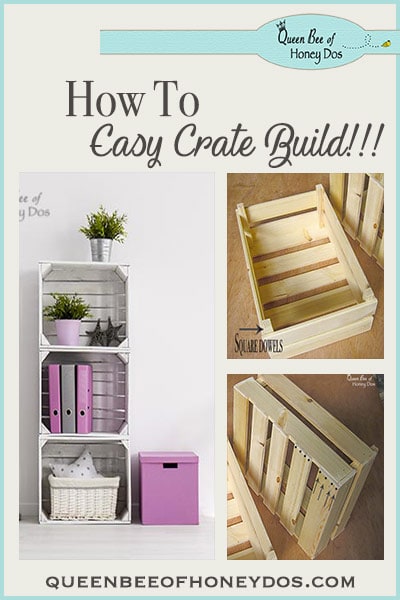 How to Build Simple Crates…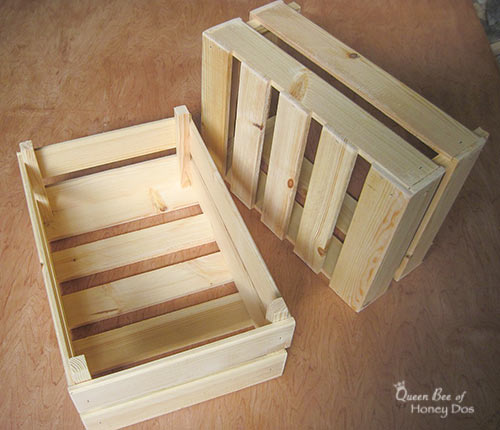 To begin with, let's look at these two basic crates and assess how they were constructed.
Materials Needed:
4) 1/4″ x 2″ x 15″
9) 1/4″ x 2″ x 12″
4) 1/2″ square dowel rod cut to 5″
wood glue
nail gun or nails/wood screws
Note – The thickness and size of the wood effects the strength of the crate. So, for a heavy duty crate, switch to 1×4 lumber and 1″ dowels. You can even use old pallet lumber to make crates. FYI – Pallets also make great coffee tables.
How to Build Simple Crates – Instructions…
To begin making your crate, you should use glue and a nail gun to attach 2 of the 12″ sections to two of the dowel rods. Align the 12″ sections up along the bottom and the sides of the dowels, as shown in the image above. If you do not have a nail gun, the glue will hold just fine as long as you clamp it in place and allow it to dry before moving forward. With thicker wood, you may use wood screws. Repeat the process to make the opposing end for the crate.
Next, Attach two of the 15″ sections to sides of the dowel rods using glue and nails, aligning the sections and nailing as indicated above.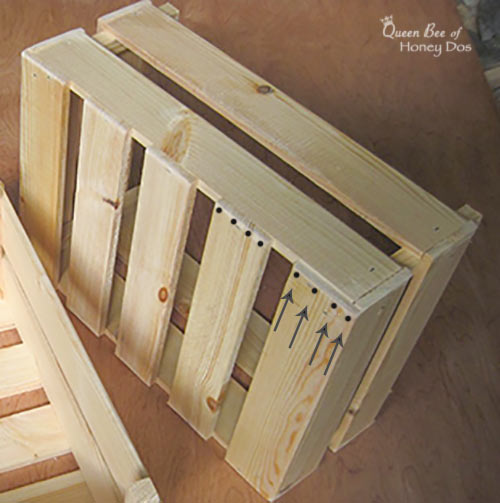 Finally, turn the crate over to expose the bottom. Space the remain 5 boards so that they are equally spaced. Then, glue and nail them into place. Finish with your desired paint or stain.
Final Thoughts…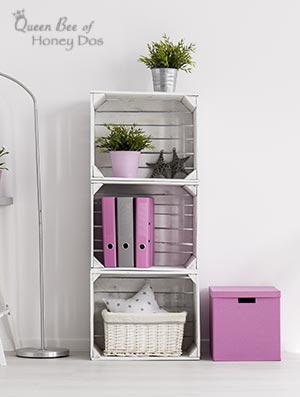 Crates are one of the easiest woodworking projects that you can do. What's more, they can provide an incredible amount of return for the effort. So, the next time you finish up on a project, and you have a little bit of scrap wood left over, don't throw it away. It only takes a small amount of scrap wood to make a crate.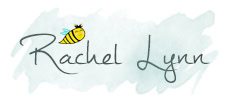 – PIN IT –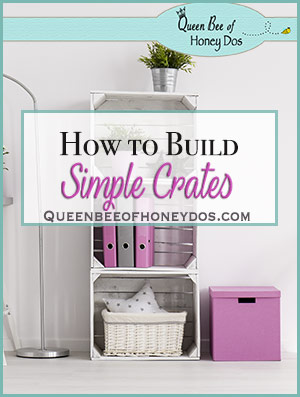 – PIN IT –
---
This post was shared with Remodelaholic.