What is up with my crazy a$$ laundry? Why are my clothes coming out of the dryer with a bad smell??? If you have this problem you are not alone. I went through the same thing last year. You won't believe what was causing my problem and how easy it was to eliminate clothes dryer odors!
(This post may contain affiliate links (*). That means that I make a small commission from sales that result through these links, at no additional cost to you. You can read my full disclosure here.)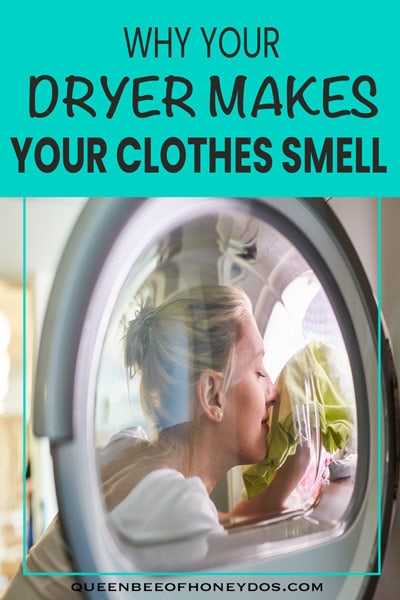 Over the years, I have talked a lot about laundry issues. It is no secret that I have a love/hate relationship with these high-efficiency machines. But, the world doesn't revolve around my opinions, and I, like many of you, have had to adapt to what the market offers me.

I have had to learn to either live with the issues or figure out a way around them. I have chosen the latter because it is just in my nature to problem solve. (and I so love taking things apart) ?
As you probably already know, these newer machines often result in odors that can be frustrating to diagnose. Last year, my clothes kept coming out of the dryer with this awful burnt smell.

The smell was weird because I couldn't quite pinpoint whether it was a chemical smell or if it was a musky body odor. The closest thing that I could relate it to was the smell of burning hair… or burning something.
It seemed to only happen when my husband washed the laundry. So naturally I blamed him. And no, my husband is not one of those men who is clueless about housekeeping. He is actually quite good at keeping things neat. But… all I'm gonna say is take a look at my Pampered Chef stoneware. Enough said.

Well, as it turns out, it was not his fault. It just happened that the laundry loads that he most frequently did were his darks combined with some of our sons' darks.
So, I thought that perhaps it was a body odor issue coming from one of them. My temporary solution was to stop washing my clothes with theirs. And sure enough, it only occurred in their clothes.

My next step of elimination was to wash each person's darks separately. That removed the smell from my husband's clothes. But, my sons' clothes were still coming out of the dryer with a bad smell.
On the very next load, I started sniffing each and every piece of clothing. Some smelled more than others. THEN, I found the culprit. Yep, I discovered exactly why my dryer was making my clothes smell bad.

But before I disclose my discovery, let me first go over all the different reasons why your dryer may be making your clothes smell and how to get rid of the odors. I'll pick up my story in a bit.
Causes for Dryer Mold/Mildew Odor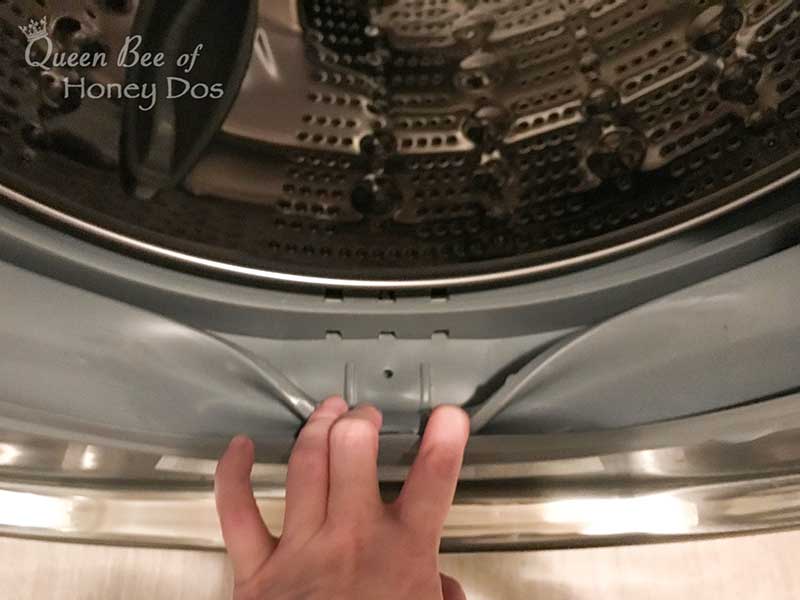 The most common smell in clothes is a mildew or moldy odor. There are two ways that this can happen.
1. You have left your clothes sitting too long in the dryer while wet. This can happen if you load the machine and forget to turn it on. But, more common is when the dryer shuts off before the clothes are completely dry and they sit in damp conditions for too long.

Make sure that you set the dryer to run long enough to ensure completely dry clothes. If you are going to restrict the running time to the minimum, make sure that you are around to remove the clothes as soon as the machine stops.
2. The most common reason for a moldy or mildew odor in clothes is not even the fault of your dryer. Most likely, this problem lies with your washing machine.

High-efficiency washing machines can and will grow mold. The good news is that you can get rid of washing machine mold. Just follow my corrective and maintenance steps for removing mold in washers.
Dryer Clothes Smell Unfresh/Still Dirty
If your clothes are coming out of your dryer with a stale or less than fresh smell, the good news is that it likely isn't your dryer. The odor inducing bacteria was probably left behind by the washing machine.

Even clothes that smell fresh coming out of the washer can still have odor-causing particles left behind. They are often hidden by scented laundry detergent and/or softeners. It is just the heat of the dryer that releases them.

There are several things that can cause these odors to linger in the laundry. It could be that you:
1. Overloaded the washing machine. This makes it difficult for a high-efficiency machine to properly clean clothes. Try reducing loads to a maximum of either 5-6 adult size jeans, or 6-7 standard-sized bath towels, or the equivalent amounts of other clothing items.
2. There is not enough water in the machine. This is a problem that almost all washing machines have. It was one of my biggest dislikes with my new machine. I solved that problem by adjusting the water level sensor. Now, my machine gets plenty of water and cleans much better.
3. Some odor-causing bacteria are more resistant than others. For clothes that have body odors, I like to use Lysol's Laundry Sanitizer.* This is amazing at eliminating clingy body odors. (FYI – I also use this when I deep clean my rugs).
Dryer Making Clothes Have a Chemical Smell
If your clothes are coming out of the dryer with a chemical smell, there are several possible causes.
1. If your machine is brand new, it is likely that the dryer is off-gassing. Sometimes, new dryers need a few rounds to burn off the residue left behind during manufacturing. Sometimes, the plastic components will off-gas when they get hot.

Off-gassing should leave after one or two 50 minute rounds. If your laundry continues to smell beyond that point, it is probably something else causing it.
2. There is lint built up inside the lint trap. Lint will smell like the clothes that it came from. So, if you have lint from a previously smelly item, it will transfer to the rest of the clothes. Clean the lint trap each time you dry a load.
3. There is something stuck on the drum. Chemical smells are usually the result of something plastic getting hot or melting. Inspect the drum to make sure that nothing has become stuck to it.

Stickers and candy wrappers can become stuck to a drum and cause a horrible smell that will take forever to burn off. Most items can be removed with goof-off. Use a soapy cloth to wash away the residue left behind by the goof-off.
4. Elastic items can produce off-gassing. This is it, folks! This is the nasty odor-causing culprit in my clothes. To be precise, it was the elastic in the boy's underwear.

When I started sniffing items, I eventually reached the underwear. That hair burning chemical smell was coming from the waistbands. The underwear that my boys use is Hanes and Fruit of the Loom.
To be fair, the laundry tag symbols show medium dryer heat, and I am sure that these had high heat applied to them at some point. However, even at the required heat settings they still smell. In fact, the smell is there all the time and only intensifies in the dryer.

I don't know why these smell like this. I can only assume that it is some sort of cheap product that is coming in from a China manufacturing plant. But, whatever the cause, it certainly can't be good to smell the fumes.
I don't want to turn this post into an anti-product piece, but I have to say that anyone using these brands of underwear should smell the waistbands as soon as you pull them out of the dryer.

You may also want to check any other items that contain elastic. It is likely that your chemical smell problem is right there.

To help with the smell, I found that using the lowest heat setting, removing them as soon as they are dry, and not placing them in the laundry basket with other clothes helps to keep the rest of the laundry from smelling bad.
Final Comments:
I guess the whole point of this post is that you can find the source of the problem through the process of elimination and applying the above knowledge. I hope that I have helped you figure out the cause for your clothes coming out of the dryer smelling bad.

If you have discovered anything weird that was causing odors in your clothes, please share it for the rest of us in the comments. If you still can't find the source, it may be time to contact a maintenance person.