We've all heard that it is the kitchens and the bathrooms that sell a home. For the most part, that is true. However, many other factors play into the ability to sell a house. Things that influence the value that a shopper will place on it.
Whether or not a kitchen remodel is needed varies from home to home. One of the biggest waste of money and effort (IMHO) is when new granite is installed on top of outdated cabinets.
Have you heard the phrase, "putting lipstick on a pig?" So, before you run out and start making changes, let's look at a few ways to increase your home's value that makes sense.
Okay, so you are thinking to yourself, "What? Is she saying that kitchens don't matter?" No. I am not saying that at all. Kitchens do matter. In fact, they probably matter the most.

But, does your house come with a kitchen? Yes. So, let's assess that for resell purposes. Is it old and outdated? If so, are the other homes in your area also old and outdated? If yes, then you can probably get by with just enough to make it feel fresh and clean. (i.e paint, repair/replace just the things that make it look unkept).
If, however, you are competing with houses that have high-end, custom kitchens, are you prepared to go all out for a top of the line kitchen design? If so, will it increase your value? Will it result in a fast sale?

If not, you may be better off just including a $5k, kitchen, remodel bonus as part of your sale's package. Buyers like the idea of cash to create a remodel of their own choosing.
Choosing which type of improvement to make really depends on the market that you are in. What is the competition like? What are they offering that you are lacking?

Will making those changes result in a good return on your investment and result in a quicker sale? Are there ways that you can outperform your competition that makes financial sense?
Improvements that Won't Cost a Bundle
Paint:
Painting is one of the easiest upgrades that a homeowner can do before selling. You may be surprised to learn that it also offers one of the biggest returns on investment. You can see the best selling colors and their increase in values, here.
Curb Appeal:
Another easy and inexpensive way to increase your home's value is with landscaping. You certainly don't have to go overboard to achieve an increase. But, small improvements can be incredibly beneficial.

A nice, well-tended, lawn with freshly mulched beds and hidden trash bins are in order. First impressions matter and an unkempt lawn makes buyers feel that the place is run down. You can find some good ideas for curb appeal, here.
Add a Bedroom:
Did she just say add a bedroom? Yes, I certainly did. But, we are talking about doing it in a way that doesn't require major construction or major money.
Why is this a concern? Well, the number of bedrooms in a house can make or break a sale. Think about it. What's the first thing that buyers are likely to punch into the requirement's section when doing a house search?

Answer – the number of bedrooms. If you are living in a market where homes have four bedrooms, but your house only has three, you may have a problem.
Sometimes there is nothing that you can do about the number of bedrooms that you have. It may just not be financially possible to add on an addition. However, there may be a way to create an extra bedroom with what you already have.
Do you have one room that is extra large? Consider splitting it into two rooms. By constructing a wall down the center of a large bedroom or bonus room, you may be able to get that extra space.

The image above is a perfect example of a space that can be converted. This is our before shot. Let me draw your attention to both the large bonus/den space as well as that small office.
When is it a bad idea to split a room in half? Well, if the result is two very tiny rooms. A bedroom should be at least 12′ x 10′. I wouldn't recommend anything less.

Homeowners like to be able to comfortably fit a twin bed, nightstand and chest into a bedroom for a child. Better yet is room for a full-sized bed without feeling cramped. Stage the space to show its potential.
As you can see, by adding a wall we have created a nice bedroom with plenty of space for a closet and desk space. The new bedroom is about the same size as the 2nd bedroom on this floor, and the bonus space is still large enough to provide a good usable space.

A few things that you must consider.
For a room to be considered a bedroom, it will need to have its own entrance. You can't call it a bedroom if it must be entered via another bedroom.

Also, most codes require that bedrooms have a window and a closet. So, make sure that your setup will include those two items. If your city codes allow you to get by without one or the other, you should check with a local realtor to see how they classify rooms missing said features.
Convert an Office
If you have a room that was originally built as an office, you can turn that space into a potential bedroom by simply adding a closet. Most offices come sans closets. So, by adding one, you have given the buyer the option of an additional bedroom.

It also allows your agent to list your home into that better category. The office in the floor plan above is a little on the small side. However, if we were to take half of the bedroom's closet, we would technically be able to call this a bedroom.

FYI – in this situation, I would likely prefer to extend the bedroom closet all the way down to the entrance before dividing it. That way both rooms would get a decent size closet instead of both getting a tiny one.
Finish Attic Space:
Adding more square footage to a house is always a plus. If you have attic space, consider converting that into extra rooms. Turn it into an additional bedroom, or create a space that is sought after in your area.

If all of your neighbors have an office, make it into an office. You could also use the space to set your house above and beyond what others are offering.

For instance, if you live in an area that is a hub for large families, stage that extra space as a playroom. Mom's love the idea of having a place to contain toys. I converted my attic space into a theater room and a large crafting room.
Finish Basement Space: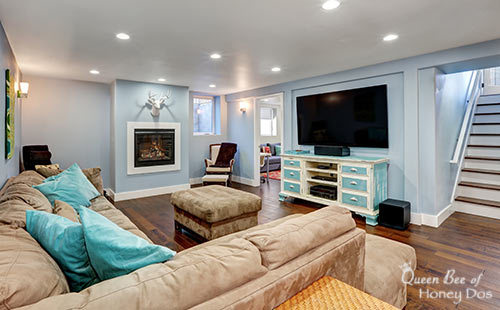 The same concept goes with a basement. Unfinished basements are just money waiting to fall into your lap. They make perfect spaces to have mother-in-law suites.

Again, check out your neighborhood's competition. If they all have them, it might be a good idea for you to have one as well. If they don't have them, it may allow you to one-up everyone else. After all, there are a lot of people who need and want this extra space.
Convert Area Above Garage:
The same concept goes with the space above your garage. If you have one that has the potential for a studio apartment, that may be something that could increase your value.

Although, this is one area where I caution. If the garage is detached from your house, you may want to check with an agent to see if it would be worth your while.

Detached above garage spaces are generally appealing to only buyers who want rental space or want to have a separate home office. However, an attached garage provides lots of potential for increasing square footage.
Add a Bathroom:
If you are living in an area where all the homes have at least two bathrooms and your home has just one, this would be right at the top of my list for improvements.

Maybe you have a half-bath that can easily be converted into a three-piece bathroom. Maybe your home has space to easily convert another space into a bathroom.

If at all possible, you should try to be within the same vicinity for bathroom numbers. Check with an agent to see how many bathrooms people expect for your home size and area.

I know, sometimes you just can't do anything about this, but if you can, this is an area where you should probably focus your attention.
Add An Outdoor Space: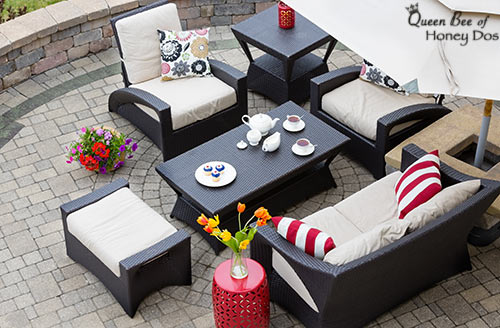 More and more people expect to have a usable outdoor living space. It usually doesn't have to be anything extreme. In most cases, a simple patio pad will suffice.

There are ways to stage even the most basics of patios to show off their potential. So, if your home is lacking this setting, consider allotting a bit of funds for the project.
Add Storage:
A home can never have too much storage, but it certainly can have too little. While more storage may not necessarily increase your home's value cash-wise, not having enough can hurt your ability to sell.

The good news is that every home has the potential for more storage space. Even when you can't add closets, you have this untapped potential that is hiding right between your studs.

Even the smallest of houses can eke out a few feet of cabinet space by adding shelving between the studs. This is a great way to add storage in bathrooms and/or utility rooms.
Then, there is the hidden space under your stairs. There are a lot of great ideas for creating storage beneath a stairway. If you have a staircase that has absolutely nothing beneath it, you could really turn that into a treasure trove of storage, an office space, or even a home drop zone.

From here, I could go on and on about ways to add storage – turn a recessed area into a closet, add a cabinet between double vanities, install a vanity/medicine cabinet, etc. But, I have to end somewhere. ;-)
Final Thoughts…
There are a lot of different ways to increase the value of a home. You just need to know what people expect and try to make sure that your house provides all the standard requirements for your area.

Then, if it is feasible, try to add in a little kicker to put your house over the top. It doesn't necessarily have to be a big-ticket remodel. Sometimes just a simple improvement goes a long way.

Hopefully, one of these ideas will provide you with what you need to increase your home's value. If you would like to share a great remodel idea that you have, drop it in the comments!