(Contemporary Staircase by Vancouver Design-Build Firms Kerr Construction)
Under Stair Storage Ideas
Under stair storage space is an often unrealized asset. Which is a shame, because it can really add beauty, architectural detail, and organization. So, if you have a set of stairs that have a plain sheetrock wall, consider some of the below options to add appeal and storage to your home.
BookShelves
(Contemporary Staircase by Los Angeles Interior Designers & Decorators ACRE Goods + Services)
Book shelves are a great addition for this unused space. It creates a feature while providing a place to store books and display keep sakes.
(Contemporary Staircase by Saint Charles Home Builders Stonebreaker Builders & Remodelers)
Even if their is a door leading to another room, that small amount of space between the door and the front step can still be used to create a great little shelf nook.
(Traditional Staircase by Austin General Contractors Avenue B Development)
Here is another example of shelving. I like this image because it has not yet been filled with books. So, it gives us a nice view of the actual shelves.
Extend Closet Space…
(Traditional Staircase by Chicago Interior Designers & Decorators Tom Stringer Design Partners)
Just recently, I posted ideas for getting more out of small closets. Well, I should have included an under stair addition, because this area is perfect for creating more closet space. Drawers, like these above, can be great for storing out of season items. It also would be a good linen storage solution.
(Contemporary Staircase by London Architects & Building Designers Fraher Architects)
Here,  pullout  storage shelving provides extra storage for shoes. (If you want to see more ideas for shoe storage solutions, you can find them in this article).
(Traditional Closet by Holden General Contractors Woodmeister Master Builders)
This one is a a great idea. The built ins are made on the bedroom side of the stairs. It is a great space to add drawers and shelving.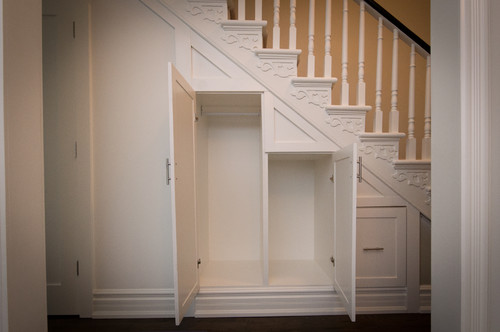 (Contemporary Spaces by Milton Cabinets & Cabinetry Seva Rybkine)
But if there is not a bedroom on the either side of the stair case, there is no reason why closets can't be added anyway.
Pets
(Traditional Staircase by San Francisco Photographers Margot Hartford Photography)
If you have pets, under  stair storage is perfect. Even the smallest space can provide room for your fur baby to have his/her own space.
(Contemporary Hall by Covington General Contractors Maison de Reve Builders LLC)
This looks similar to my own pet space (seen here in this article for incorporating pet furniture into your home decor). If you don't like the idea of an iron door, just leave it off. I find it helpful for when I need to provide a secure space for my girls (like when small children or delivery men are around), but just the trimmed opening would look nice, for those of you who want to eliminate the door.
Reading Nooks
(Farmhouse Staircase by Sherman Oaks Architects & Building Designers JWT Associates)
Who doesn't like a good place to curl up with a book. These, small nooks work great for kids and encourage reading.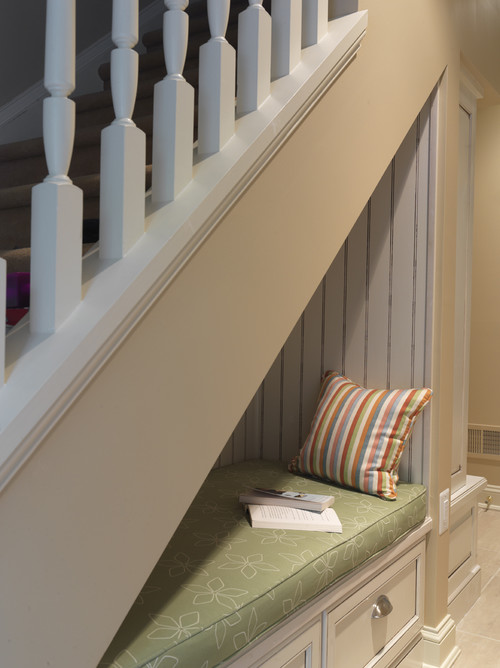 (Traditional Staircase by Bethesda Kitchen & Bath Remodelers Case Design/Remodeling, Inc.)
Even a low ceiling nook can work. Add a few draws below to get some extra storage space to get the most bang for your buck.
Play areas
(Contemporary Kids by Bloomington General Contractors AMEK Custom Builders)
If you have enough space, consider making an enclosed space for your little one to play or hang out.
I love the way that this under stair storage space provides a desk area for the kids. (To see more kid spaces, check out the article on loft spaces)
Office Space
(Traditional Home Office by Toronto Photographers Leslie Goodwin Photography)
Speaking of desks, under the stairs is a great place to add an office space. This is especially nice if square footage is a premium real estate in your home. With this addition, you can now say that your home has a home office. 🙂
(Traditional Staircase by Houston Design-Build Firms Keechi Creek Builders)
If your up to sharing the space with your pet, even a small desk space is nice.
Wine & Bars
(Transitional Staircase by Sydney Architects & Building Designers Porebski Architects)
If an upscale and adult setting is more in line with what you want, consider an enclosed wet bar area.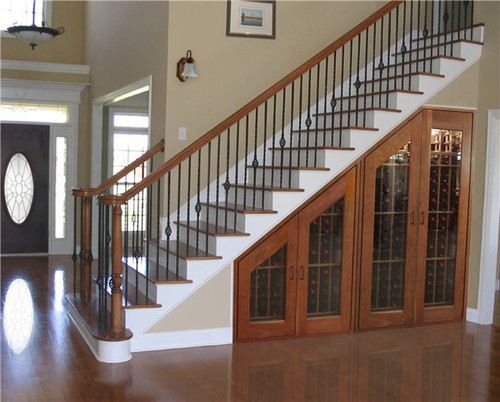 (Traditional Staircase by Irvine Wine Cellars Vinotemp)
Here, wine storage was added under the stairs, because the home just did not have a cellar.
Final Thoughts…
There are a lot of ways to create under stair storage space. This article offers just a few ideas. If you have found it helpful, be sure to pin your favorite image or share it with others. 🙂