Getting a house ready to put on the market can be stressful. What with all of the cleaning and organizing that needs to be done to get things ready, who has time to think of doing anything else. But, you really should. It need not be an intensive renovation project, but you may want to consider painting. A fresh coat of paint makes a room fell fresh and new, and with the right colors, you can see a higher return. According to Zillow's 2017 Color Analysis, you can increase your home's sale price with these paint colors.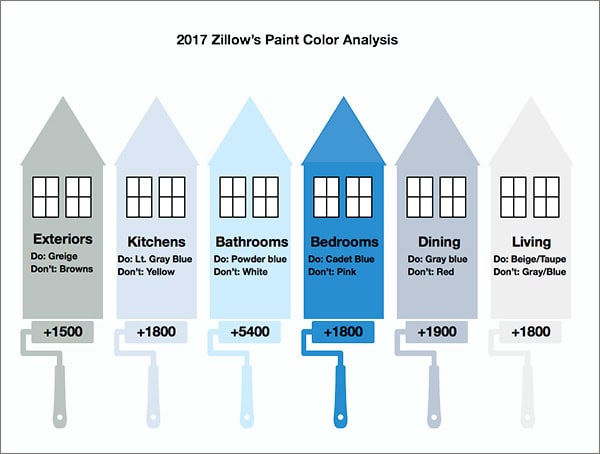 This infographic demonstrates the incredible value of the correct paint color choices. (Feel free to use this graphic in your own blog – with credit and a link back, of course).
Increase Your Home's Sale Price With These Paint Colors…
Kitchen & Dining:
Let's face it folks, kitchens sell houses. So, if you are going to make any improvements to your home, you should really consider your kitchen. According to Zillow, homes with a light, gray blue, color in the kitchen saw the most increase in sale's price versus other kitchen colors. On average, these homes sold for $1800 more than other homes.
Likewise, dining rooms also did better with a blue gray, paint color. Feel free to go just a bit darker in the dining room than in the kitchen. A slightly darker shade will feel cozier and more intimate, but be careful of going too dark. You don't want to make the room feel small. Instead, you should go for a shade that expands the walls (for small rooms) and raises the ceiling (for low ceilings).
Increase Your Home's Sale Price With These Paint Colors…
Bedrooms & Bathrooms:
For bedrooms, the blues have it. You can go with a light cerulean blue or take a page out of my chapter and use a cadet blue. Both of these colors saw over $1800 worth of sale's increase when used in bedrooms.
---
---
Because these colors tend be a bit overwhelming when used all over, consider a light shade or just do an accent wall. The one above can be done with just paint or a combination of paint and wallpaper.
One of the biggest mistakes that you can make when selling your home is to neglect the bathroom walls. The most drastic decrease in sale's price came in homes where the bathrooms did not have a color (i.e white or off white). However, painting a bathroom a soft powder blue seemed to be the ticket. These homes sold for an average increase of more than $5000. How's that for a return?
Increase Your Home's Sale Price With These Paint Colors…
Living/Family Rooms:
Living rooms seem to be the one area where the blue/gray theme didn't pay off as well. Here, neutral tones in a beige, taupe or even oatmeal colors were the best. Sticking with these traditional neutrals can see as much as $1800 in increased sale's price.
Increase Your Home's Sale Price With These Paint Colors…
Exterior…
The exterior paints that were best fell into that area that we call Greige (gray beige). Using a gray toned vs a brown toned paint increased the home's sale price by an average of $1500.
Here is a side-by-side view of similar houses. Both are new and freshly painted. The first image is done in a more traditional neutral beige, and the second image is done in a Greige tone. Although both are beautiful, statistically speaking the second home should sale for a higher cost (assuming all other things being equal). How much higher? Approximately $1500, to be exact.
Now, one thing that I did not list in my infographic at the top of this article was the best door color. However, I do have that information for you. But, just for fun, can you guess which door color increased the homes' sale prices the most. We have 1) dark brown or burgundy, 2) teal 3) gray blue or charcoal, 4) red 5) light brown 6) green or mint 7) navy blue and 8) black.
Take a guess and see if you can figure it out.
If you guess charcoal/gray blue, you are correct. If you guessed Navy blue, you are also correct. These two colors tied for the best exterior door colors. However, considering the best exterior paint leans heavily toward the gray tones, it is no surprise that a door with a matching tone would win out.
These door colors saw a return of about $1500 over the competition. So, don't ignore them. Doors are an initial part of a homes design.
Final Thoughts…
If you are in the market to sell your home, first of all, I wish you the best of luck. But, most of all, consider your paint colors very carefully, and remember that what you may like is not necessarily the color that will work for a high and quick sale.
Also, keep in mind that while these color choices did make the average home sell for a higher dollar, every situation is different. Your home's style may not work with these options, and even if they do, it is no guarantee that you will get the same results. However, if you are willing to hedge your bets, I would say that the numbers don't lie. Follow the statistics.
Want to know what the the worst paint colors are???
Check out part 2 of this post – Avoid These Paint Colors When Selling Your Home.
---
Linked up with Savvy Southern Style and Remodelaholic