If you look through enough articles on my blog, you will begin to notice a heavy concentration on storage/organization (in addition to my love for woodworking). One particular area that seems to garner an excessive amount of interest is closets. Everyone wants to know how to get the most out of their own clothing storage space. As a result, I get a lot of questions concerning this issue. Today, I would like to address some of these questions. So, I will be going over the standard closet measurement guidelines.
(This post may contain affiliate links (*). That means that I make a small commission from sales that result through these links, at no additional cost to you. You can read my full disclosure here.)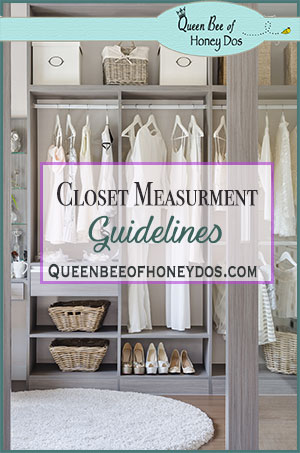 Closet Measurement Guidelines – Reach In
A reach-in closet is the most common type of closet found in a bedroom. The standard depth of the closet is 24″. Without a full 24″ of closet space (from wall to opening), a reach in closet will have compromised space. The shelving and/or panels can measure the full depth or may be anywhere between 15″ to 20″ deep. The width can be anywhere from 30″ (for a single door) up to more than 6′ for a set of double doors. However, it is best if the door choice allows for full exposure of the interior. For a quick way to customize a reach in closet, I recommend this closet system by Closet Maid.*
Closet Measurement Guidelines – Walk In…
Floor Dimensions:
To truly be considered a walk in closet, the measurements should be approximately 5′ x 5′. That allows adequate hanging space plus 36″ of walkway. I have seen a few closets that were smaller than this, but bigger than a reach in closet, and some people refer to them as a walk in, as well. However, many of these would actually just be a really large reach in. Perhaps we should call these a stand in. ;-) (FYI, If you are interested in building a closet similar to that above, Sawdust Girl has a nice plan).
If you want a walk in closet that can handle hanging shelves on both sides, the standard size would be 7 feet wide. That allows for 24″ inches on both sides and a 36″ walkway. Some variations to this can work. For example, closets that are not as wide can place hanging shelves along one side (which takes up 24″ of space) and place shoe racks and shirt/sweater shelves along the opposite (which requires between 12″- 15″ of space). You can also cut your walkway space down to 30″ wide. In such a scenario, a 5 and 1/2′ wide closet would be the minimum size. (If you need tips for making a small closet function, see my tip and tricks for small closets).
If a closet island is desired, the width of the closet needs to expand by approximately 5 feet – 2 feet for the island and 3 feet more to allow walking around the island. So a closet with shelves on both sides and an island in the center should be close to 12 feet wide. Some trimming off of the walkway width may be acceptable in certain situations. Just remember that if your island has drawers or doors, you don't want to reduce the space along that side.
Cabinet Dimensions:
As noted before, the standard walkway for a walk in closet should be 36″ wide. However, in some instances, 30″ is enough. Hanging shelves are a standard 24″ deep. Now, you may have rods mounted beneath shelves that are between 15″- 20″ deep, but remember that the clothes will actually protrude past that measurement to the full 24″. So take that into consideration when assessing an empty closet.
The standard space for double hanging clothes is 42″ for each section, (or 84″ total). That allows for 2″ clearance at the top of the rod. Dresses, long coats, and skirts require more vertical space. (You can see more clothes' organizing tips in my article on Space Saving Techniques.)
Closet Measurement Guidelines – Dressing Rooms…
There is not a lot of difference between a large walk in closet and a dressing room. As long as there is adequate room to maneuver, you can make any walk in closet into a dressing room. To turn your closet into a full fledged dressing room you need add only a few items. First, you will need seating. A built in bench is a nice luxury, but if there is enough floor space, a simple ottoman will work.
Second, you need a mirror. After all, you are dressing in this room. So, you really need to be able to see the results. And last but not least, you need adequate lighting. From these three items, you can go as far as you like to make your space luxurious, and if you want to see some really decked out dressing rooms, check out my post on drool worthy closets.
Final Thoughts…
If you have any good tips or tricks that you have found useful, I would love to hear about them.
– PIN IT –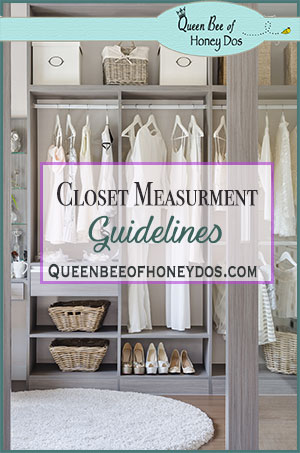 – PIN IT –
---