Well, the holidays are just right around the corner, and with October finally here, it's time to start rolling out the decor. So, I thought that I would show a few of my favorite easy Halloween decorations. Each one of these crafty projects can be completed in just a matter of minutes, and usually from items that you already have around the house.
Aged Halloween Book Covers
My vintage book covers have been a staple for my Halloween decor for several years. This tutorial can also be used to create wanted posters for birthday parties, treasure maps for hunts, or used in vintage themed wedding decor.
Want the exact same books? Use my free printables located in the Printable Gallery. Available exclusively to email subscribers.
Subscribe and get access to these Free Printables and more!

Upcycled – Maxwell House centerpiece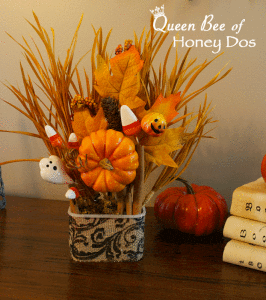 I don't know about you, but I love Maxwell House's Swiss Mocha Lattes. I also love the containers that it comes in because I can use them for so many different things. One of my favorite ways to upcycle these are to use them for flower arrangements. So, I have created a very simple Halloween centerpiece using just a few items.
Materials: Maxwell House container
floral block
selection of flowers
role of burlap fabric
cinnamon sticks for scent (optional)
glue gun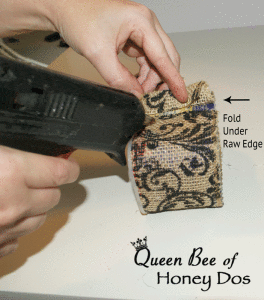 First, I cut and insert the floral block into the container. Then, I cut the burlap to size, leaving just enough extra length to allow me to fold the raw end under. Next, apply hot glue to the top and bottom edges of the container and attach the burlap. (I made sure to tuck the raw edge under the lip of the top of the container, and attach the finished edge along the bottom).
Moving on to the flowers. I began inserting them to achieve the desired look.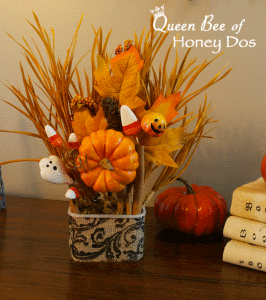 I also pushed some cinnamon sticks in around the outer edge to both, hide the floral block and to also, add a pleasing holiday scent. I finished it off by tucking a bit of moss over any floral block left visible.
Super-Cute, Canning Jar, RIng Pumpkin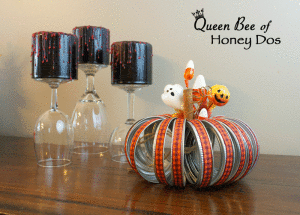 This has been a favorite of mine for a few years now. I don't recall exactly where I saw this, but now I have noticed that a lot of people are doing this easy Halloween decoration. All you need for this project is
About 20 lid rings
paint or decorative ribbon (I like the ribbon)
Glue (if using ribbon)
twine
cinnamon stick and floral inserts (optional)
Just to let you know how easy this is, I have done these while sitting in bed and watching TV. Of course, don't try that if you are spray painting your lids. ;-)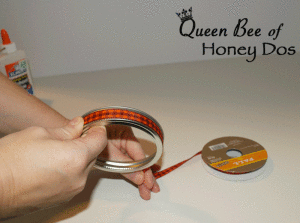 Start by finishing the lids in whatever style that you prefer. If using spray paint, paint them. If using ribbon, apply a bead of glue along the center of the lid ring. Then press the ribbon around the ring.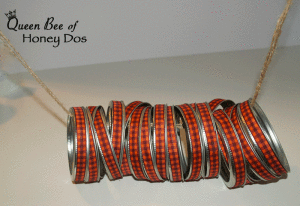 Once the rings have fully dried, cut a section of twine and slip the twine through the rings. Allow the rings to fall evenly along the twine. Then tie the twine tightly around the rings. Adjust the rings until they are spaced appropriately.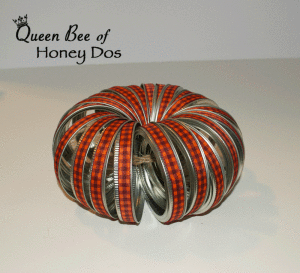 Apply a bit of glue from your glue gun to a cinnamon stick and push it down into the center of the pumpkin. Do the same for any floral pieces that will be inserted. Viola! Simply, cute, little pumpkin.
Bloody Candles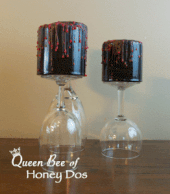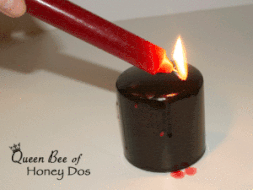 Another very simple Halloween decoration. All you need for these are the candles in the color of your choice, (I chose black) and a tapered red candle for the blood.
Just light the red tapered candle and allow it to drip over the edge and down the sides of the other candles.
Trick or treat banner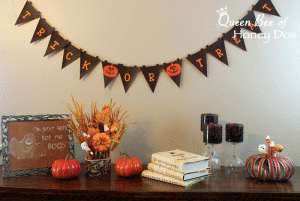 Okay, folks. Here it is. This is free for everyone. Just print the file out on orange printer paper. Construction paper will work as well. (FYI – the banner letters may not appear in the correct order in the download, but fear not, everything is there.) Next, cut the banner out and fold the tabs in half. Use whatever method you prefer to anchor the tabs – glue, staples, etc. Then using twine, thread the banner letters in the correct order, and hang. Hope you all enjoy this free printable! ( Update: see below)
If anyone is interested in receiving free printables for the other items in my Halloween display, they (along with many others) are available to all my subscribers for free. Just sign up for our newsletter and you will receive access to over 50 free printables. It's just a little something extra to say thanks to those who have been so loyal to me. :-)
To print:
Book covers should be printed on legal size paper.
Ghost should be printed on US standard size.
The banner should be printed onto orange printer paper or construction paper.
Want to get the whole kit? (printables for book covers, banner, and ghost in frame) Sign up is super easy!
Update:
Sorry, but the Banner printable is no longer available. However, many other printables are available exclusively to email subscribers.