Upholstery is a great way to extend the life of furniture or to create a fresh new look from an old piece. However, there are a few things that one needs to know before attempting to disassemble and reupholster furniture. This article covers the basics of upholstery and is intended for beginners. So, for the 411 on upholstery for beginners, continue with this article.
(This post may contain affiliate links (*). That means that I make a small commission from sales that result through these links, at no additional cost to you. You can read my full disclosure here.)
Upholstery for Beginners – The Basics…
For the purpose of this article, I will focus on sofas. However, this information works for all furniture. I just like to cover the sofa, because it is generally thought of as the most complex piece of furniture.

To understand how to reupholster a sofa, you must first be able to identify the parts that you will be working with. So, let's learn these parts:
seat cushions
Back cushions (sometimes these are attached to the Inner back, sometimes they are loose)
Outer Side
Inner Side
Arm Panel (sometimes these are upholstered, sometimes these are wooden and ornate)
Inner Back
Seat (upper half) and Base (lower half)
Arm
Outer Back (not visible in image)
Bottom (not visible in image)
I just wanted to show a close up view of an arm panel. If covered in upholstery, these are removed by slipping a pry bar beneath the panel and prying forward. The panel edge is identified by the welting that outlines it.
If your sofa has a wooden panel, it is usually attached by bolts or screws from the inside. In this case, it should be unscrewed by accessing from the bottom of the sofa.
Upholstery for Beginners – Tools and Supplies…
The following are the most important tools and supplies that you will need to do a complete sofa. Note: Some are more necessary than others. I did my first sofa 20 years ago using a small screw driver, pliers, manual staplers (below),and a hammer for my tools. However, having the correct tools will make things so much easier.

Pullers – These are the Staple/tack Pullers that I have. However, just one puller is more than enough to get started with. You can get a good set with the C.S Osborn* that is identical to the one I have (bottom of the three). The red Tekton puller* (on the right) is also quite cheap and works great at lifting both staples and tacks. As I said before, I did my first sofa with a mini screw driver. Many upholsterers poo poo using screw drivers, and I will say up front that a regular flat head screw driver can really damage furniture. But, I wouldn't trade my mini screw driver for anything. I still have it, and use it from time to time.


Tack strips* and panel tacks are necessary for upholstering a sofa or a matching side chair. Panel Tacks *- (right) are what I use to reattach the arm panels. When you remove an arm panel, you will notice that it was attached with nails. This nail attachment cannot be recreated unless you have professional equipment. So, panel tacks solve this problem. To use, the tacks are inserted through the panel before upholstering. Then, once the panel is ready to be reattached, the tacks are struck home with the mallet. The large heads are what makes this possible. (FYI – I have used roofing nails before, when I am out of panel tacks. They work well in a pinch, and real panel tacks can be very hard to find. I found them at Fabric Farms and bought a big pack. I can't really vouch for this company as I have only made this one purchase, but I did not have any problems with my order. Panel tacks do not cost much, so I suggest purchasing a pack that will last for quite awhile, just to be safe.)
The tack strips (left) are long strips of hard cardboard that hold the tacks at intervals. The purpose of these are to create straight, perfect edges in the upholstery. They also enable one to finish the piece easily. They can be difficult to find, sometimes. I used to find them at Hancock fabric, before they closed all of their stores. I sometimes can find them at Hobby Lobby, but I find that it is easiest to just order these from Amazon. In a pinch, you can make your own using upholstery tacks and a roll of cardboard strips (explained in a bit).
---
---
Tack strips are most often used along the top edge of the Outer Back. They are also used along the edges of the Outer Sides. (You can see how I use them in my tutorial on repairing leather sofa chairs, here). These finish the Outer Back and/or Outer Sides neatly. You will not be able to staple all of the edges of the back and sides in place in a way that keeps the staples hidden. That is where these babies come in handy. Simply place beneath the edge of the fabric, then fold over/under (which also pulls the fabric taught) and hammer the tacks down.

Just take a look at the image above to get a good idea of the location of the tack strips. On this sofa, the tack strips run along the top of the Outer Back and probably down the sides of the Outer Back, as well. On the Outer Side, the tack strips probably run along the welting.

Hammers – It is best to have a couple of different hammers. Although, a standard claw hammer can get the job done just fine. However, if you want to add to the claw hammer, a few good choices are a mallet (comes in handy for reattaching arm panels without damaging the fabric) and a tack hammer* (used for decorative tacks).


Stapler – A stapler is a must. I have both of the above staplers. One is a pneumatic stapler. It makes for very quick work. However, I have done most of my reupholstery jobs with just the manual stapler*. These can be purchased for around $20, and they last a long time.

Other supplies that come in handy – A webbing stretcher* (left) makes it easier to pull the webbing tight before stapling in place, in the event that you need to redo the webbing. I have used my hands and pliers before, but it takes a lot of effort to get a tight finish if you do not have one of these. However, on the list of necessities, I would say that if you are on a budget, this is an item that can wait.
Role of cardboard strips* – This is handy for creating straight edges when you don't have the tack strips. You can use this in conjunction with loose tacks or staples to simulate the effect of the tack strips. I also use this to cover the heads of the panel tacks, so that they do not damage thinner or delicate fabrics when the mallet strikes them. (Just cut a piece and staple it over the panel tack's head to hold them in place and cover the heads).
Upholstery Needles* – These come in handy when doing tufted work or when needing to do finish work by hand. The curved needles* work well when the back cushions need to be sewn to the inner back.
Upholstery for Beginners – Disassembly…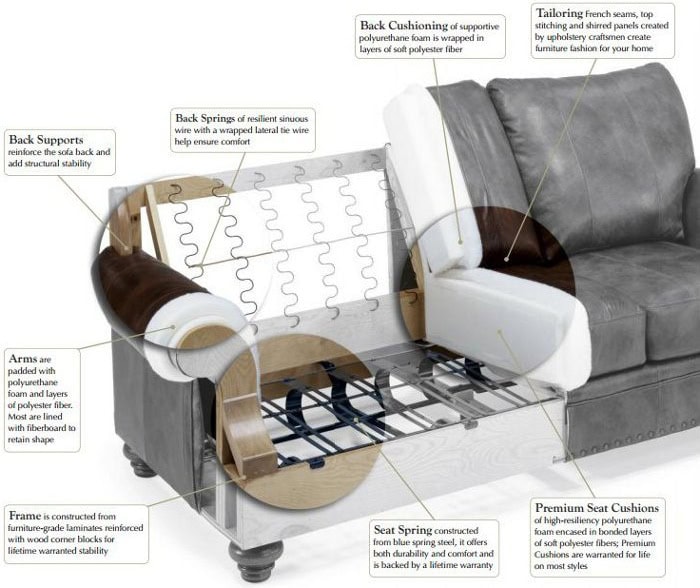 To disassemble a basic sofa (there may be slight differences in some sofas) follow this order.
Tip: I Like to use the old fabric as a pattern for the new. In order to do this, the staples must be removed (i.e. do not cut the fabric to remove). If however, you are not interested in preserving the old fabric, a utility knife can be used to speed up the disassembly.
Remove all the loose cushions.
Remove the bottom dust cover (this can usually be reused, so work carefully).
Detach the fabric from the edge of bottom of the sofa. (I must warn you that there will be literally hundreds of staples to pull).
Remove the Outer Back then Inner Back. (If any ornate wood trim is on the top of the sofa, search for the bolts to loosen it before completely removing the back fabric).
Remove the Base fabric (again, if made of wood look for bolts).
Remove the Seat fabric. (It will be stapled at the front of the sofa and at the back. The muslin portion of the seat can be reused if in good condition).
Remove the Arm Panels. (Look for the bolts on wooden panels)
Remove the Outer and Inner Sides/Arm
To reassemble, follow these steps in reverse.
More Important Tips…
To use the old fabric as a pattern, use a pen to label each piece (top, bottom, side, etc) Draw arrows to indicate where pieces connect. Draw lines along creases and/or pleats. (label everything and take pictures with your phone as you go!)
Remove welting from old fabric- it can be reused if in good condition.
(For upholstered panels) If the Arm Panels become damaged during disassembly or are no longer stiff enough to recreate a good panel, a new panel can be cut from 1/8″ plywood. Use the old cardboard panel, trace it to the plywood, and cut out with a jigsaw.
Bottom dust cover can usually be reused if removed carefully.
Old zippers can usually be reused for the seat cushions.
If the cushions are still in good shape, they can be reused. They may require new batting, but the foam cushion is usually fine. (Unless very old or purchased through a yard sale, in which case you may want to scrap the old foam).
Finally…
Upholstering is a great way to renew an old piece of furniture. Most of the time, the frame of a piece will hold up years and years after the fabric and foam has given up. I hope I have given you a good guideline to allow you to bravely tackle a piece in need of love. After all, what's the alternative? Letting your furniture go to a landfill? You might as well try. You never know until you do, but I have faith in you. You can do this!
---
Sidenote:
I am often asked where I like to shop for fabric and supplies. I usually order tools from Amazon and order fabric from Fabric.com. I have never had a problem with an order, and they have just about everything that I need. Check them out sometime.
---