The interior doors in a house can either make or break an intended design style. If you have ever walked through a home that was decorated in very traditional furniture but had flush doors throughout, then you know what I mean. The wrong door can stick out like a soar thumb. When asked which type of interior door styles go with what design, I usually break it down like this:
Leans Traditional —– V/S —– Leans Modern:
Raised Panels……………………………………………..Flat Panels
More Panels………………………………………………..Fewer Panels
Vertical Panels……………………………………………Horizontal Panels
And of course there is everything in between. But let's take a look at a few examples to get a better feel for what I mean.
Interior Door Styles – Raised Panel…
(Photo by Diane Burgoyne Interiors)
The six panel colonial door is one of the most commonly used in home construction. However, this door has a very traditional look to it. I prefer to stick with the colonial homes for this door but, it can work in any traditional style home.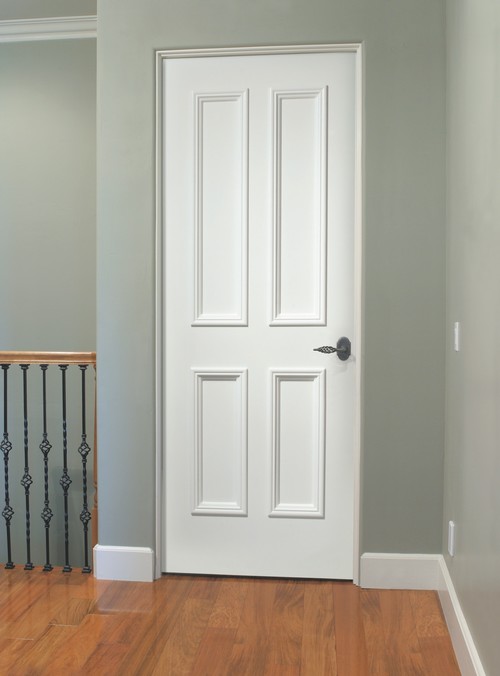 (Photo by Interior Door and Closet Company)
Next is the four panel door. These can be seen in either raised panels or in a recessed panel with proud trim. Either way, the look is still in the very traditional category.
(Photo by Antcliff Windows and Doors)
Continuing on to the three panel door, you can see how the look is moving away from the colonial style and becoming much more in line with the modern day traditional homes. These doors look good in traditional homes that want to really bring in the attention to detailing that is the hallmark of a traditional home design. (i.e. elaborate crown molding and large base trim).
(Photo by Valerie Grant Interiors)
With two panel doors, you are really gaining much more versatility in design. Yes, these still look great in a traditional home, but these fit just as nicely in with a transitional style. They also blend well into a french country design – although I much prefer the planked two panel doors (below) for french homes.
Interior Door Styles – Flat Panel…
Photo by Stallion Doors & Millwork
Once the panels are taken from a raised panel to a flat panel (or shaker style) the door begins to lean more towards a modern style. These work best with a transitional home, but as you can see, they can also go right into a Mid-Century modern. (although I think I would prefer a flush door here).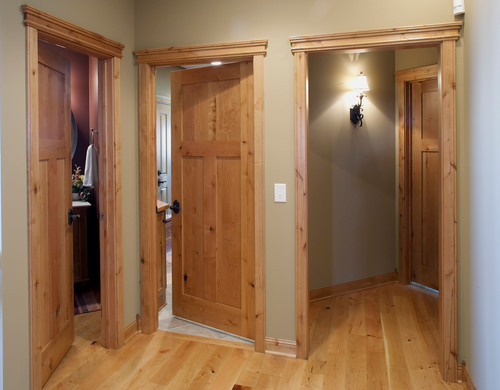 This 3 panel door is what most people think of as Craftsman style. So, of course this door is best for a Craftsman or an Arts and Crafts architecture.
Just to give you an example of how the direction of the panels can change the style, let's mix it up a bit with this door. It has five panels, but they are flat and running in a horizontal direction. So, even though the number of panels would indicate a traditional door, the fact that they are flat and horizontal actually pulls it more towards a more modern look. This door could work in just about any design, but I think it would look most in place in a transitional or even a Craftsman.
Interior Door Styles – Flush…
So, what happens if there are no panels? Well, then you have a very contemporary or modern door. I like these in Mid-Century Modern homes, but they also are a favorite for minimalist or contemporary homes.
Interior Door Styles – Finishes…
Even though we can create a simple method for determining a doors best fit, there will always be exceptions. The material and finish of a door can also determine the style of home that it should go into. For example, this two panel door is made of knotty pine with a natural finish. Not quite so traditional is it? Nope, this one is intended for a rustic look – as in cabins.
And here, this two panel door is painted and would not fit as well in a cabin. But the panels, having that plank look, make these perfect for French Country. Although again, they would also fit well in a traditional.
Final Thoughts…
There are still many other designs and finishes out there that we have not covered in this one post. The possibilities are endless, but this guide should help if you are looking to install new interior doors and are just not sure in which direction to lean.