Most of us think of spring and fall as the cleaning and home maintenance seasons. We spend a lot of time organizing and airing out during the spring and closing down and tightening up during the fall. However, there are several up-keeping jobs that I feel fall under the summer home maintenance must-dos.
(This post may contain affiliate links (*). That means that I make a small commission from sales that result through these links, at no additional cost to you. You can read my full disclosure here.)
While spring and fall provide us nice weather to do many improvements, there are plenty of issues that just can't be dealt with until warm weather arrives. And some of those spring and fall checklist items really need to be done quarterly. So, we should add those to our summer and winter home maintenance must-dos as well.
You will notice that I am not including many of the most common spring cleaning checklist items. We all know that we need to wash the windows during the spring and air out our bedrooms. I don't want to spend a lot of time rehashing things that you have already thought of.
For those looking for a spring cleaning list, you can find my post on that here. I also have a fall checklist available. And I have handy printables available in the gallery for anyone who is a newsletter subscriber.
Summer Home Maintenance Must-Dos
Patios, Porches, Decks, and Driveways
Clean your grill – most people do the majority of their grilling during the summer months. So, this is the perfect time to attack that baked on mess. Also, don't over-look the pull-out tray. It needs to be emptied at least once per year.
Check and repair cracks in driveway – Winter weather plays havoc on driveways. If you don't get to them right away, they will worsen quickly. For asphalt or blacktop, I prefer to use this crack filler.* For small cracks (less than 12″) in concrete, a good filler* will work. For larger cracks, more extensive work may be required.
Power wash driveways and walkways – I prefer to do this in the summer after the mulch has been installed and has had a chance to wash away the loose material. This is where a lot of that black soot around your walkway comes from. Once it has settled in, I do my pressure washing.
Inspect decks for loose or protruding nails – most people with decks are good at cleaning them each year, but they may not realize that they need to check for loose boards, and protruding nails. Replace any that you find and your feet will thank you later.
Pressure wash deck/patio – If you haven't already done this during your spring cleaning, now is a perfect time.
Exterior Perimeter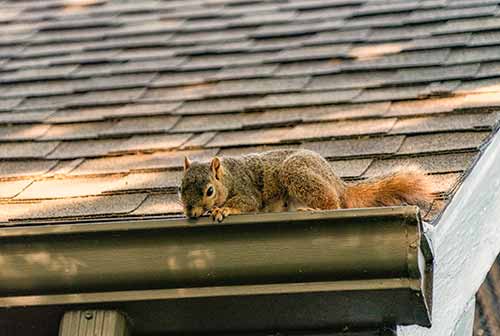 Treat wasps – They are in full swing by mid-summer. I try to keep them from getting out of control. Wasp treatments should be applied at dusk. Never treat during the day or you will miss most of them. You are also likely to suffer an attack by angry returning workers.
Check and repair caulk – the caulk around your windows, soffits, etc. should be checked each year for cracking and separation. If repairs need to be done, use an exterior silicone caulk that is paintable. A good caulking job should hold up for 3-5 years minimum.
Lubricate garage doors – this may be something that you do not think about during your normal spring cleaning, which is why I am including it here. Those rollers on your garage doors need to be lubricated each year. But don't use just any lubrication. They need silicone lubricant. I use WD-40's silicone version.*
Check for loose bricks, pavers, or stepping stones – these can be hazardous for both people and lawn mowers. Reset loose sections and tap protrusions back in place with a rubber mallet.
Install window screens – if you didn't install those window screens during your spring cleaning, you may want to do that now.
Inspect roof shingles and flashing – winter ice and spring storms have put your roofing through its paces. Look for loose or missing shingles and replace those. Check your flashing to make sure it hasn't pulled away. Repair as needed.
Inspect gutters for leaks, nests, other debris – I know you may clean your gutters during the spring or fall, but it is still a good idea to do an inspection during the summer. Critters like to crawl in and build nests. Those nests can cause water to back-up and result in wood damage. So, a cursory check for issues is always a good idea.
More Posts Related to Roofing Issues:
Got squirrel troubles? See my post on keeping squirrels out of your attic.
While inspecting your roof, take note of your drip edge (or lack there of). Most codes now require these to protect your soffits and foundation. See how I install your owm drip edge flashing.
Need gutter guards? See how easy it is to install your own gutter guards and avoid the problems caused when gutters backup.
Lawn and Garden
Inspect fencing for loose/damaged boards – Check for splintered wood, protruding nails, and other damages that need to be addressed. This is especially important if you have pets who are being contained by a fence. Animals can escape or injure themselves when fences are neglected.
Inspect exterior for signs of insect infestations – Stroll the perimeter of your home and check for signs of things that shouldn't be there. Termites often build narrow mud tunnels up from the ground. Look for ant hills located near your home's foundation, in landscaping, and around concrete and pavers. Check for small piles of sawdust which can indicate wood boring invaders such as carpenter bees or carpenter ants.
Inspect sprinkler system for leaks – If you use a sprinkler system or a drip system make sure that the heads and tubing are free from leaks or damage. Summertime is when water is the most important to plants. A malfunctioning system can result in dead plants.
Check water hoses/washers for leaks – Check water hoses for worn, cracked or leaking areas. In addition, check the washers located in the female connection. Keep extra washers* on hand and replace these when they become worn to prevent water from spraying out around connections.
Interior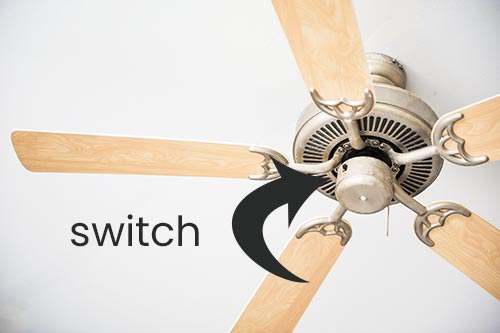 Switch ceiling fan directions – if you missed this during your spring cleaning, this is a perfect time to make the change. Ceiling fans have directional switches that allow you to get the most benefit based on the season. During the warmer months, a ceiling fan should rotate counterclockwise. During the colder months, you want to switch it back so that it rotates clockwise.
Flush hot water heater – Overtime, settlement gathers in the bottom of water heaters. Since the heating element is located at the bottom, all of this settlement can reduce the heater's efficiency. It can also shorten the life of the heater. Doing a flush each year will help to keep things running as they should.
Inspect fire and monoxide detectors – I know that the standard time to change the batteries is when time changes in the spring and fall. However, it is still a good idea to check these just to make sure that everything is working well.
Replace ac filters – Filters should be replaced or cleaned each season. Keeping cleaning filters in your units will help them run more efficiently. If you are noticing that your system is not quite keeping your house as cool as it should, check the filters first.
Clean dryer for lint – Build up of lint inside your dryer vent is not only a fire hazard, but it also will cause your dryer to take longer to dry your clothes. That means more interior heat is produced which means your AC will have to work harder to keep things cool. Use a good flexible vent cleaner* to grab the lint and remove it.
Clean rugs – I love to clean my rugs during the summer because I can take them outside. The sun is wonderful at killing bacteria and odors. Plus it allows the rugs to dry very quickly. You can see my method for doing DIY professional rug cleaning here.
Clean refrigerator coils – refrigerators naturally will run more often when they are exposed to warmer temps. The coils tend to collect dust which causes them to struggle to function at their optimum level. Removing the dust at least once per year can extend the life and allow it to perform more efficiently. FYI – I use the same flexible vent cleaner* from above for both the dryer and the refrigerator.
Auto
Even though automobiles are not technically part of a home, they certainly play a big roll in our ability to maintain a household. So, I always include a little blip in my quarterly maintenance for them, and felt it was important for the summer home maintenance must-dos, too.
Coolant – check the coolant and the other fluids in your vehicle to make sure that everything is in working order for the coming hot months.
Check oil and filters – Even if you do not DIY your oil changes, you can still do a simple check to see that the oil levels are where they need to be. You can also do a quick check on the filter to make sure that it looks good. Both of these can cause serious issues for a vehicle if not well maintained, and the only thing worse than a broke down vehicle during the winter is a broke down vehicle during the summer.
Check wipers – if your blades are worn, cracked, or starting to come loose, they need to be replaced.
Detail cleaning – I like to do a detail cleaning on my vehicle during the summer and again in the fall. I skip spring and winter because the wet mess is so frustrating that I just end up feeling defeated. But, summer is perfect for pulling out the water hose and really going at it.
Final Comments
I am sure there are more items that I could add to the list. Can you think of any other summer home maintenance must-dos that people overlook during spring cleaning or anything that is better suited specifically to the summer season? Post it below in the comments!