This weekend officially kicked off the frenzy of spring cleaning projects that I do each and every year. I have quite an extensive list all of which are available in a very easy-to-use printable. But let's take a look at some of the most important to-dos in this spring cleaning checklist.
Just like the fall checklist, this one has over 100 items! I try to cover everything that could possibly need doing, and then some. I also have left space to insert anything specific to your situation.
You may not need or even want to complete the entire list, but it is there for you just in case. You can find this, and other amazing printables in the Printable's Gallery.
FYI – all of my printables are available for free to my newsletter subscribers. There are too many available to mention in one post, but I have several cleaning/maintenance checklists – spring, summer, and fall. If you're interested you can sign up here.
Perfect Cleaning for the Spring Weather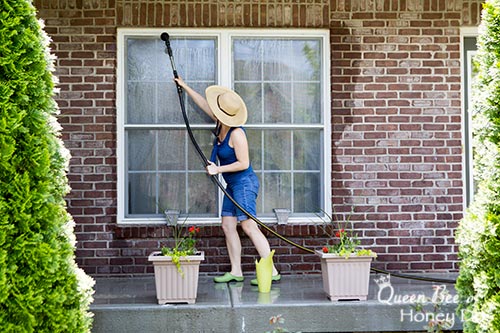 One thing that I prefer to do during the spring is to wash the windows. Sometimes I give this to-do a hard pass during the fall. But when the weather warms up, I like to let the sunshine in.
It is also nice to open the blinds and not see cobwebs or old dead bugs hanging around. That kind of thing has a way of ruining the view.
While I am working on the outside, it is the perfect time to drag out the patio furniture, roll out the rugs, and clean the cushions. Basically, I treat the patio like an interior room, giving it a top to bottom cleaning.

We love to spend time on our patio, and having a fresh clean space makes things so much more pleasant.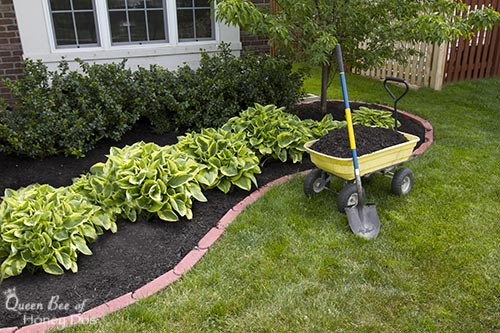 I also prefer to do my landscaping during the spring. I know that some people like to put their plants in and mulch during the fall, but I like to have everything looking new and fresh while I can enjoy it.
Of course, I am in the south. So, winter mulching is not required here to protect our plants. Usually, the springtime mulching is more than enough to last until the following year.
While you are cleaning, don't forget the area rugs. They can harbor all sorts of odor-causing agents. If you can wash them, that is best. See how I get a professional clean on my rugs, here.

At the very least, you want to shake out the deep set grit. Placing them in the sun for the day will also help to bake out the odors.
Often Overlooked Areas
Change those air filters. Just like they say to change your smoke detector batteries when you change your clocks (for those with time changes), I like to always change the filters every Spring and Fall as part of the cleaning list.

It's amazing the amount of dust that can accumulate. In fact, if your filters look as bad as these (above), it would probably be a good idea to change them seasonally, or 4 times per year.
Another neglected area that could probably use a good cleaning are those ceiling fan blades. Adding these to a Spring (and Fall) cleaning list works great, because this is the time of the year when you would want to switch the direction of the blades.
On a side note – for those of you that were unaware, there is a switch on your ceiling fans. It changes the direction that the blades spin.

The purpose of this is to circulate the air to best benefit the season. (i.e. during the winter it pushes the warm air down, and during the summer it pulls the warm air up and away).
Twice a year, I like to (well, not exactly like) thoroughly wash down all of the molding. I prefer to use a good degreaser for this. Dawn is great or even Murphy's oil if you like the scent.

You can even get the kids involved in this. Start from the higher woodwork, such as chair rails, and work your way down to the baseboards.
Another often forgotten area is the vents above the stovetop. Cleaning these at least once a year will greatly improve the function of the vent-a-hood.
While you are working in the kitchen, take the time to do a deep clean on your appliances. I find that a regular cleaning of my dishwasher helps to keep it working at its best.
And finally, open up those windows! Nothing beats getting some fresh clean air circulating inside. However, you may want to wait until most of the pollen has passed.

I know that we have several weeks in early Spring where yellow pollen coats everything. You certainly don't want that blowing inside your home.
But other than that, it is nice to get rid of the stale air and let the house breathe. If you want even more areas to clean, I have over 100 checklist items on my list. Feel free to sign-up and download a free copy!