Oh, to have a dedicated space for crafting. Most people do not have an extra room to devote to just crafts. However, there are ways to create a space to keep everything organized and handy. Small craft room ideas (such as this one by "Between Naps on the Porch") can be achieved with just a little ingenuity.
Small Craft Room Ideas…Closets
(Transitional Closet by Brooklyn Home Stagers Chip Cordelli)
Closets are probably the easiest way to have a crafting area. Something as simple as a trunk can be utilized for storage. Put it on wheels (as above) and and some rods for ribbons and you have an instant portable work zone.
(Traditional Closet by Apple Valley Closet Designers and Professional Organizers Closets For Life)
Another option is to turn the closet into a workspace. Adding shelves and a desk top allows one to close up the workshop when they are finished, and none are the wiser. Notice how the wire shelves mounted to the doors provide storage for wrapping paper and ribbons.
(Traditional Closet by Encinitas Closet Designers and Professional Organizers Neat Method San Diego)
If storage is all that you need, a closet can be converted to keep everything neat and tidy. It also leaves the workspace uncluttered so that nothing more than a craft table is required. This is especially helpful for small rooms.
(Contemporary Closet by San Francisco Closet Designers and Professional Organizers NEAT Method)
Notice how the closet shelves from above are meticulously organized to keep everything handy and neat.
Small Craft Room Ideas… Desk Units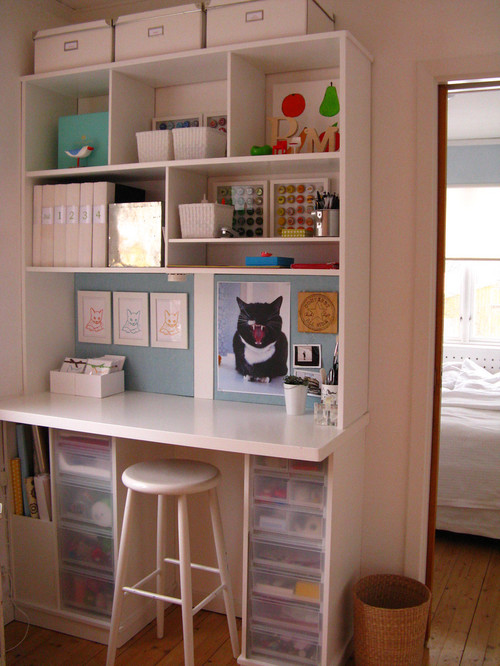 (Spaces)
A visit to an office or closet organization store can provide many solutions for crafting spaces. Notice how the doors from the desk cabinets have been removed. The space was then filled with small stackable storage containers. Doing so coverts the once unusable cabinet space into a fully customizable area.
(Traditional Home Office by Philadelphia Closet Designers and Professional Organizers Closet & Storage Concepts)
The same concept was applied to the above desk. Pull out drawers with utensil dividers can create customizable storage for a desk unit. Also, a back splash made from wall slats provide additional space for hanging ribbons, scissors, etc.
Small Craft Room Ideas…
(Traditional Basement by Minneapolis Photographers Spacecrafting / Architectural Photography)
If you are so lucky as to have an extra room that can be converted into a craft space, you are in a great position. If space is utilized properly, everything can be organized into a neat and pleasant space to work in. Just a wall of shelves combined with a table are all that is really needed.
If you already have a home office space, consider adding a few storage elements from one of the previous images to create a office/craft room combination.
(Shabby-chic Style Home Office by Nashville Interior Designers & Decorators Kristie Barnett, The Decorologist)
I like the way that this room is a craft room in disguise. Storage is placed around the perimeter of the room in high mounted shelves. Other items can be stored on the trunk that also serves as an end table for the arm chair ( a perfect place to sit while knitting). *Notice the table just outside of the image to the left.

This is the wall storage system that I recently added to my own craft room. The slats are made in a french cleat style and allow me to hang anything that I need or want. You can find the details here.
Final THoughts…
I hope that this article has inspired you in some way to create or improve upon your own crafting room/space. And as always… share, pin, or tweet your favorite images. :-)