Each year, designers, influencers, and freelance writers release a breakdown of what the upcoming kitchen trends and color schemes will be. They are exciting to read, but often not exactly accurate.
Interior designers have traditionally held the most influence over what direction kitchen trends took. They would go with the flow on a particular design style for a while. But eventually, they would grow tired of the same-old-same-old.
Somewhere along the line, a popular designer would create something original, either because they wanted to try something new or because a company shared some new product line with them, and bam! We have a new kitchen trend that starts to catch on – uh, sometimes.
The powers that be take notice of this subtle shift in sales and predictions are made. Unfortunately, these predictions may not be as accurate as we hope.
You see, the average consumer takes a while to get on board with these so-called trend predictions. Just because interior designers have grown tired of seeing white cabinets, [deep sigh] the majority of homeowners may not yet be there.
In fact, you can go back almost five years and find design magazines and decorators claiming that gray is passe and white cabinets are yesterday's news.

And yet, these sought after kitchen schemes continued to be the most popular all the way through 2020.
Mostly, we just don't have the time or the money to remodel a kitchen every time the wind blows in the design world. This is why kitchens tend to have cyclical trends that last for about a decade.
But guess what? We are reaching the end of our decade of white kitchens, and yes, this trend is beginning to swing towards something new. Want to see where this decade will take us with kitchen designs? Me too!
But first, let's take a look back at the trends that guided us through the past decades. Keep in mind that many of these trends carried over into the next decade. There is a bit of overlap with some, but the peak for each is represented below.
Kitchen Trends from The Past
1970s Kitchens
The 70s is well known for its trendy gold and avocado green appliances. When combined with floral wallpaper and linoleum, this kitchen design was the cream of the crop.
1980s Kitchens
The 80s brought on a decade of white melamine cabinets with wood trim, flat panel doors, and colorful backsplashes. White appliances became a popular trend and tiled countertops were very common.

The paint and interior colors were a variety of pastel hues (think Golden Girls). But, it was also the decade that brought us neon colors like hot pink and electric blue. Thankfully, we managed to avoid applying those to the kitchen zone very much.
1990s Kitchens
In the 90s, honey-colored oak cabinets, brass hardware, hunter green, and earthy red were all the rage. Countertops of faux granite laminate and wood finishes started replacing tiled countertops.

White kitchen appliances were replaced with black sleek appliances and linoleum flooring was traded in for tile floors. Faux painting was the DIYers project of choice, and frequently made appearances in kitchens with sponge-painted walls and antiqued cabinetry.
2000s Kitchens
The new millennium saw a rush toward cherry wood everything – cabinets, floors, and furniture. Granite countertops ruled this decade and were combined with stainless steel appliances and beige paint.

This was also the peak period for the antiqued cabinet craze which got its start in the 90s when everyone was faux painting everything.
2010s Kitchens
2010 ushered in the decade of the all-white kitchen. White cabinets were combined with white countertops for that white-on-white look that swept Instagram and all of the home improvement shows.

Other popular trends during this decade include farmhouse sinks, gray walls, and white shiplap. Shaker doors replaced the popularity of raised panel cabinets from the previous decade.
Kitchen Trends Coming this Decade
If you have grown tired of the white-on-white kitchens and the ever-popular cool gray color scheme, you are in luck. This decade will see a return to color and natural wood.
But if white is still your thing, or you were just unlucky enough to have remodeled your kitchen right at the end of the white trend, don't worry. Your white kitchen will not be considered dated for quite some time to come.
That is because today, the biggest influencers on interior design are, well… influencers. By that I mean popular home remodeling TV shows, bloggers, and social media influencers.
Yes, people are looking towards the DIY sector more for inspiration than ever before. And guess what, these influencers are not very likely to want to change their recently updated kitchens anymore than anyone else.
That means that you have time before the new decade takes hold. But, be forewarned. The tides have already started to shift and a change is coming.
So what will this decade hold for kitchen trends? Well, if you follow Instagram, you have likely already started to notice many of these kitchen trends rolling in.
Contrast
Many kitchens will add accent colors via islands, vent hoods, and select accent pieces. This will make it easier for yesterday's all-white kitchens to sift into the new trend.

You will also see a return of two-toned kitchens where the bottom cabinets will be finished in one of these options while the top will remain white. Again, this is good news for those with white kitchens looking to follow the trend.
Goodbye White-on-White
Cabinet colors will sift away from stark white, but white will not disappear completely. It will, however, shift in intensity and saturation (i.e. white-on-white is out)

Instead, whites will become softer and a bit warmer. Think more of off whites and creamier whites. Notice we are pairing this with a nice blue color for some contrast.
But expect to see more and more splashes of color and even custom wood stains. That's right, wood cabinets will be vogue once again.

Popular cabinets color choices will be sage green, which Pinterest predicted a few years ago based on search trends. We will also see a continuation of the ever-popular navy blues cabinets.
Black is the New White
Also on the list for this decade, expect black to become the new white. So, get ready to see kitchens decked out in shades of black, charcoal, and midnight blues.
Fixtures, Countertops, and Walls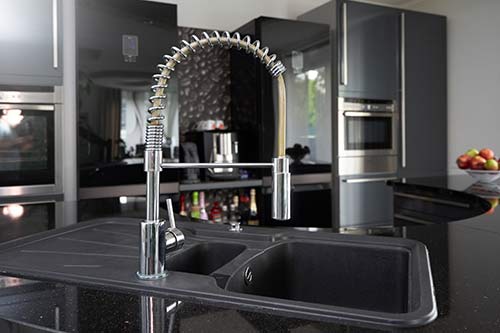 What other trends will we see in the coming decade? Well, you will notice less gray neutral tones and more sage and soft creamy neutrals. That's right! All those predictions of gray becoming passe will finally come true.

Granite countertops will be out and quart countertops will be in, and black matte fixtures, especially the Edison faucets, will gain in popularity.

For now, I am reserving my speculation on appliances. The new vibrant stuff coming out seems a bit of a short-term fad to me. But if I had to guess, I would say that traditional stainless is here to stay. However, I believe that custom panels will be the sought after trend.