MC 1275
I haven't shared a favorite thing with my viewers in quite awhile, and I wanted to get back to doing that. After contemplating which "favorite thing" to present (there are so many that I have), I finally decided to bring one of my favorite cleaning tools to you. So, I am featuring the McCulloch hand held steam cleaner.

(This post may contain affiliate links (*). That means that I make a small commission from sales that result through these links, at no additional cost to you. You can read my full disclosure here.)
McCulloch Hand Held Steam Cleaner (MC 1275)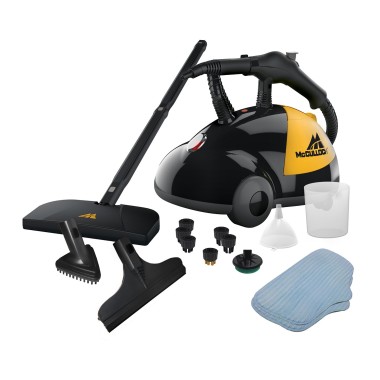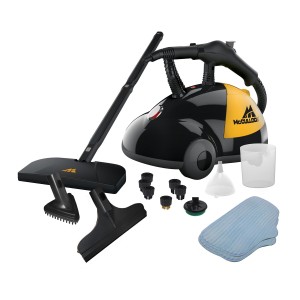 I can not begin to express how pleased I have been with my McCulloch hand held steam cleaner. I have had this thing for three years now, and I don't regret one minute of the purchase. Anytime I need to get into a dirty crevice or a tight unsanitary space, I pull this baby out. It is touted as a grout cleaner, but I have discovered that it works much better on things that I wouldn't have thought about using it to clean.
Toilets
This is the big one… I absolutely hate the nasty, unseen mess that resides beneath the lid attachment. I mean, yuck! I have two boys, three if you count my husband, and for the life of me I can't figure out how "stuff" ends up where it ends up. 😉 And you can't get underneath the lid attachment with a scrub brush, no matter how small it is.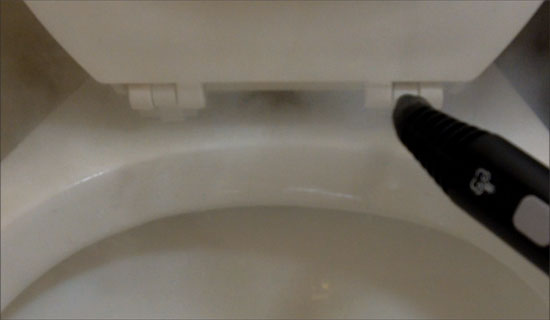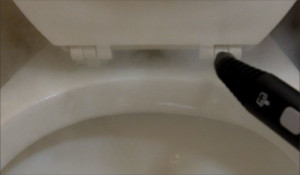 Before buying the McCulloch hand held steam cleaner, I would unscrew the lid and clean everything. Then, screw the lid back in place. It was a complete hassle. But now, I can use the steamer about every other week, and it gets it all clean. The steam and pressure just pushes everything that is under that lid attachment right out in the open.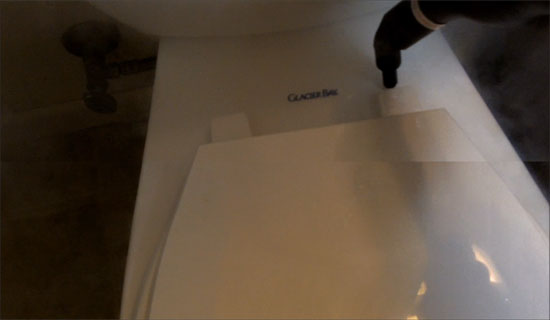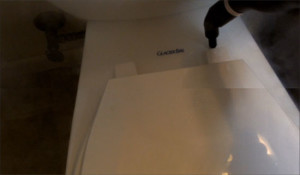 I also use it to clean around the crevice where the toilet meets the floor. I like knowing that it is completely sanitized with just heat, and not by using harsh chemical. (Not that I would be opposed to harsh chemicals from time to time. I am determined to get thing clean and sterile, at almost any means. But anytime I can find a natural means, I prefer to do so).
Faucets
Just like the toilet, although not nearly as gross, I find that the space beneath the seam of the faucet and the sink can be a little difficult to get clean. Although I don't need to do it quite as often here, I do like to steam clean around the faucet on occasion.
Mirrors
---
---
And while we are visiting the bathroom areas, I should mention that the McCulloch hand held steam cleaner comes with a squeegee that can be used on mirrors or glass surround. For those of you who like to clean things completely without chemicals, this is a nice plus. I usually add a bit of vinegar to the water that I use in my steamer. This not only keeps the steamer from accumulating calcium built-up, it also serves as a natural cleaning solution.
 Mattress/Furniture
This steamer also comes with an upholstery attachment. That means that you can use it to deodorize and clean your mattresses and sofas. I like to use it on my dogs' bedding. It not only gets rid of the odor (with the vinegar this works even better), but it also kills those nasty little dust mites that can multiply in mattresses and other furniture decor.
Ovens and Ranges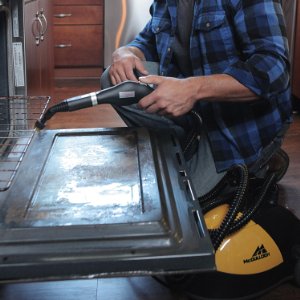 Again, this is a nifty crevice cleaner. It can push the grease right out of those edges between glass and metal.
Some people like to use it for the racks in the oven and also in their outside grills. I find this to be a bit tedious. So, I don't use it for those areas.
I would rather throw the racks in the sink and soak them. But for those impossible to get to areas, I haven't found anything better.
(On cooktops, it is great for getting around the burners).
Floors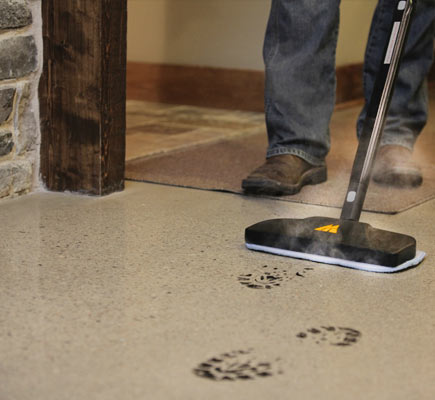 Another thing that I absolutely love is that the McCulloch comes with a mop attachment. That means that I didn't need to buy a separate floor steamer. This one works very well. I use it on my tile floors quite regularly. It is also wonderful with linoleum flooring, cleaning and disinfecting in one go.
I will admit that I have used it on my wood floors on occasion, (and only under certain circumstances) and they do advertise this as being a wood floor steam cleaner. However, I do feel obligated to tell you that steamers are not recommended for use on wood floors. Regardless of the claims from McCulloch, steam can and most likely will cause some damage to your wood floors. So, I guess this is a case of "do what I say, not what I do." 🙂
Wallpaper
I believe that McCulloch has a wallpaper accessory that can be purchased. However, I have used the floor steamer with perfectly good results for removing wallpaper. Compared to a a hand held wallpaper steamer, it is very comparable in results. However, it does take some getting used to in order to maneuver along the wall in such a fashion. But in a pinch, it will work as well.
Where to Buy
The McCulloch hand held steam cleaner (MC 1275) can be purchased at many of the big box hardware stores, or you can get it at Amazon. If you plan to use it to clean floors, I would suggest purchasing an extra floor pad. There are many other accessories available as well, but I find that the system has pretty much everything that you will need. Both of these links are for Amazon Prime, so if you are a prime member, you can get 2 day free shipping.
---
You may also be interested in my other Favorite things: Kreg Pocket Hole Jig.