What Your Family Needs to Know…
In the event of my death – free Printable
Not long ago, my uncle (whom I shall refer to as "A") suffered a severe stroke. Although he has not yet made a full recovery, we were thankful that he survived it. However, the many months following the stroke were incredibly difficult for my aunt (whom I shall refer to as "B"), and not just because of the health issues. You see, "A" had always handled the finances, bills, and what not. While, "B" just did her job and spent money as needed.
In the Event of My Death – Free Printable…
In the Event of My Death – Free Printable…
Well, now that "A" was no longer capable of doing his part of their routine, "B" was left with trying to handle the income and the bills. Except, "B" did not really have a clue how or what was being paid each month. She also did not know the banking information – account numbers, passwords, etc.- everything was being done online. So, month after month she was faced with collectors calling about bills that she did not know even existed. This was after spending several weeks just trying to gain access to her funds.
How that Effects You & Me:
I really got to thinking about some things since then – like what would happen in the event of my death. I have always known that I needed to have a Will and a Trust in place for my children, but I never really gave much thought to the day-to-day events that my would cause my family stress, should I become disabled or pass away. Would my husband know how to access our accounts? Would he be able to decode my system for making payments? Does he even know how to get into my iPhone/apple account? What if something happened to him? Who do I contact at his work? And, the list of what if's goes on from there.
---

FIlofax USA, Free Shipping Over $55
---
Making the Plan:
I decided right then and there that I needed to come up with a system to leave behind all of these instructions, and that is just what I did. I sat down and created a PDF file of all the paperwork that I felt I would need, not just to leave instructions behind for my husband, but also so that he could leave behind instructions for me, and so that we could both leave behind instructions for our family. (In the event that we die together).
A Step Farther:
Then, I got to thinking that this type of documentation is quite important for everyone to have. (Seriously, think about all the important details that no one would know about you – credit cards that need to be canceled, custody papers that need to be located, etc) So, I just wanted to write up this little post to bring the issue to the forefront of everyone's mind. While this certainly can not take the place of a proper Will, I think that it is a good idea to have something like this to supplement your end of life plans.(
You can sit down and make up your very own document, and put it in a safe but easy to find place. All you need is to do is to create a spreadsheet with everything categorized in an easy to understand fashion. I will also be placing my own PDF files into the Printable Gallery. (If you are new here, access to the Printable Gallery is available to all of my email subscribers. If you would like me to send you the password to get in, you may signup by clicking this button below).
(UPDATE for NEW SUBSCRIBERS: I have received a lot of emails from new subscribers asking about the specific location of this printable. I know there are a lot of printables in the gallery to look through. This particular one is the very last one. So, if you are only interested in this specific printable, once you enter your password, scroll all the way to the last thumbnail. Click then print! Don't forget that you can email me if you ever have a question or a problem with the gallery.)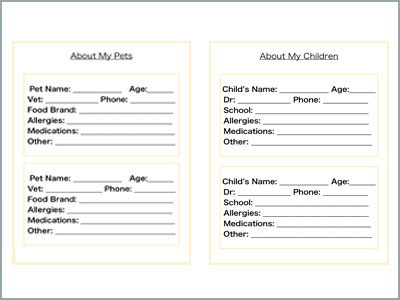 It is a good idea for everyone over the age of 18 to have one of these documents. I have not only made one for myself, but I have also had my husband fill in his information and will be passing a copy along to my own parents and in-laws.
Final Thoughts…
Either way, I just hope that this has brought some important issues to mind and that you take the time to sit down and plan for the inevitable. This hasn't been one of my most exciting posts; after all, who wants to read about death? But, I do believe that it is one of the more important ones.
Please feel free to share suggestions and ideas with each other in the comments' section below.
– PIN IT –
– PIN IT –
---