Who doesn't just love to have all of their makeup perfectly laid out and organized? I know that I love to be able to see all of my brushes, lipsticks, and what nots beautifully displayed and easy to visually locate. But sometimes, we just don't have all that wonderful space to create such organization. However, I have found the following ideas to be great for adding storage space or for better utilizing what is already available. These 10 cosmetic storage ideas are sure to help you get your makeup (and what nots) better organized, too!
Cosmetic Storage Ideas… stackables
(Photo by Less Is More Organizing Services)
One of the easier methods to help clear the clutter and free up space is to move the q-tips, cotton balls, sponges, etc. to a desktop stackable system. Not only does it look nice, but think of all that space that you will free up by getting rid of those boxes and bags that have been stuffed into drawers and cabinets. Plus, you don't have to go digging around trying to find them when you need them.
Cosmetic Storage Ideas – Pull Outs…
(Photo by The Home Improvements Group, Inc.)
Certainly, one of the most popular and best ways to better utilize the space that you have is to convert those cabinet doors into pull-outs. Because seriously, who ever uses the top shelf in a bottom cabinet? This method will not only make accessing your things so much easier, but it will more than double the usage space.
Cosmetic Storage Ideas – Countertop…
If you are one of those people who has the habit of just tossing regularly used items onto your vanity top, consider adding a few trays. Just about anything looks like it belongs if it is sitting on a tray.
Cosmetic Storage Ideas – Behind Doors…
To create more storage where you once thought there was none, consider adding a storage door over your full length mirror (or better yet, place the mirror on top of the storage as seen in this article).
Mounting a peg board to the back of a cabinet is a great way to extend the useable space. Things that normally wouldn't fit on narrow shelves (such as the hair dryer) can easily fit in the vertical space with plenty of room left to spare. ( and if you like using peg boards, be sure to check out these other great ideas for using peg boards and dowel rods).
(Photo by Lowe's Home Improvement)
Adding a spice rack or hanging storage rack to the inside of a bathroom cabinet is also great for extending storage. It is amazing how many bath products a spice rack can hold.
Cosmetic Storage Ideas – Organizers…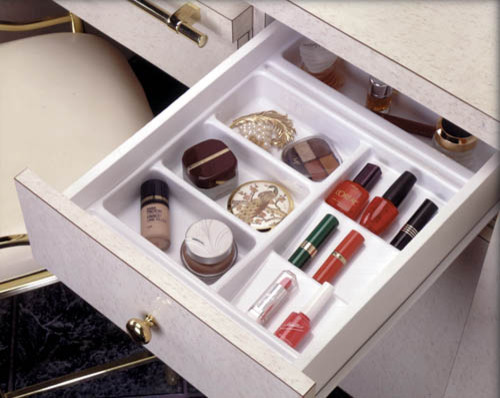 (Photo by Jamie Gold, CKD, CAPS)
One of the easiest ways to organize those cosmetics is to simply add drawer inserts. They keep everything separated and make it easy to clean up should something leak.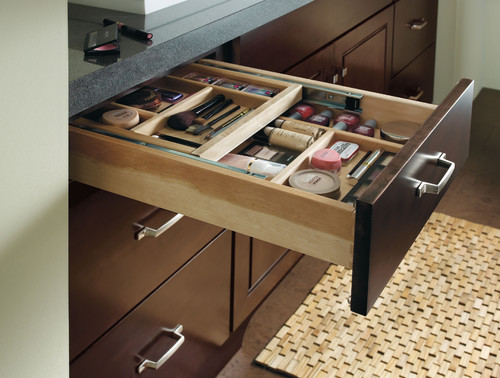 (Photo by MasterBrand Cabinets, Inc.)
In keeping with that idea, converting a single drawer into a dual drawer is perfect for cosmetics. Rarely do we need the entire depth of a drawer for our makeup. So, all that extra space is wasted. Adding a second compartment immediately doubles the space.
Cosmetic Storage Ideas – Repurpose Storage…
If drawers and cabinets are not a viable solution, consider using a desktop organizer to store your cosmetics. Because they are designed to hold pens, paper clips, and all sorts of small office items, they make the perfect storage for brushes, tweezers, clips, and other beauty products.
Cosmetic Storage Ideas – Easy DIY…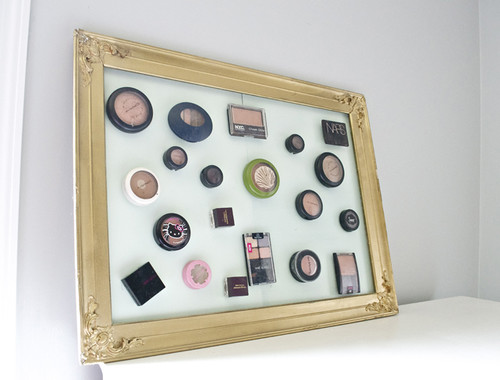 And because my day just wouldn't be complete without bringing you something a bit unique, I thought that you might consider the use of magnets. This is a super easy DIY, and a perfect solution for creating extra makeup storage. Simply frame up a magnetic board and add magnets to the back of anything that you want to stick to it.
Final Thoughts…
I hope that you have found some of these cosmetic storage ideas to be of help to you. If you have any other great tips, please feel free to share them with us. :-)