Well, it is finally December, and I am sure that everyone has been very busy getting the house decorated for the holidays. Since I have already posted an article on Christmas mantels, I thought that a good follow up would be an article presenting Christmas wreaths.
(This post may contain affiliate links (*). That means that I make a small commission from sales that result through these links, at no additional cost to you. You can read my full disclosure here.)
This Christmas wreath above is a very simple wreath, although it is very nice. I like it because any green wreath can be quickly made up like this. All it takes is a strand of small red lights (these are G12)* and a strand of mini white lights (these are 5mm white*). Throw on a bow and your all set.
Complete Entryway Decor….
I love it when the entire entryway is decked out. This Christmas decor is perfect in its presentation. Everything in this setup seems to say, "Beyond this door is an amazing space!" (and check out those amazing nutcrackers).
Gorgeous Doors….
If you have a bright colorful door, sometimes its best to let the door itself be the decor. In this display, the gorgeous red door just needs a little bit of green to create that Christmasy feeling.
Here again, the doorway is so beautiful! That understated and tasteful decor makes for an elegant Christmas display. (Okay, I'll be honest. I love the way that the dog seems to match the color tones in this door. So, I just had to include this picture) :-)
Hydrangeas…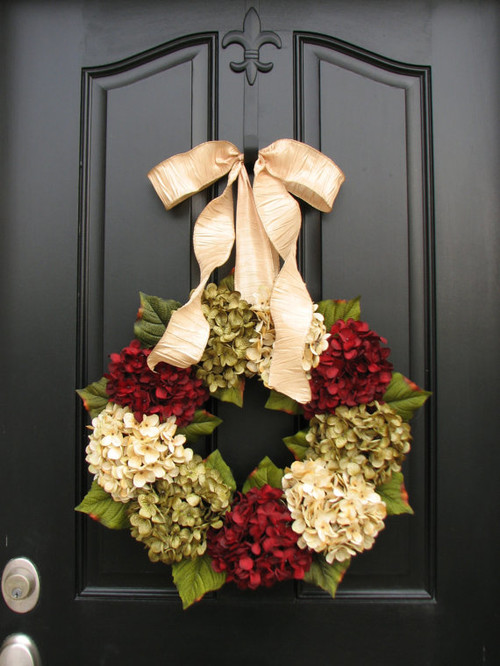 Instead of Poinsettias this year, why not try some hydrangeas. This gorgeous wreath is available through Etsy by TwoInspireYou.* It is a nice change from the traditional Christmas wreaths.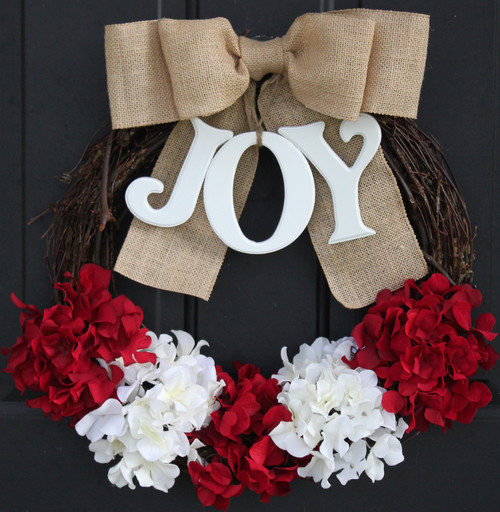 And yet another hydrangea wreath that I found through Etsy. This one created by Chalk it Up Decor.* I'm not sure if this particular wreath is still available, but in any event, the purpose of this article is to inspire and give ideas. Also, I think that this could be easily recreated by most of my crafty viewers.
PineCones….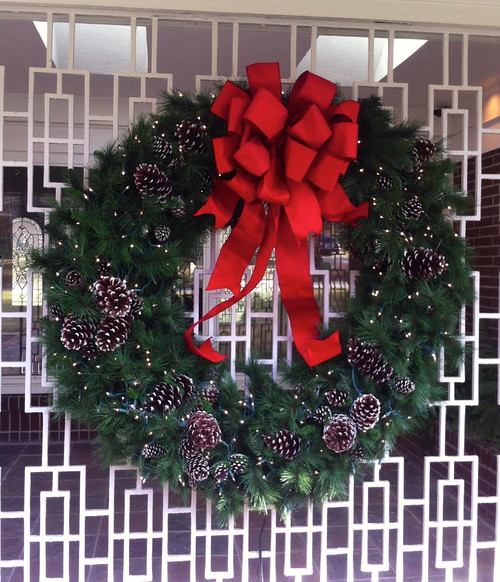 As always, pinecones seem to be a favorite for holiday decorations. The challenge is just in how to create something unique with them, but the tried a true use of pinecones for Christmas wreaths has never failed. This one above is a simple design of fiber-optic lights with white tipped cones. The classics are always beautiful
This wreath has more of a DIY look. Consisting almost of nothing but pinecones in varying shades, it adds a nice natural look to the decor. But if you decide to recreate this yourself, be sure to wear some gloves. Pinecones are a bit prickly.
DIY Inspired….
Speaking of DIY, these paper wreaths have been gaining in popularity the last few years. I like this one because it is made from music sheets. (Another popular choice is pages from a book). These are created by gluing layers of rolled sheets of paper. Just start with the bottom layer and continue to work your way around adding more layers.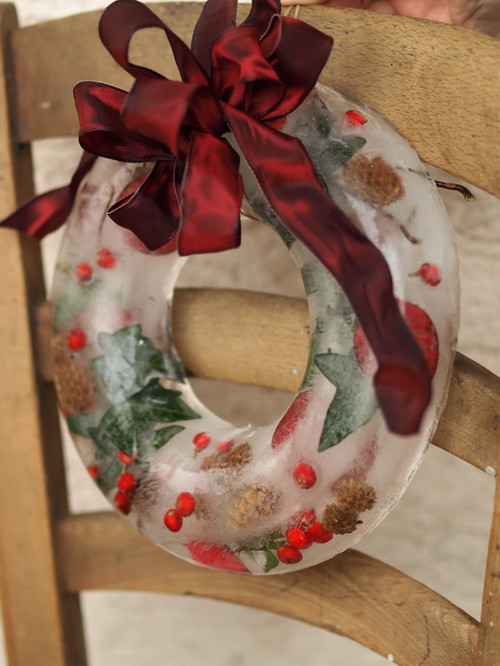 Obviously, this is not meant for a door, unless you are in a very cold area where melting will not occur. But, it is so cute I just had to include it. It is also a lot of fun for the kids to make. Even when there is no snow on the ground for snowmen making, they can still have some creative fun. (Tip: have them make several of these to hang on a playset or clubhouse).
To make these, all you need is a cooking ring mold,* (preferably one that you don't mind potentially being ruined) some leaves and berries from a holly tree, water, and freezing temperatures. Add water, leaves, and berries in layers, letting the first layer freeze up before adding the next… and so on. After the wreath has frozen up completely, run a bit of water over the bottom of the mold and carefully tip it over to slide the wreath out.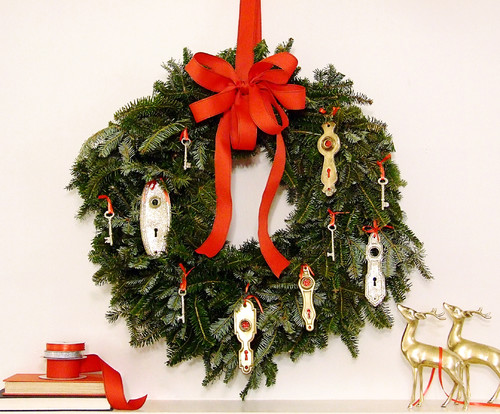 (Spaces)
I think of this as the "lock-and-key" wreath. It is both easy and unique. The designer just tied several old-fashioned keyholes and skeleton keys to the wreath with red ribbon. If you don't happen to have a collection of locks and keys around (I know that I don't), you can usually find some of these in your local craft store.
Something a Bit Different….
If Christmas wreaths just aren't your cup of tea, perhaps you would prefer a swag. I love this home's matching decor for the doorway. Notice how the checkered fabric runs through the garland around the door and creates the bows for the lanterns. Also, you will notice the same red ribbon that runs through the garland graces the planters. Just beautiful!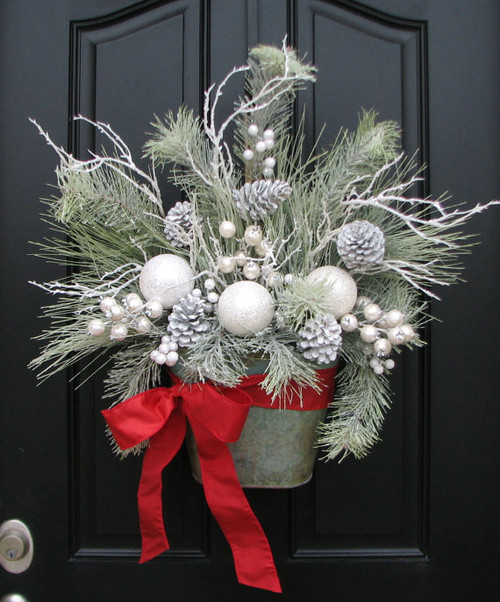 And here is yet another inspiring idea from TwoInspireYou*. That's right, this is the same Etsy lady that created the hydrangea wreath above. I just thought this idea was a nice alternative to the standard wreaths.
Sometimes you do not even need a wreath at all. Again, we have a nice bright red door that has been left uncluttered. Most of the flashy decor sits at the entrance and the door is left in all its glory with just a small ornament to complete the look.
But hey, if you don't have a Christmas wreath or any other Christmas door decor around, why not just use what you do have. Here an old ice skate was stuffed with some greenery from the lawn. I thought this was a unique solution to decorating on a budget. :-)
Final Thoughts…
So how do you decorate your entranceway for Christmas? Share your thoughts with us!