Occasionally, a unique way to hang towels is needed. Sometimes this it due to a desire to make a certain decor statement. Sometimes it is due to storage space being in short supply. Whatever the reason, these towel rack ideas are sure to inspire your decorating sensibilities.
(Beach Style Bathroom by La Jolla Interior Designers & Decorators CM Natural Designs)
Using hemp rope as a towel rack is terrific for beach themes (similar to the idea that I recently presented on toilet paper storage). As seen here and in the feature image, rope can be used in a variety of ways. It can even be used to create beach wall art if you want to extend the theme.
(Contemporary Laundry Room by Ponderay General Contractors Selle Valley Construction, Inc.)
Consider creating wall art out of your towel storage. Hang multiple ring holders and alternate towel colors. This provides storage and beauty. How cute is that?!?!
(Traditional Bathroom by New York Interior Designers & Decorators Peter S. Balsam Associates)
This towel rack is quite unique. To complete this English look, the owner utilized an old train luggage rack to achieve towel storage.
(Eclectic Bathroom by Brisbane Photographers Shotglass Photography)
This home owner decided to use the extra space between the counter top and the wall to install a few rods. This allows multiple towels to be hung for drying or easy access.
(Tropical Bathroom by Kailua Architects & Building Designers Archipelago Hawaii Luxury Home Designs)
Think outside of the box like this home owner did. An oar not only provides a nice place to drape towels, it also serves as a nice piece of wall art.
(Traditional Bathroom by Los Angeles Photographers Alex Amend Photography)
Why not add a coat rack to your bathroom? Eight towels or wash clothes can be hung from one, and it is definitely different. This works well when there are no cabinets and no wall space to add additional storage. (Think apartments).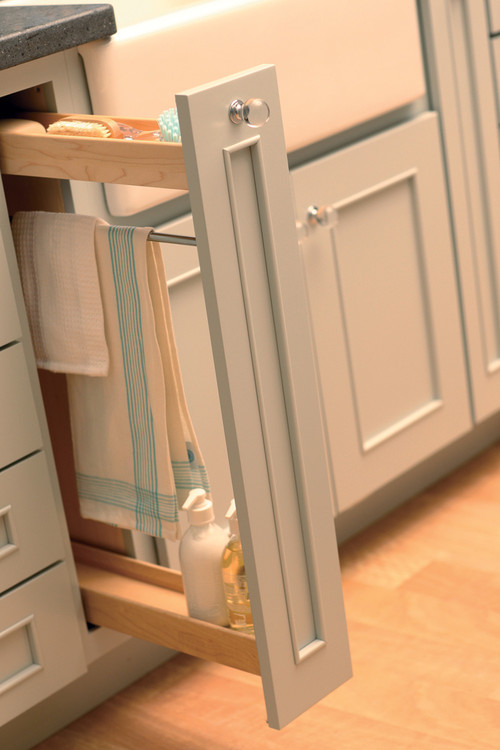 (Traditional Kitchen by Howard Lake Cabinets & Cabinetry Dura Supreme Cabinetry)
If you have a filler space in your cabinetry, consider turning it into a pull out. These are great for hanging damp towels to air dry. I would love to have one in my kitchen.
(Rustic Bathroom by Eagle Interior Designers & Decorators Studio 80 Interior Design)
An old ladder leaned against a wall makes a great towel rack. It is another way to add storage when it is not possible to add to a wall. It also works beautifully for displaying towels. The combination of soft and clean towels contrast nicely with the old and rustic wood.
(Industrial Bathroom by Toronto Architects & Building Designers Wanda Ely Architect Inc.)
Consider adding some plumbing pipe to a shelf, or just create the entire piece yourself. This works well if you are wanting an industrial look.
(Traditional Bathroom by The Woodlands Interior Designers & Decorators Carla Aston | Interior Designer)
Appliance pulls make great towel racks and can be mounted to the front of your sink. The large size and extra depth helps to keep the damp towels away from the cabinet doors. This is a nice alternative to towels mounted to the side of the sink.
Here, this home owner uses hanging file racks, from the home office section, to hold guest towels and washcloths. This allows the towels to be separated into each days worth of washing needs.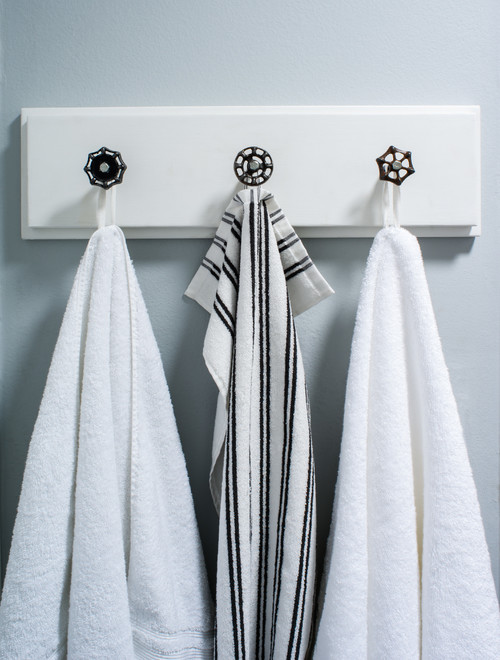 (Shabby-chic Style Bathroom by Scotts Valley Interior Designers & Decorators christie hausmann design)
I love it when people come up with original ways to use things in a fashion that they were not intended to be used. These plumbing valves are a great example of that.
Final Thoughts….
So, what creative towel rack ideas have you come up with? Feel free to share your ideas with us in the comments section below.