With all of the popularity in the farmhouse chic style, I thought that it might behoove me to offer you a selection of some quality industrial lighting. But, not just any lighting. I wanted to dig through my collections and pull out quality with an amazingly low price tag. After several hours of pulling designs and potential brands, I finally put together this collection of industrial lighting under $100. Yep, that's right! These are all under $100!

Now, normally I wouldn't post two "look what you can buy" articles in a row. I like for you to come here and see wonderful DIY projects and informational posts, with just the occasional smattering of articles on great deals. I am always worried about coming across as just another "in your face" sale's pitch. So, I try to keep my product promotions to a level that is pleasing to those of you who want to know what I recommend, but not so much as to be a turn off to those of you who could care less.
Unfortunately, I have the flu this week, and am not able to get up and about to finish one of several projects that I have in the works. So, in my never ending attempt to please the google gods, (yes, I believe they exist, and are still waiting for the sacrifice of my first born, before they place me at the top of their list.) I am publishing two back-to-back product posts.
All that being said, these are still some amazing deals on lighting fixtures. Some are currently on sale, and will go quickly. So, if you see something that you like, I would suggest grabbing it while you still can. If you happen to find that something has sold out before you get a chance at it, just bookmark this page and check back later. It is likely that it will be restocked.
Industrial Lighting Under $100 – Pendants…
I have these Andante Industrial Factory Pendant, in Antique Brass* in my guest studio apartment. They fit nicely against the wood beans, but are still quite elegant.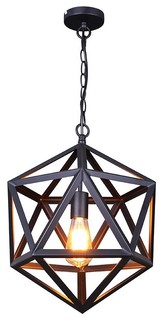 This Matte Black Iron Cage Pendant* is a favorite design of mine. It is very reminiscent of the one from from Uncle Parrot. I love it, not only because the price point is good, but also because it works well in almost any design – from contemporary to traditional. These work well in a foyer, hallway or over an island.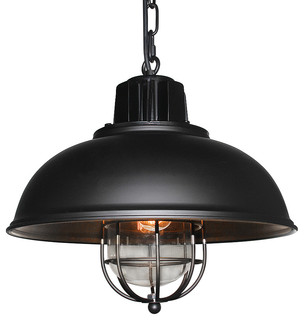 I have been waiting a while now to get the chance to use these Retro Style Pendant lights.* I love the way that they added a cage surround to the metal canopy. It gives it a very warehouse industrial look. I am tossing around the possibility of using these in my son's bedroom, when I get around to giving it a makeover. I am thinking that industrial is definitely a good look for a teenager, and can't wait to get to that project.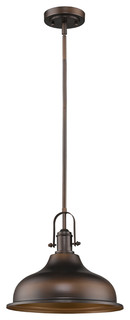 Then, of course, there is the canopy lights without the cages. I am fond of this Virginia Oil Rubbed Bronze Pendant.* It looks good with many interior designs, as well. I have thought about changing out the bell jar pendants over my kitchen island with these. But, I do so love my bell jars – except for when I hate them.

The latest trend with the industrial lighting is the pulley look. I must say that it is definitely a conversation piece. These Pulley Adjustable Pendants* combine the flared canopy and Edison bulbs with an adjustable pulley. This speaks to me on so many levels. My favorite method for decorating involves mixing a nice blend of new and old. So, this piece is totally calling to me. I think it is saying, "I would make a lovely statement hanging over an old desk, or nightstand." hmmmm. We shall see. This piece may reappear in the near future.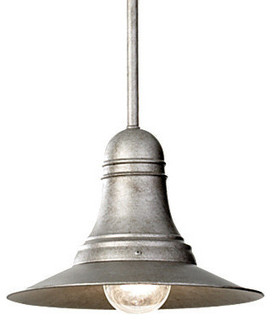 Now, I know that some of you may be more into the the galvanized finish. If so, you should really consider this Urban Pendant in Antique Pewter.* I think it looks really good with those really rustic rooms (think cabin), or in rooms where the galvanized pipes are left exposed.

And this beauty…. what can I say? I love this Recessed Light Conversion Kit,* not as much for its industrial look as I do for it's problem solving. If you have a recessed light that you want to turn into a pendant, this is the most convenient way to solve that problem. You simply screw this into your socket and you have a gorgeous pendant. If you decide that you want something other than a cage, you can always change the cover later.
Industrial Lighting Under $100 – Sconces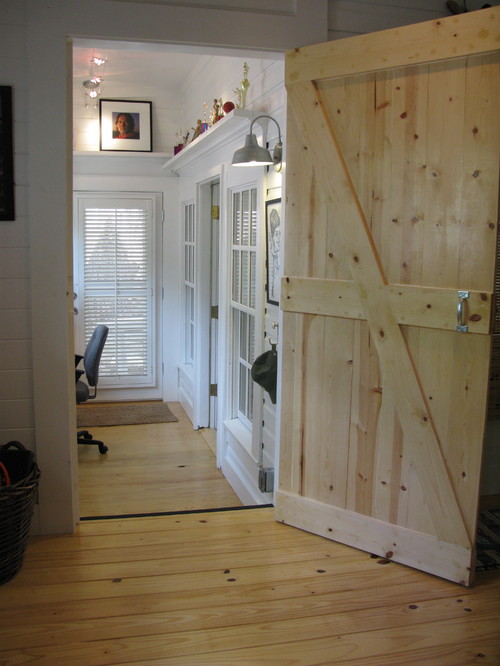 The downlight sconces are a must for capturing that farmhouse look. I love these because it is another way that we are bringing outdoor elements to the inside. Industrial downlight, barn doors, what's next?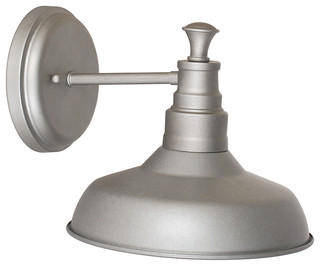 I am partial to the Galvanized Kimball Sconce.* However, it also comes in different finishes, if galvanized isn't the look that you want. I love these lights mounted over bookcases and bed surrounds.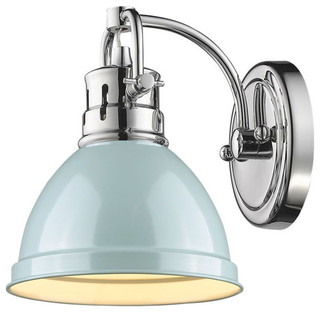 The Vanity Light* is one of my absolute favorites. It is more of a modern twist on the industrial look. But, the biggest reason why I love it so much is the light teal finish. If you can't tell by this blog, a pastel teal tone is my signature color. 🙂 You can also get this in multi-light fixtures. It looks very high end in a bathroom.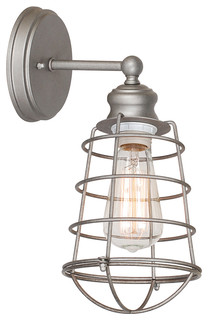 This Ajax Cage Wall Sconce in a galvanized finish* is very budget friendly. It comes in different finishes, but I am really getting into this galvanized finish, yet again.
Industrial Lighting Under $100 – Flush Mounts…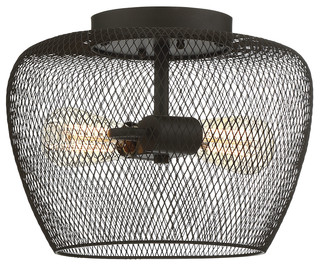 Flush mount lighting works best with ceilings that are 9 feet or lower. However, just because you need flush mount fixtures doesn't mean that you are restricted to the standard boob light. There are so many amazing designs that are available. For example, this mesh caged fixture* creates interest and texture.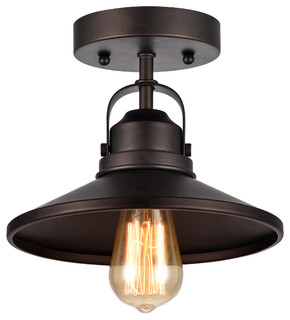 This particular fixture* is one that I can see mounted down a long hallway, instead of recessed lighting. This is a gorgeous fixture that looks great in any home that needs a bit of industrial glam. Bonus: it came with the light bulb!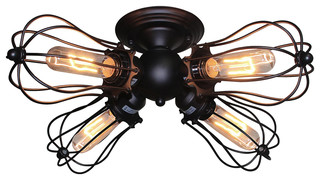 This beauty* will be taking the place of a ceiling fan in my other son's bedroom. I love that it hugs the ceiling so closely, as I really need something that can't be reached from standing on a bed. (FYI – my son is autistic and is fascinated by ceiling fan blades and over head lights in general. So, I am always on the lookout for bedroom lighting that fits my situation. Therefore, I use enclosed ceiling fans or flush mounts in his bedroom.)
Industrial Lighting Under $100 – Chandeliers…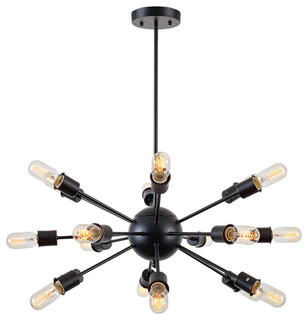 This 18 Light Sputnik Chandelier* is a very popular choice for those wanting to combine industrial with new age. It is definitely a show piece and worth the effort that goes into the assembly. (and I should point out that it does take a bit of time to get it all assembled, but it is nothing overwhelming.) This is perfect for those modern industrial styles. For the price, you can't get anything that looks better.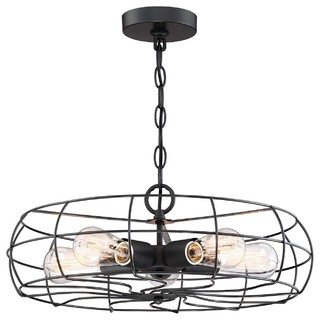 For a bit more of a traditional look, this caged chandelier* is a show stopper. I love this piece as a farmhouse dining room fixture, but it would look great in many other settings.
Industrial Lighting Under $100 – Outdoor…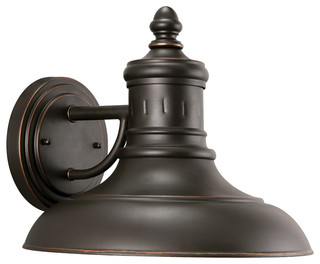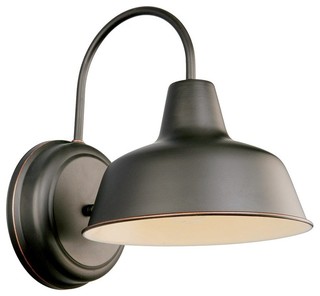 And, before I go, I wanted to include a few lights that are appropriate for exterior applications. Although, I have been known to use these indoors, as well.
Final Comments…
I hope to be back up and going next week with a new project. But for now, I will leave you with this post, while I head back to my tissues and vapor rub.