There is nothing that can make an outdoor space feel as cozy as a nice rug. Regardless of how nice your outdoor space is, adding a rug just has a way of defining the space and making it inviting. Since my outdoor rug has seen its better days, I had finally come to the decision the it was time to replace it. During this shopping experience, I stumbled across a few amazing brands of easy to clean indoor outdoor rugs, and there is nothing that I like better than finding quality rugs at reasonable prices!
(This post may contain affiliate links (*). That means that I make a small commission from sales that result through these links, at no additional cost to you. You can read my full disclosure here.)
Easy to Clean Indoor Outdoor Rugs – Waverly…
If you have visited my blog before, perhaps you are familiar with my post on pet proof rugs. (If not, you really should take a look at it. In it, I break down the different materials and backings that make up a good, and a bad, rug for homes with pets).

And if you have read that post, then you know that I am particular about the rugs that I buy. At the top of my requirements is the ability to clean a rug easily from mishaps, and by easily, I mean that it actually releases all of the odors and stains.

I won't purchase a rug that I can't clean myself, or a rug that won't return back to its former glory (within reason of course).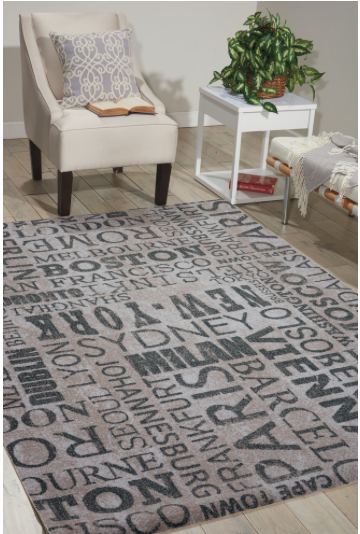 Well, I really hit the jackpot this time! I absolutely love this rug! It doesn't really look like an outdoor rug. I think it looks more like something that you would expect to see in a rec room or in a basement living area. It's very stylish and comfy, but thin enough to make cleaning easy.
So, that is why I am excited by these few brands that I am sharing with you today. Because I was planning to use this rug outside on my patio, I knew that I wanted something that could hose off easily and dry in the sun quickly.
I wasn't as concerned with my dogs, because they don't go out on the patio. So, I felt a little free to explore into a new area and take a little bit of a chance on this brand. Plus, I really wanted to get this particular design. I figured, I could always return it if it arrived and wasn't up to snuff.
My exploration led me to this rug (above). It is a Waverly Sun N' Shade* and appeared to check off everything on my list of requirements. So, I decided to give it a go.

And all I can say is that I am very pleased! As you can see, I have moved it into the interior of the house. It looked so good that after a few days outside, I decided that it would better serve me in my dining area.
That decision came after, not only seeing how nice it looked, but also seeing how easily it cleaned. They weren't kidding when they say "hose it off and let it go." Because, right after getting this rug, I spilled a cup of juice on it.

So, I had the chance to test its cleanability. That decided it for me, and I moved it inside. Now, I just needed to pick another rug for my patio.
Easy to Clean Indoor Outdoor Rugs – Garden Party…
Since I was still in a risk taking mood, I decided to try out another brand – Garden Party. It is more of what I think of as a traditional exterior rug. It has that weaved thread look that is a normal feature for outdoor rugs. This one is the Garden Party in charcoal.*
I almost purchased the denim color because it was so beautiful, but I have been knocking around the idea of changing my cushion covers out to a different color. I am not sure what color I plan to change to yet, but I thought that the neutral rug color was probably best.
Easy to Clean Indoor Outdoor Rugs!
These brands also have several colors and design options available. I am showing you just a small selection of the ones that I looked at before making my choice. All of these were nice enough to place inside, but come with the ease of outdoor. Also, these are perfect choices if you are trying to decorate around a fur baby. I know it can be hard sometimes to find pet proof rugs. Any of these would be a great choice for that situation.
Final Comments…
I am very pleased with the results of my risk taking, this time. I hope that my shopping experience inspires your own creative juices, and maybe it will also help you find that perfect rug. If you do purchase one the rugs above, please come back and let me know how you like it!