There is just something about a claw-foot tub that is so charming and elegant. Perhaps it is the vintage vibe that one gets from placing such a throw back item into a modern-day setting. Whatever the reason, claw-foot tubs are a popular bathroom piece, and luckily, they can work with any design style. With just a little information on claw-foot tub styles, anyone can work one into their design choice.
Clawfoot Tub Styles &Ideas…
Classic Style
The classic style claw foot (rolled rim) is the style that is the most common. This tub is perfect for people who want to have a shower/tub combo. The single flat end can fit nicely against a wall, which can allow for plumbing lines to be hidden for the shower heads. The most common size for this style is 5 feet in length.
Double Ended Style
The double ended claw foot tub offers either end as a possible seating position. The biggest consideration with this design is with the center placement for plumbing and drain lines.
Slipper foot Style
(Photo by – Houzz)
The slipper foot tub is recognizable by its raised height on the sitting end. Most find the high back to be a more luxurious and comfortable design, because it offers a place to rest one's head. Plumbing for this tub is placed on the low end.
Double Slipper Style…
(Photo by LS Interiors Group, Inc.)
Just like the double ended claw foot, the double slipper offers a choice of sitting positions. It also has plumbing placed at the central location. The difference comes with the height of the ends. For this style, you would get high backs on both ends.
Clawfoot Tub Styles – Finishes…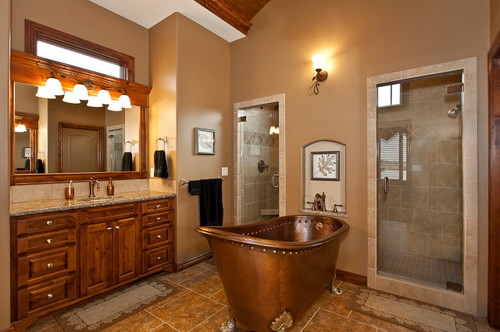 (Photo by Prairie Construction, LLC)
When choosing from the clawfoot tub styles, you would probably want to decide on a finish. The good news is that they can come in just about any conceivable finish imaginable. From metal finishes, like this bronze slipper foot, to the more traditional finishes, the choices are almost limitless.
(Photo by Feix&Merlin Architects)
And if you think that a claw foot can only work in a Victorian design, think again. They can work in any design style that you can imagine. Like this very Contemporary bathroom, adding a claw foot tub just adds a touch of class and vintage style that blends seamlessly with the design. Also notice that the outer tub surface has been finished in a matching gray paint.
If, on the other hand, a Victorian flare is what you are after, consider the black and white finish. Nothing is more throwback than that. Plus, if you are needing to spruce up an old cast iron tub, painting the exterior can go long way to improve the looks.
(Photo by New Style Kitchen Bath & Patio)
While you are making plans for your claw foot tub, consider the plumbing location. The tubs can come with plumbing holes place through the inside wall of the tub, or like this tub, with the holes placed on the rim.
Holes through the interior of the tub work great if you want to place your tub against a wall and have your fixtures come out of that wall. But, if you want the fixtures to come from the floor, holes located on the rim are perfect for this.
While your at it, don't forget to consider your hardware finishes. This will set the whole tone for your tub. Anything from ornate and flashy to streamlined and minimalist can work. I have even seen these tubs recessed into wooden beams instead of using the traditional claw feet (for a very rustic bathroom).
Final THoughts…
Regardless of the design you wish to incorporate your claw foot tub into, you can be sure that it will be the jewel of the bathroom.