Trying to landscape in an area where the soil is constantly wet can be a struggle to get right. The wrong plants won't survive the lack of oxygen and will most often succumb to root rot. Luckily, there are many shrubs, trees, and plants that like wet soil.
I have seen homeowners struggle to get a beautiful landscape. Often because they saw some amazing tree, plant, or shrub somewhere and just had to have it in their own yard.
Many folks fall into the "those are everywhere, and I want something different" mentality. For instance, here in the south, magnolias and crape myrtles are a landscaping staple. Therefore, some people abhor the idea of planting one in their yard.

But, there is a very good reason why magnolias and crape myrtles are so abundant. It is because these plants thrive in heavy clay soil and our climate zone! So, while that exotic palm tree may sound nice, it isn't necessarily a good idea.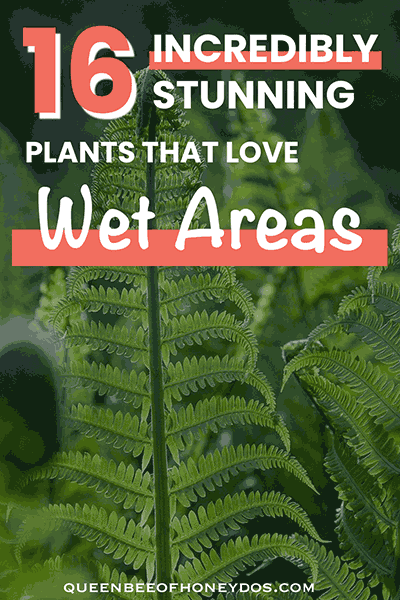 Trying to force a plant to grow in conditions that are outside of its comfort zone is a recipe for disaster. You will waste both your time and your money in your attempt to make it work. The same thing goes for overly wet soil.

When planning your wet soil landscape, you should make selections from plants that have a good reputation for performing well in those conditions. The following have that in spades.
Trees to Plant in Wet Locations
Sweetbay Magnolia
Full Sun – Part Shade
Zones: 5 – 10
Evergreen
This ornamental tree grows to about 20 feet high, usually in multi-stemmed but can also be single-trunked, and is perfect for patios and as lawn specimens. They prefer moist soil and can tolerate occasional flooding.

You can expect these to produce dark green leaves and 2-3 inch white blossoms in mid to late summer. Blooms produce a light lemony scent that is pleasant but not overwhelming.

When planted in zone 5, it should be protected from late frosts and/or freezing. Although considered evergreen, this tree may lose its leaves in colder climate zones.
River Birch
Full sun – Part Shade
Zones: 4 – 9
Deciduous
These are often seen growing naturally along southern banks of ponds, lakes, and streams. As such, you can be sure that they will tolerate wet conditions. Although, they will grow quite well in drier locations as long as they receive adequate water.

River birch reaches 40-50 feet at maturity and often grows as multi-stemmed trees. They are prized for their beautiful bark which peals during the winter revealing shades of pink, salmon, and beige beneath the flakes.

They work well as an individual specimen or in clusters of three or more and can tolerate occasional flooding.
Red Maple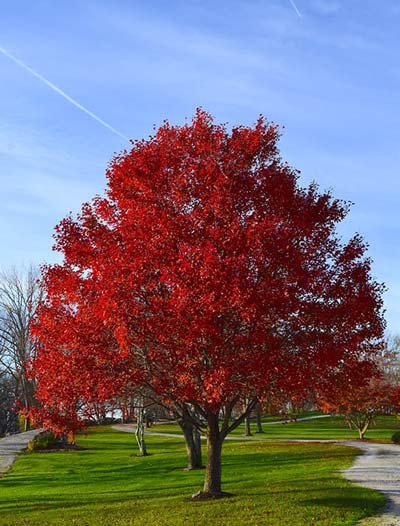 Full sun
Zone: 3 – 9
Deciduous
If you are looking for a large specimen tree that can tolerate wet boggy areas, the red maple may be just what you need. They reach up to 60 feet in height and can establish up to a 40-foot spread.

Red maple trees can survive in just about any soil types and make a wonderful selection to plant in clay soil. In addition to wet sites, they can also tolerate the occasional drought once established.

Red maple trees are not as invasive as the silver maple variety, but you should still be cautious about planting close to sidewalks or other paved areas. They tend to develop surface roots near the trunk and drip line which may be unappealing to some.
Weeping Willow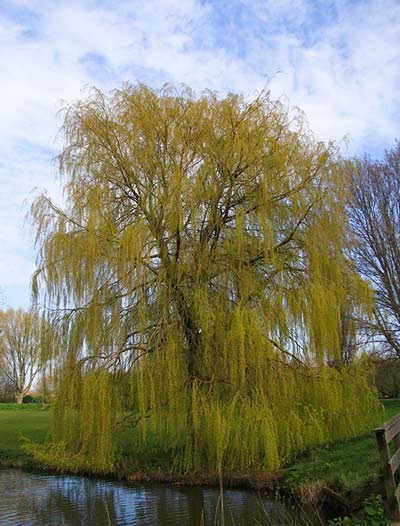 Full sun – part shade
Zone: 6 – 8
Deciduous
Weeping willow trees are known for their ground-sweeping branches of long, narrow, silver-backed leaves. They grow incredibly fast and love wet areas. You should expect them to reach about 50 feet at maturity.

They thrive in almost every soil type and can take the occasional drought. However, they are happiest when they have plenty of access to water. In fact, they can drink up so much water that they have been known to turn boggy areas into normal usable land.

Fair warning, though, these can wreak havoc on underground lines and/or structures. They should be planted at least 50' away from your home and any other structure and are not typically a good choice for city living or other close dwelling areas.
Sycamore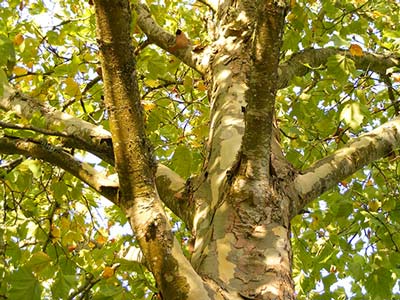 Full sun
Zone: 4 – 9
Deciduous
Sycamore trees have some of the most beautiful tree bark. It starts out with a very thin bark that is deep gray in color. Very soon, the bark will begin to peel and reveal a showy white underneath.

As the tree matures even further, the bark thickens and cracks in more substantial sections and develop a camouflage trunk with beautiful white upper branches.
These trees are massive specimens that grow super fast and require a lot of water. The roots systems are very invasive as they reach out in search of more water and nutrients to support their ever-expanding size.

As such, they are not welcome in even wider-spaced suburban areas. They are more suitable to rural lands with large low-lying areas that retain adequate moisture or near ponds and lakes.
Shrubs To Plant In Wet Soil
Virginia Sweetspire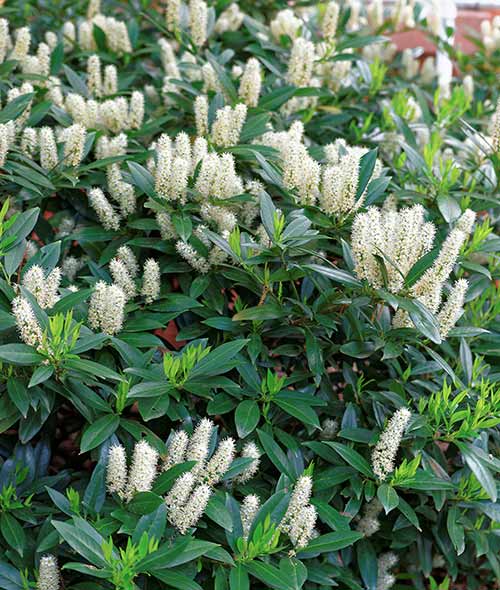 Part Sun – Part Shade
ShadeZones: 5-9
Deciduous to Semi-Evergreen
Sweetspire is a mounded shrub that produces 4" drooping spires in shades of white. They are loved for their ability to attract butterflies and for their red autumn foliage.

They work well in more difficult clay soils and tolerate poor drainage. Often found in swampy or boggy areas, they will be quite happy in damp locations where other shrubs would not survive.
Winterberry
Full Sun to Part Shade
Zones: 3-9
Deciduous
Winterberry is a deciduous holly shrub that loses its leaves every winter and leaves behind stems covered in showy red berries. These branches are often used as cuttings in holiday floral decor.

This shrub naturally grows in swamps and wet woodland areas throughout the US. It prefers acidic conditions but can tolerate a variety of soil types including clay soil.
Swamp Azalea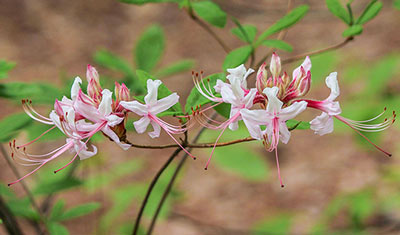 Part Sun – Part Shade
Zones: 4-9
Deciduous
Swamp Azaleas are one of the few shrubs that will tolerate both wet and somewhat poor drainage. They will even tolerate the occasional flood.

The blooms resemble that of the honeysuckle and produce a similar scent. They attract both hummingbirds and butterflies and are a good option for a hedge.

It prefers dappled sunlight in a shady area but will tolerate slightly more sun. Avoid direct afternoon sun. This plant should also be placed in a location shielded from strong winter winds.
Perennials for Wet Zones
Japanese Iris
Full Sun – Part Shade
Zones 4-9
The Japanese iris will grow in part shade but perform better in full sun. Afternoon shade in hot climates can be beneficial.

Unlike the popular bearded iris, this plant does not like periods of drying out. Instead, try to keep them moist throughout the summer months.

Unlike some of the other boggy area plants, these are not fond of clay soil and will do much better if organic matter is added to the area. They also prefer acidic soils and thrive near water locations – i.e ponds, streams, lakes.
Siberian Iris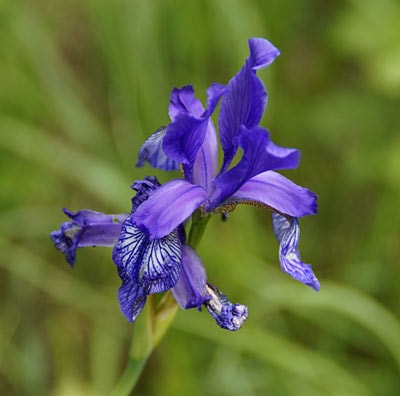 Full Sun to Part Shade
Zones 3-8
Smaller than the bearded iris, this iris has delicate stems with springtime blooms. Most are purple but some varieties come in yellow, white and dusky rose colors.

These like moist areas rich in humus. They work well near the edge of ponds or in areas where leaves frequently fall and decompose. Add compost or leaf mold to areas that need more humus rich soil.

Flowers may be used for cuttings without any harm to the plant but you should always leave the foliage in place.
Red Cardinal Flower
Full Sun – Part Sun
Zones: 1-10
The red cardinal flower (named for the color of the cardinal's robes) produces trumpet-shaped flowers that attract hummingbirds. They are a perfect addition to wildflower meadows.

Provide them with afternoon shade, except in cooler climates, to protect them from the mid-afternoon heat. Blooms appear mid to late summer and plants are self-sowing.
Joe Pye Weed
Full Sun
Zones 3-8
Both bees and butterflies love this plant. It is one of the few late-season bloomers.

It needs room to spread out. So, you should avoid tight spaces, such as between narrow walkways or buildings.

Varieties come with blooms in white, purple, and mauve tones.
Ground Covers for Wet Areas
Creeping Jenny
Full Sun to Part Shade
Zones: 3-10
Creeping jenny will create a beautiful carpet of chartreuse when allowed enough space to spread out. It is often used for edging beds and in planters for the green color, but this plant is most happy in the low lying areas of a garden where the ground stays moist but not flooded.

In hotter climates, Jenny will appreciate protection from the hot afternoon sun. When given too much heat, the leaves have a tendency to yellow and wilt.

Some consider this plant to be invasive as it spreads quickly and will overtake other plants if given the opportunity. This ability to spread is often desirable in areas where other plants can not survive. Keep it in check by trimming to prevent it from spreading beyond the desired border.
Mint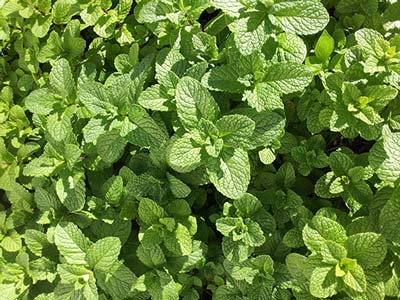 Full Sun
Zones: 5 -10
Mint is a vigorous herb that is normally planted in pots. However, if planted in the ground it will quickly spread and create a lush carpet of green.

This herb likes consistently moist but not soggy areas and can overtake a garden. But when used as a ground cover, it will fill in wet areas where other plants fail to thrive.

In zones 5 -7, the plants will die back in during the winter. However, the roots will survive and return once the temps warm back up.
Creek Sedge
Part Shade – Full Shade
Zones: 3-9
Like most sedges, the creek sedge mimics the look of grass and makes a good low maintenance option if you want to achieve a grassy ground cover. It thrives naturally in a deciduous forest in the low flat areas where moisture is abundant.

Creek sedge forms 1-2" mounds of bright green leaves and prefers shade. It is considered resistant to deer unlike many other shade-loving plants that deer love to eat. Plant it in consistently moist areas or along the slope of a pond or stream.

In warmer zones, creek sedge will perform as a semi-evergreen. It dies back in the cooler zones but the root system is hardy and will return in warmer temps. Although a shade lover, it will tolerate some indirect sun but you should protect it from the mid-day heat.
Ostrich Fern
Part Shade – Full Shade
Zones: 3-7
Ostrich fern forms upright clumps of fronds that grow about 3 feet high. They need constants moist soil and should not be allowed to dry out. They spread by underground rhizomes and look right at home in woodland gardens.

These prefer the cooler climate zones but thrive in all five mentioned above. However, in the warmer climate zones, they will begin to look a bit tattered by summer's end.