The addition of mother-in-law suites is currently on the rise. More and more people are finding themselves in need of this addition. Whether that be for housing aging parents, or whether they find themselves with a disabled child, the request for mother-in-law suites is becoming more and more commonplace.
(This post may contain affiliate links (*). That means that I make a small commission from sales that result through these links, at no additional cost to you. You can read my full disclosure here.)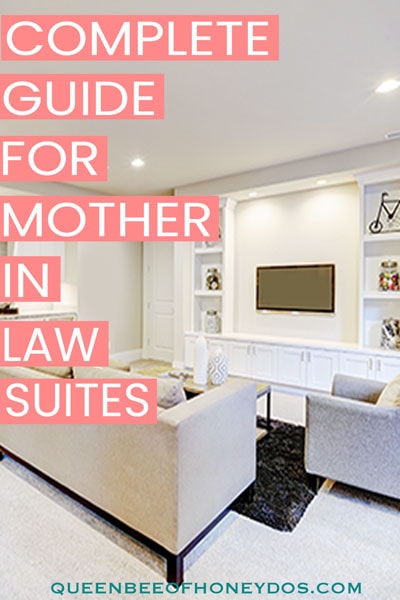 What is A mother-in-Law Suite?
A mother-in-law suite is a secondary dwelling that is either attached to the central home or is detached but still on the same property. They are sometimes referred to as granny flats, granny suites, multigenerational houses, accessory apartments, or guest houses.
Benefits of having Mother-in-law suites
The most obvious benefit of having a mother-in-law suite is that they provide the option of housing an additional person. We think of this mostly in a relation of needed space for mom or dad to transition into as they age.
However, other benefits come with having a M-I-L suite. Namely, it can increase the value of your home. Since it is such a desirable feature for real estate, having a fully functioning in-law space can bring in a nice chunk of change when you sell.
It can often be used for rental income. While you wait for the day when you need to use this space, you may be able to put it to good use as a rental property.
If the space isn't functional as a rental space, you may still be able to use it as a home office, crafting space, guest bedroom, or some other type of secondary room.
It can provide private quarters for an adult child. Many children are opting to live at home while seeking a secondary education. A suite can offer them a sense of having that life but without the expense.
There also seems to be a rise in adult children return home after college for a while. A semi-independent space can help maintain a sense of normalcy.
Best Locations For Mother-in-law Suites
Where to place a mother-in-law suite should be at the top of the consideration list. Several options will allow most homes to incorporate a design into their current floor plan. Each has its benefits and each has its disadvantages.
Basements…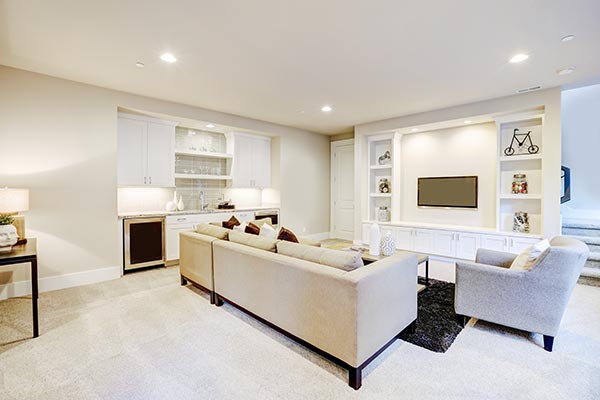 Pros
If you have a basement, this may be a good option. Basements are generally quite spacious, and access to plumbing and electrical is usually already close at hand.

When space is already plumbed and ready for completion, they can be the best economical choice for a home. Floors finishes are often more budget-friendly especially if installing laminate flooring. And ceilings can be finished with
With a well thought out design, basements can offer all of the amenities that any person would require for day-to-day living.

They also provide an attached, but still private, quarters for parents that want their independence. Also, these conversions can easily be utilized as usable space once mom or dad is no longer living there.
Cons
A big downside for basements and one that will be repeated for several other location options is that they almost always require the use of stairs. However, if the parents are still agile this may not be an issue.

Another way around this obstacle is to provide an exterior door at ground level. Ideally, a door should be placed in a level location without obstacles such as steps or inclines. Doors that open out to patios or back porches are most desirable.
Above the garage…
The unused space above the garage can be turned into a studio apartment. Not only will this create a good rental potential, but it is also often sought after by home buyers as a separate office space.
Pros
Just like the basement, the space above the garage is usually quite spacious. It can offer a largely untapped area that can be converted into a studio apartment.

If the new resident will be using the garage for parking, interior garage stairs can provide a private entrance. If interior stairs are not possible, exterior stairs that lead to a small deck landing can still provide a private entrance.
Cons
The space above the garage may not have easy plumbing and electrical access, and just like the basement, there is the issue with traversing stairs.
Converted Garage
A garage provides the perfect living space for still active parents. It offers easy access to family. The floor plan can be quite open and if you have attic space above, you can create separate sleeping quarters.
Pros
These are usually located at the ground level, which eliminates the hassle and worry of using stairs. Garage doors can easily be changed out for windows or door/window combinations.

If the garage is attached to the home, the residents will have privacy plus the joined connection to the main house. This can come in handy if frequent checking in is needed.
Cons
This option may do away with much-needed parking space. It also may require plumbing and electrical work to make the conversion.

Although this provides one of the more independent living quarters, conversions are very likely to require insulation to be installed. You should have the space assessed by a contractor to determine ease of conversion.
Converted interior spaces
If you are like most people, you may not have a basement or garage space that can be utilized for an in-law living quarters. In that case, looking at converting a portion of the main living quarters may be necessary.

This is usually done by turning an extra bedroom or an office space into an extra living space.
Pros
Electrical and plumbing are already present, and the area is already finished out. All that is left to do is to create an appealing layout.

Interior spaces keep live-in guests close to other family members, which is a good idea when situations require constant monitoring.
Cons
There may be an issue with privacy, especially if the in-law takes pride in their independence.

Tight spaces can lead to more stressful situations for all parties, and it may take time to adjust to the new living arrangement.
External Property Structure
Many properties already have structures such as sheds or small workshops that already have all the amenities necessary to create a comfortable living space. For in-laws that do not require special care or overseeing, these can be just the ticket for families looking to transition to this living situation.
Pros
The benefits of separate structures are privacy for both parties and more independent living for the in-law. When doable, it can be a budget-friendly way to add a second living space.
Cons
These can not always be easily converted to both a safe and code-compliant space. Issues can arise with plumbing, electrical, and insulation installations.

They may not be the best idea for people who are suffering from health issues, and for some, they can feel isolated and lonely.
Build to suit…
If you have space and the budget, perhaps the best plan is to build an addition. It can be attached or detached depending on the particular needs of the user. Here a beautiful addition for a mother-in-law suite, equipped with its garage and living quarters, connects to the main house via a mudroom.
What to Include In Mother-in-Law suites
When designing or planning an in-law suite, take into consideration their comfort needs
Try to plan the space so that it will be appealing to the tastes of the user. Consider color options and patterns that will make the guest feel at home.
Bathrooms – Try to have a bathroom close by. If a private bath is possible that would be best.
Sitting Areas – Provide a sitting area so that they are not forced to use the bed for both needs and so that the space feels like more than just a bedroom.
TV – If they enjoy television as a pastime, provide one. You can combine it with the seating to establish a living area.
Consider a kitchen or kitchenette. If that is not possible, a coffee station is a relatively simple addition, as is a microwave.
Try to provide as much independence as possible within the bounds of what is best for your particular situation.
Drawers Vs Doors – Whenever possible, install pull-outs and drawers in place of below the waist doors. Base cabinets can easily be converted using stainless steel inserts.
Safety Issues to Consider When Planning an In-Law Suite
Flooring – Make sure that the flooring is not slippery. Choose carpeting over loose rugs and choose a tile that will not become slippery when wet.
Cooking appliances – If cooking appliances are included make sure that they are a type and brand that the user is familiar with and will not cause confusion.
Some people do not cope well with newer technology. So, consider how user-friendly the appliance will be from that aspect. I like this portable induction cooktop.* It works the same as any induction cooktop. Plus, it has the added safety feature of turning itself off after 60 seconds when cookware is not detected.
Bathrooms – Consider future needs when choosing tubs and showers. Safety handrails* may need to be installed near tubs, showers, and toilets.
Heights – Be mindful of the height when installing items. Place towel hooks and closet rods at a comfortable height for the user. Shoulder height or lower is best to prevent the need to stretch or extend the arms above the head. Falls are commonly attributed to an elderly person's attempt to "reach."
Bedding – Be mindful of the bed height. Beds that are about 30" high are the easiest for the elderly to get in and out of without incident.
Stairs are usually a hazard for the elderly. Keep in mind that rooms requiring access via stairs may need further renovations such as installing an elevator, installing lifts, or adding a second ground level entrance.
If applicable, consider items such as intercom systems and extra landlines. This Caregiver Pager* is a great, affordable alternative for live-in parents that just want a way to page you in the event of an emergency.
Tips for Adding Handrails:
Make handrails fade into the background by choosing finishes that do not contrast with tile.

Choose handrails that match existing metals finishes. This makes the space feel less like a hospital and more like a home.

Install handrails in place of towel bars and allow them to do double duty. Remember that handrails require lower height than towel racks.
Final Thoughts…
One thing to remember is that every situation is different, and likewise, the needs of each individual will be different. Choose an option that best fits your in-law's needs and everyone will be much happier.

Also, make sure to check with your city or township for proper zoning and codes, and get all of the proper permits before starting a project like this.