(Solutions from Tiny House Living – Photo by The Tiny Project) 
If you have paid much attention to the tiny house architecture, you know that there are some amazing storage solutions and tricks that can be taken away from the creative minds of tiny house builders. The great thing is that these wonderful ideas can be incorporated into any home design regardless of the size. So, today we will cover several solutions from tiny house living.
Solutions from Tiny House Living – Furniture…
Creating dual purpose furniture is a great way to use space efficiently. I love this seating/lounging/eating area. This (above) is the piece in its full lounging position. Those two cushions in the center can be removed, and…..
Up pops a dining table. Notice that they also installed drawers beneath the seats for even more storage.
To have even more available floor space, a fold away table is also a good option. Above, we see a wall mounted folding table/desk unit. In addition, the chairs are folding and are hung on the wall as well.
When folded down, the table provides just enough desk or bar top area to serve its purpose.
I particularly like the folding tables that allow a small ledge to protrude from the wall. This provides a place to store items that need to stay out, such as salt and pepper shakers.
(Photo by Diane Burgio Design)
While we are on the subject of folding furniture, the same concept can be used for bedding. Often referred to as a Murphy Bed, this idea is a good way to have a multipurpose room. Fold it away when the space is needed, and let it out when it is time to sleep.
(Photo by Malcolm Davis Architecture)
Likewise, the space beneath a bed can be great for storing additional sleeping spaces. This particular bed utilizes that space, but it also has a nifty headboard that serves as a desk unit and a storage cubby.
One great idea from the tiny house living craze is to use a foldable cushion piece. This serves as a sofa during the day, but can easily be converted into a mattress when needed.
Solutions from Tiny House Living – Storage…
When it comes to storage, tiny houses have to get really creative. They also must utilize every inch of usable space in order to have adequate storage. One thing that is very common is to create benches for seating which also provides extra storage space.
This element is great for larger homes as well. Use this idea outdoors to hold patio cushions for the winter, or use it on a mud bench to store all that sports equipment.
(Photo by Jordan Parnass Digital Architecture)
I absolutely love the idea of using stairs and steps as hidden storage. In a tiny home, you won't see chest of drawers or dressers very often. As a great alternative, they frequently create their own drawer spaces that do double duty as stairways.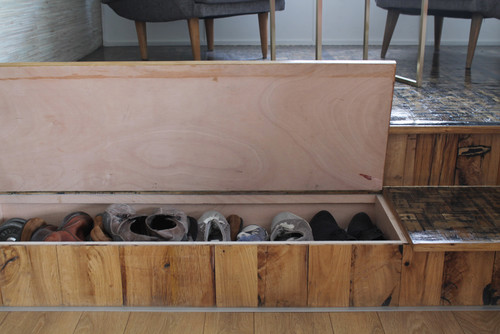 In a larger home, this idea can still be put to good use. Store all that stuff that you just can't stand to part with, but you aren't sure when or if you will ever use it again.
(Photo by The Tiny Tack House)
Of particular interest to me is to make use of the space between the wall's studs. This tiny house has really gone all out and eliminated the wall covering all together. This serves as miniature shelving in place of a pantry.
(Photo by Art and Cement Construction LLC)
However, in a larger home I love to punch out space and add doors. In a bathroom, that four inches of space behind the sheetrock can add valuable storage.
In a kitchen, all you need is four inches of space to create a beautiful plate  display. If you have a plain wall, consider finishing out the interior of the wall with shiplap and add some shelves. Trim it out for a professional look and you will have created a nice niche for some of those things that deserve to be on display.
(Photo by Bill Fry Construction – Wm. H. Fry Const. Co.)
Here, they have created space around this wet bar by recessing shelving for the glassware. In addition, the floating shelves that surround the sink area provides even more space. This is common element in tiny houses and works well in many situations. (Tip: Don't be afraid to go up high).
By far, my favorite feature of a tiny house is the loft space. I love that they are willing to use the vertical space in their homes. And, if you have watched very many shows about tiny houses, you will have noticed that they don't require a whole lot of headroom.
By adding a loft space, the living square footage can be expanded quite a bit. As above, a space that would normally only hold two guests has been expanded to hold up to four.
FiNal THoughts…
So, I don't know about you, but I love some of the tricks used in tiny house living. Even though I do not live in a tiny house myself, I find the people who do to be very inventive in solving storage solution problems. And, I am not opposed to snagging some of their ideas. 😉