(Beach Style Bedroom by Alpharetta Interior Designers & Decorators Lisa Gabrielson Design)
Cable knit decor (or sweater decor) is seeing a rise in popularity. It adds a warm and cozing look to a room that just makes a person want to snuggle up with it. So, I thought that I would share with you my favorite ways to add cable knit decor to your home interior.
Cable Knit Decor – Bedding…
(Scandinavian Bedroom by Avon Architects & Building Designers Reed Design Group)
Probably my absolute favorite way to use cable knit decor is to add it as a bed runner. It makes a pristine looking bed seem inviting.
(Transitional Bedroom by San Francisco General Contractors Upscale Construction)
The same effect can be achieved with a cable knit throw. Plus, you can actually use it to snuggle up in a side chair.
(Farmhouse Bedroom by South West Interior Designers & Decorators Sims Hilditch)
Some people like to use cable knit blankets because they add so much warmth. So,if you want your bedding to be functional as well as attractive, consider adding a cozy blanket. It's like crawling inside a giant sweater. 🙂
(Traditional Bedroom by Perth Furniture & Accessories Flannel)
Pillows are at the very top of the trending chart right now, when it comes to cable knit decor. There are a multitude of fashionable ways that a pillow can be designed with knitting. If you enjoy the craft, this is a great project. If you have never knitted anything in your life, a pillow cover is still a great way to cut your teeth on this skill.
Cable Knit Decor for the Living Room…
(Transitional Living Room by Avon Architects & Building Designers j&o studio)
Just like the bed, a sofa is the perfect place for a cable knit throw or blanket. Nothing is better for a chilly day with a good book.
(Farmhouse Living Room by Raleigh Photographers Adrianna Beech)
Pillows can also be a welcome and inviting feature in the living room. Consider adding extras to baskets. They make great decorations as well as functional pieces.
(Modern Kids by Chicago Carpet & Flooring FLOR)
Cable knit decor has become so popular that you can now find rugs in that design.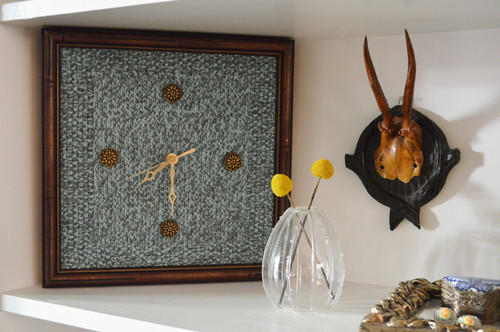 (Midcentury Spaces by Dallas Media & Bloggers Sarah Greenman)
If you have an old sweater that you just don't know what to do with, consider framing it. (This is especially a great way to memorialize a child's clothing). It adds texture as well as color to a wall or shelf.
(Contemporary Bathroom by Miami Kitchen & Bath Designers Puma Marble Company)
A cable knit pouf or two are also great pieces of decor. I like them in the living room and bedrooms, but here are a few in the bathroom. I imagine that the photographer did this purely for texture within this photo. However, it displays the pouf quite nicely as well.
Final Thoughts…
However you decide to decorate your interior, remember that cable knit decor can add warmth and texture. If you don't like the look year round, consider just pulling these out for the Fall and Winter months.
If you enjoyed this article, feel free to share it with your friends. 🙂